Top 4 Questions on iOS 9/8 Wi-Fi Calling
WiFi calling is a great innovation of iOS 9.3 and the latest iPhone SE/6, and enables iPhone users to make and receive free calls using Wi-Fi. However, not every iPhone user could experience this feature. Read through this post and get to know what on earth WiFi calling is, what iPhone and carrier WiFi calling support and how to turn on WiFi calling.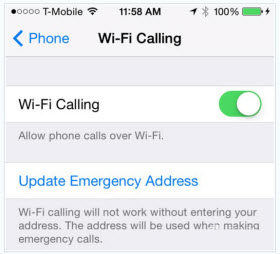 Questions 1: What is Wi-Fi Calling?
Wi-Fi Calling lets you use your actual carrier phone number over the internet. This is quite different from Google Hangouts and Skype which let you talk to other people using call forwarding or an internet-based interface. Wi-Fi Calling is also distinct from VoIP technology, which lets you use an internet-connected phone exactly as you would a landline.
When making Wi-Fi calls, your voice is connected to your mobile carrier's network using the internet instead of the traditional cell towers. You can take advantage of Wi-Fi calling and even call with your phone number when your network cuts out or you're outside your coverage area.
Questions 2: What Carrier Support Wi-Fi Calling ?
However the exciting Wi-Fi calling may not be available on all iPhone running iOS 8.2/8.1/8, as this still needs carrier support.
T-Mobile is clearly on-board, as they said over and over again at their Uncarrier event. And since iOS beta 3, T-Mobile users are able to make Wi-Fi calls.
AT&T and Verizon are not with so much zeal compared with T-Mobile. They said they will support WiFi calling, but not until 2015.
Sprint supports Wi-Fi Calling for compatible Android phones, but there's no word on any forthcoming support for iPhones.
Questions 3: Which iPhone Support Wi-Fi Calling?
Wi-Fi calling is not for all iOS 8 devices. T-Mobile currently only supports the iPhone 5C, iPhone 5S, iPhone 6 and iPhone 6 Plus models with Wi-Fi Calling. Hopefully, there will be more devices compatible with Wi-Fi calling when AT&T and Verizon enable Wi-Fi calling.
Questions 4: How to Turn On Wi-Fi Calling on iPhone
1. Tap Settings > Phone > Wi-Fi Calls.
2. Tap to slide Allow Wi-Fi Calls to on.
Click on "Recover" and browser for a destination folder to save the recovered contacts in a .txt, .xls, .xml or Vcard file.

If a warning message appears telling you other devices will no longer be able to make or receive calls through your iPhone, click OK.
You can then make Wi-Fi calls. If your Mac doesn't have good Wi-Fi connection, you could use Wireless Diagnostics in Mac OS X to find the best Wi-Fi channel and improve Wi-Fi connection.