Tips for How to Turn Off Camera Sound iPhone 7
by Sophie Green Updated on 2021-11-15 / Update for iPhone Tips
Have you been quite annoyed because you can't find any knowledge that covers the issue of turn off camera sound iPhone 7? Well, you got lucky if you are here then. We understand that having your phone's shutter sound being all noisy and loud can be embarrassing on many occasions. This sound becomes the reason why you cannot capture some of most amazing moments at times. This is why, today we are going to share with you some proven answers on how to turn off camera sound iPhone 7.
Part 1: Is There A Way to Turn Off Camera Sound on iPhone
Many iPhone users don't even know for sure if there is a proper way to turn off camera sound on iPhone 7 and other models of iPhone. The straightaway answer to this would be, Yes! You can easily turn off camera sound on your iPhone 7 and other models if they are real models and have no serious technical damage done to them.
There's one exception to this case – the iPhone model from Japan and Korea. You may not be able to turn off the shutter sound there with the common ways people do in other places. However, some third-party can help, which we will introduce in the following parts.
Part 2: How to Turn Off Camera Sound on iPhone 7
Without making you wait any further, let us just jump right into the different methods of how to turn silent camera on in iPhone 7.
1. Use Silent Mode
This one has to be the easiest and most common answer to anyone asking how to turn off camera sound on iPhone7, and other iPhone models. Here are the two steps to turn on the silent mode in your iPhone to shut the shutter sound and all others sounds within a second: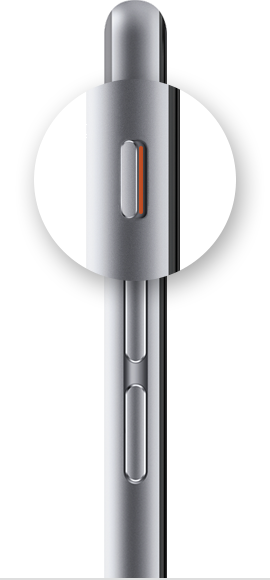 Every iPhone model comes with a mute switch on it. This button can be easily seen on the top left corner of your phone.
2. Once you've located it, flip the switch smoothly in the opposite direction and your phone will go on silent mode.
When on silent mode, your iPhone will not make any noise at all and will alert you of the calls by vibrating or screen lighting. In this mode, your phone won't even make any sound when you take pictures – regardless of the app you use.
2. Turn On Live Photos
In case silent mode is not working, here comes another easy way to turn off camera sound on iPhone 6 and later models. All these models come with a live capture feature. Live photos are more like moving photo with a video-like feel. If you can't capture a moment somewhere because you don't want to grab attention through the shutter sound, you can preserve that moment in a live photo instead.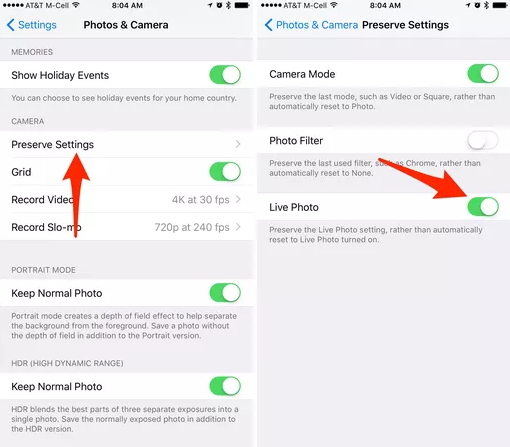 1. Open your iPhone's camera.
2. On the top or bottom of the camera screen, there's a circular icon with rings around it, tap on it.
Because live photo has a millisecond of sound from the moment right before and after the picture was taken, your phone automatically makes the shutter silent to avoid ruining the live photo. Your live photo feature is now on and you can take pictures fearlessly!
3. Lower the Volume to Minimum
Sometimes, you'd not like to turn on silent mode on your iPhone. Other times, you would not like to take a live photo instead of a simple one. No worries, here's a solution for that too. All you need to do is to manually lower the volume to minimum on your iPhone and it would stop making a sound when you take a picture.
The benefit of using this method to turn off camera shutter on iPhone you can quickly change your phone's setting and make the volume audible right after taking the picture, making sure you don't miss out on something important.
4. Turn Off Camera Sound with 4MeKey
If you have come this far, and your iPhone 7 is a Japanese model, or from Korea, then you might as well use 4MeKey to turn off the camera sound. With deltailed guide and clear instruction, Tenorshare 4MeKey will help you turn off the camera sound when you cannot turn it off because of iPhone's default settings.
Run 4MeKey. Connect your iPhone to PC and select Turn Off Camera Sound in the main interface.

Processing. Then be careful to follow guide to jailbreak iPhone.

After you successully jailbreak iPhone, the program will show you device information, confirm it and click start.

Then it will start turning off the camera sound.

Wait for a few seconds until it finish. Then open camera to take photos, there will have no sound.
Conclusion
So, this is all we know on the topic how to turn off camera sound iPhone 7. Since all these methods works equally well, you can choose one that you like the most and find easy to work with. And 4MeKey is your final solution. We hope reading our article has helped you. All the best with your iPhone camera works!