Top 5 Ways to Uninstall An iOS App You Can't Find on the Home Screen
by Jenefey Aaron Updated on 2023-07-21 / Update for iPhone Tips
I have way too many apps on my phone, so many that I can't find any given app in the folders and pages of the springboard home screen anymore. If I can't find it, how to delete apps on iPhone that are hidden?"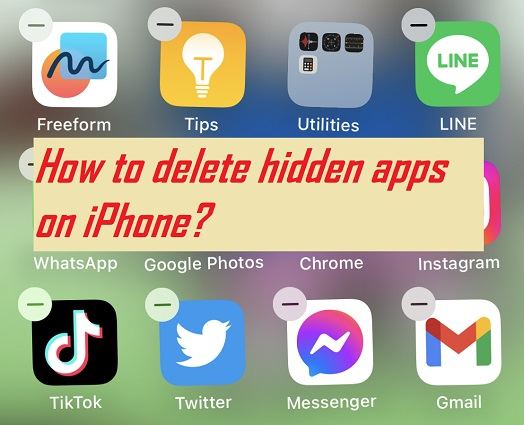 The most common way to remove an app from iPhone/iPad is to tap and hold the app icon for seconds until all icons start wiggling. Then click the little x appearing. However, when the screen is full of apps and you have just downloaded another new program, it won't appear on any of the screens. So if you want to uninstall apps you can't find on the Home screen, please refer to tips below to delete hidden apps on iPhone and iPad.
Part 1: Why Are Some Apps Hidden on iPhone?
Many users wonder why they have installed a certain app but cannot find it on the home screen. This is generally caused by the following reasons:
Certain apps are pre-installed by the device manufacturer or carrier, making them unremovable but hideable.
The app may have been moved into a folder on the home screen, which is why you can't directly see the app icon on the home screen.
The home screen page where the app is located has been hidden.
Users themselves may choose to hide apps for various reasons. It could be to declutter their home screens, prioritize frequently used apps, or maintain privacy for specific applications.
Part 2: How to Find and Delete Hidden Apps on iPhone?
Option 1: Delete Hidden Purchases on iPhone via Spotlight search
This is the most direct and straightforward method how to delete a hidden app on iPhone, but you need to know the name of the app. If you don't remember the name of the app or the "Show App in Search" option was disabled, you won't be able to search for it.
Unlock your iPhone and go to the home screen.
Swipe down from the middle of the screen or tap on the dots to access the Spotlight search.
On the Spotlight search bar at the top of the screen, type the name or keywords related to the hidden app you want to find.
As you type, the Spotlight search will start displaying relevant search results, including apps.
Look through the search results for the app you are searching for.

If the hidden app appears in the search results, you can long-press on it to delete the app.
Option 2: Delete Hidden Apps iPhone from Settings
Should there is an app you want to uninstall while the app icon is missing from either iPhone Home screen or any folder, you can remove unwanted background app directly from iPhone with Settings. (If you have to delete a large number of apps, it's better to back up your data to PC first.)
Head for Settings > General > iPhone Storage, you will see all apps on your device demonstrated in order of memory size.

Scroll through the list or use the search bar at the top to locate the hidden app you want to delete. Tap on the app you want to delete. On the storage details page, you will see an option to "Delete App." Tap on it.
Tip: One thing differing with this method from uninstalling apps on screen with little x is not only the app itself but also the related documents and data will be permanently removed, so it is also useful when you want to free up some space on your overburdened iPhone/iPad.
Option 3: Delete an App from the App Library (for iOS 16/17 or earlier)
App Library introduced in iOS 16/17, is a new way to organize your iPhone's apps. If you can't find an app on the home screen, swipe to App Library and your apps are automatically sorted into categories here.
how to delete apps from App Library:
From your Home Screen, swipe left until you see the App Library.
Tap the search field to open the list.
Touch and hold the app icon, then tap Delete App.

Tap Delete again to confirm.
Option 4: One Click to Delete Hidden Apps on iPhone Permanently
If you feel that manually finding hidden apps on your iPhone is too bothersome, you can use a tool called iCareFone. It allows you to easily delete hidden apps with just a single click.
It's an all-in-one iOS data management tool that allows you to manage/transfer/back up/restore your iOS data on your computer. And in its apps management section, you can see all your installed apps on your iPhone/iPad(hidden apps included). And you can delete the apps by simply clicking the garbage icon.
How to delete an app on iPhone that is hidden by iCareFone:
Download and install Tenorshare iCareFone on your computer. After connecting your device, go to "Manage" tab from the top menu.

From the main interface, select "Apps" on the left pane. Select the app and click on the garbage icon to delete the app from your iPhone or iPad.
Option 5: Delete an App on iPhone that is Hidden with iTunes
iTunes is not merely a media player, it provides iOS users with system management of music, movies, apps and more on their iPhone,iPad at the same time. To remove apps background iPhone, iPad, follow the steps below:
Note: The ability to find apps in iTunes is only available in old iOS version (iOS 16/17 and before) and old iTunes version (12.6.2 and before). If you can't find apps in iTunes, refer to Tenorshare iCareFone to remove hidden apps on iPhone.
Open iTunes on your PC/Mac and connect your device to it.
Click the iPhone/iPad icon from the upper menu bar and choose Apps under Settings section on the left side.

If you can't find the downloaded app on iPhone, iPad intuitively, you can sort apps by name, kind, and category to locate them. Next to the app icon is the Remove button. Hit it to delete apps from iPhone in iTunes.
Tip: You should have already known that iTunes will keep the records of all purchased apps in the App Store and currently there is no way to remove the history. If you are sharing a computer with families and worried about personal info leakage, better to erase hidden apps from your device on Apps > Library.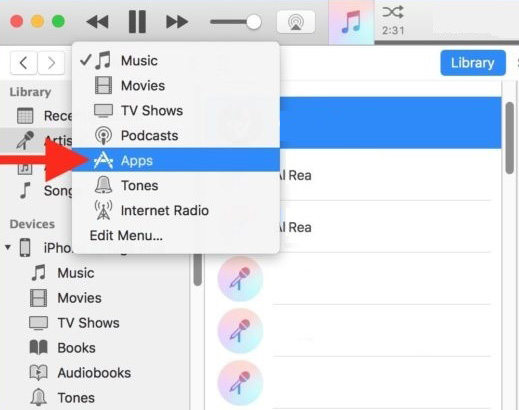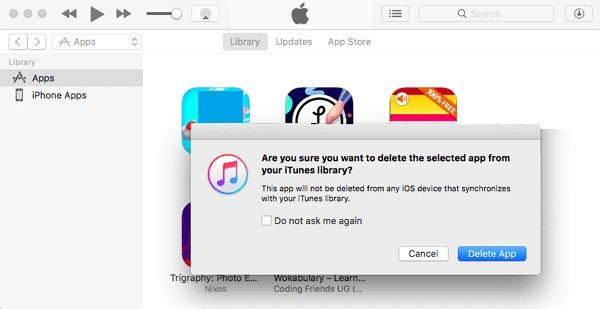 Part 3: How to Hide and Unhide Apps on iPhone?
Follow the steps below to know how to hide apps on iPhone:
Press and hold the app icon of the app you want to hide. This will trigger a small popup menu. Choose "Remove App" and then choose "Remove from Home Screen".

The app will now be hidden from the home screen, but it will still be accessible through the App Library or by searching for it using Spotlight search.
If you also want to hide the apps from the spotlight search, follow the steps below:
Go to Settings > Siri & Search.

Now scroll down to find the app you want to hide and turn off the "Show App in Search" option.

Now you will not see the app from the spotlight search.
Related read How to Find Hidden Apps on iPhone/iPad/iPod.
What if you want to unhide those apps? Follow the steps below:
Swipe right on the home screen to access the App Library.
In the App Library, scroll through the app categories or use the search bar at the top to locate the hidden app you want to unhide.
Once you find the hidden app, press and hold its icon until the app icons start jiggling.

While the icons are jiggling, drag the app icon out of the App Library and onto the home screen where you want to place it. Or choose "Add to Home Screen".

You can now access the previously hidden app directly from the home screen.
Related read How to Unhide Apps on iPhone 14 & iPad.
Summary
That's all we'd like to share about how to delete an app on iOS 16/15 and earlier devices even when you can't find app on iPhone Home screen. If you can't find the hidden apps or delete apps on iPhone, simply download Tenorshare iCareFone and give it a shot.