2-Minute Guide: How to Fast Fix iPhone 14 Quick Start Not Working
by Jenefey Aaron Updated on 2022-09-20 / Update for Fix iPhone
"I was trying to transfer data from my old iPhone to my new iPhone 14 with QuickStart. But my new iPhone quick start not working. How do I fix this?"
Quick Start is a feature developed by Apple to help users transfer data from their old iPhone to a new one. It is a very convenient option. But the only requirement is that both of the devices have run on at least iOS 11.
But if iPhone SE and iPhone XR/14 quick start not working, it is a matter of concern. It is not a usual issue for iOS users. So, let's find out more about this problem and its potential solutions in the article below.
Part 1: What Happens When Quick Start Doesn't Work?
Why is iPhone quick start not working? To answer this question, we need to know what is Quick Start? Quickstart is a procedure where an old iOS device can be used to set up a new one, which is usually taken as a transfer tool.
What happens when Quick Start doesn't work? Now, complains mainly state that devices are within a proper range, but they are unable to recognize. So, why this issue with Quick Start appears? The problem with the Quick Start iPhone not working appears due to improper connection. There is also a possibility of using a lower version of iOS. As we have said, a quick start only works with iOS 11 or later.
Part 2: How to Efficiently Fix iPhone Quick Start not Working Properly
So, if a quick start iPhone transfer not working, you won't be able to set up your new iOS device.
As we have said earlier, we must look into the connection between the devices and the iOS version they are both running on. So, according to these conclusive statements, we have created a list of solutions, check them out.
Fix 1: Make Sure The Two Devices with iOS 11 and above
If iPhone X/14 quick start not working, you need to make sure that both of the devices are running on iOS 11 or later.
So, go to the 'Settings' on both of the iOS devices and tap on 'General'. Then, tap on 'Software Update'. If an update is available, download and install it. It is recommended to download the latest iOS 16.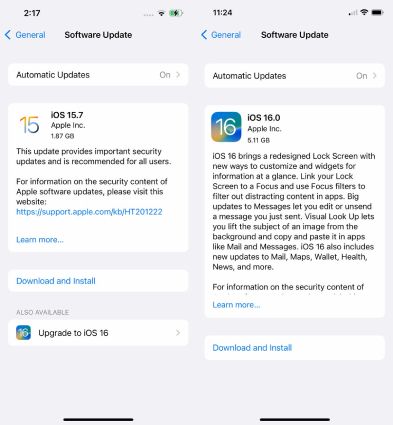 Fix 2: Enable Bluetooth On Both iOS Devices
If iPhone 11/14 quick start not working, check the Bluetooth on both of the devices. Bluetooth needs to be enabled on both of the devices, it will allow the data transmission, but without this feature, a quick start won't work.
So, do the following.
Step 1: Tap on 'Settings' on both of the devices.

Step 2: Then tap on 'Bluetooth'. There is a toggle switch, turn it on.
If the Bluetooth icon is visible on the screen, then you have successfully activated the feature.
Fix 3: Restart iPhone to Fix Quick Start iPhone not Working
If set up new iPhone quick start not working, simply restart both of the iOS devices. A restart can fix minor issues with the devices. So, it is a good option.
Restarting the iOS device is very simple. Hold the Power button. When the Power slider is visible on the screen, slide it to the edge of the screen. Then, wait a few minutes and turn on the devices.
Fix 4: Change Wired Lightning to USB Cable to Try
If set up new iPhone quick start not working and the previously discussed fixes didn't work, then it is possible that the problem is somewhere; we haven't checked yet.
If you are using a USB cable to connect the devices, then you should check them. First, check if it is connected to both of the devices properly. If a quick start is still not working, then change the lightning cable.
If you have access to a different lightning cable, then use it. Otherwise, use a different 3rd party USB cable.
Fix 5: Repair iOS System with Tenorshare ReiBoot
Finally, if you are still having trouble and a quick start is not working, then we recommend repairing the iOS system.
It is the best suitable fix, as none of the solutions were able to fix the problem and quick start set up new iPhone not working, still.
Now, you have the option to choose the tool you are going to use to repair the system, but we recommend using Tenorshare ReiBoot. It is an excellent program. It is equipped with several capabilities, but repairing the iOS system is one of its specialties. It also implements a very simple operation. Let's check it out.
Complete the installation of ReiBoot on a computer.

Connect the iOS device to the computer and run the program. On the program interface, click on the "Repair Operating System'.

On the following page, click on 'Fix Now' to proceed.

Now, you have to download the firmware required for the procedure. Set a path and click 'Download'.

After the firmware is completely downloaded, click 'Repair' and fix the system.
As you can see, it is easy to operate ReiBoot. It takes only 5 minutes to finish this procedure. In the end, you will get a fixed iOS device.
Extra Tip: How to Transfer WhatsApp Between Android and iOS Quickly
Finally, in this part of the article, we would like to recommend a program to transfer WhatsApp data between Android and iOS devices.
The software we are recommending is called Tenorshare iCareFone Transfer(iCareFone for WhatsApp Transfer). It is designed for iOS WhatsApp Transfer, Backup & Restore. Let's check out the steps for Android to iOS transfer.
Install and launch the tool, connect your Android first and then connect your iPhone. Click "Transfer".

Next, this tool you ask you to backup WhatsApp data first. Click "Create new backup" > "Continue".

Now, you need to verify WhatsApp backup account by entering phone number and type the verification code. And click "Verify".

After a while, your WhatsApp data will be transferred to your iOS device.
It is the best way to transfer WhatsApp data from an Android device to an iOS device, successfully.
Conclusion
Therefore, if the iPhone quick start not working, then don't panic. Most probably, it is a connection issue. But we also have detailed the fixes in the article above. You should check them out. This issue is very much fixable, and there is no need to worry.
But if common solutions have failed then, we urge you to use Tenorshare ReiBoot to fix the iOS system successfully. Also, if you want to transfer WhatsApp data from Android to iOS, then iCareFone Transfer(iCareFone for WhatsApp Transfer) is the fastest and the safest option.
FAQs about iPhone Quick Start
Here are answers to a few questions asked often by iOS users regarding iPhone QuickStart. Check them out.
Q1: How do I turn on quick start on my iPhone?
When setting up a new iOS device, tap on 'Quick Start'. Bring the existing iOS device beside it. Make sure that the older device is unlocked and tap 'Continue' on it.
Now, an animated circle will be visible on the screen of the new iOS device. Match it with the old iOS device, and the device will be connected. You will be asked to type the passcode, type it, and follow the on-screen instructions.
Q2: How long should it take to set up a new iPhone?
It takes around 30 to 45 minutes to set up a new iPhone.
Q3: What is iPhone quick start?
iPhone Quick Start is a method to set up a new iPhone using the existing one.