[iOS 16] Best 12 iCloud Activation Lock Removal Free Tools Recommended
by Jenefey Aaron Updated on 2023-04-17 / Update for iCloud
Are you facing iCloud Activation Lock on your iDevice? Do you know what does activation lock mean? You don't need to worry as you are not alone to face this problem. Your problem will be solved in this blog.
Back to the question we discussed, the most common way to remove the iCloud lock is using bypass tools. In this blog, there are 12 iCloud activation lock removal free tools that can help you to get rid of your problem. Check out this article to know remove activation lock on various iOS versions.
Pre-read Tips: What Does Activation Lock Mean
The activation lock also called iCloud activation lock, it is a feature of Find my iPhone. When your iPhone is lost or stolen, you can use this feature to erase your device remotely and find its location. However, if you forgot the iCloud password, then it would be a little trouble to unlock your device.
But don't worry, you can still have a try of the tools below, maybe one of them help you for iCloud unlock free.
1. Tenorshare 4Mekey [iOS 16.3]
The top one tool to bypass iCloud activation lock is Tenorshare 4Mekey. Why would I love to recommend this? Becuase it's effective icloud activation lock removal tool which is free to download. It gurantees safe and quick activation lock removal. But your device (iPhone 5S-X with iOS 12.0-16.3) will be jailbroken on Mac. And 4MeKey is also workable on activation lock bypass ipad.
Download Tenorshare 4MeKey and and you need to read the risk agreement before you use this tool. Because your device will be jailbroken first. Then connec your device with USB cable.

Now you need to jailbreak the device on your own and it may take some minutes, just be patient.

When you successfully jailbreak your device, please click "Next" and confirm your device information. After that, you can proceed to remove iCloud activation lock.

Just for a while, you can see the interface which says you have removed successfully.
Now you can set up your iOS device as a new one and log into Apple Store with your new Apple ID. Whether iPad activation lock bypass or iPhone, 4MeKey can easily complete the task. But do check whether 4MeKey supports your device before purchasing it.
User Review:
2. iCloudin
iCloudin is one of the most efficient solutions to remove icloud activation lock free, you don't need to think twice, just try it to solve your issue.
It is free to download, install and also operate, no cash needed.
The interface of it is friendly for every user, you just need a few clicks to solve issue.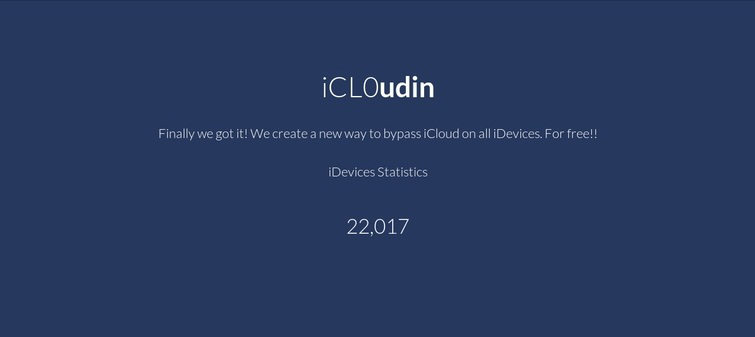 However, it still doesn't support all the iOS version. It is only compatible with iOS 7.0.5 to iOS 9.0.
User Review:
3. iCloud Generator v3.2.1
iCloud Generator v3.2.1 is one of the most user used software to unlock iCloud without too many steps and issues.
The steps to use it are easy, you just need to: download > connect > provide the info > click on "Remove iCloud" button.
You can use it from

iOS 7 to iOS 11

in any kinds of iPhone.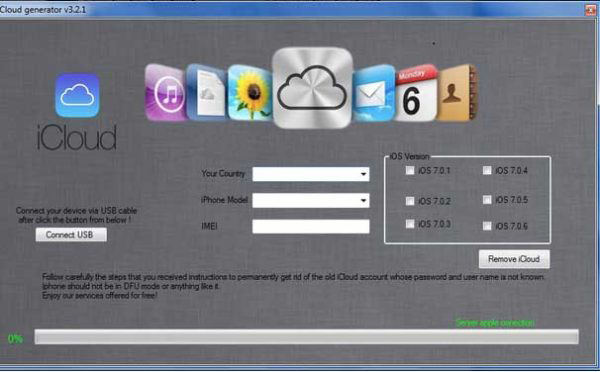 iCloud Bypass tool can help you with many different problems, but it may be difficult to download, makes computer slow and get only 3.5 stars.
User Review:
4. Using DNS
Looking for free icloud activation lock removal? Then this method is just here to reach your needs. With chaning the DNS (Domain Name Servers) of your device, the iCloud activation lock can be removed easily.
How to remove iCloud Activation using with method:
Restart you iPhone >>, then select the Country and Language.
Go to Wi-Fi settings >>, tap on "i" symbol next to Wi-Fi network you used to connect.
Press on the DNS and clear out the number.

Input the new DNS number according to your location.

USA/North America: 104.154.51.7
Europe: 104.155.28.90
Asia: 104.155.220.58
Other areas: 78.109.17.60

Now go back and connect to your Wi-Fi network.
Click on "Activation help" (A message will pop up with saying connection to the server is successful).
Click the Menu option on the top right corner of your iPhone screen.
Now you can use your iPhone without any limits and locks.
User Review:
5. DoulCi iCloud
DoulCi iCloud is also a free iCloud activation bypass tool, it's really easy and can unlock your iPhone, iPad and iPod touch within 20 minutes.
You can use it on Mac, Windows and also Linux.
There is detailed tutorial on its website, you can check them easily.
The software supports all iOS versions and all iPhone/iPad/iPod touch models.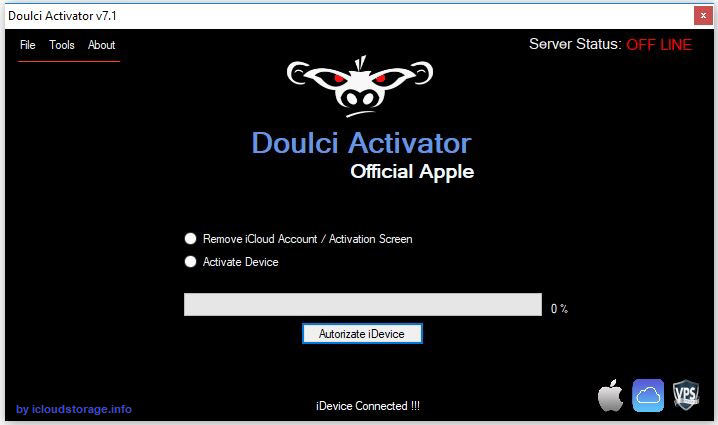 User Review:
6. doctorunlock.net
doctorunlock.net is use to bypass iCloud Activation Lock for your iPhone/iPad/iPod/AppleWatch.
This service can remove or delete the current iCloud account from your iPhone/iPad permanently.
After the iCloud account is removed, you will immediately be able to activate your iPhone, and sign it with your own iCloud account.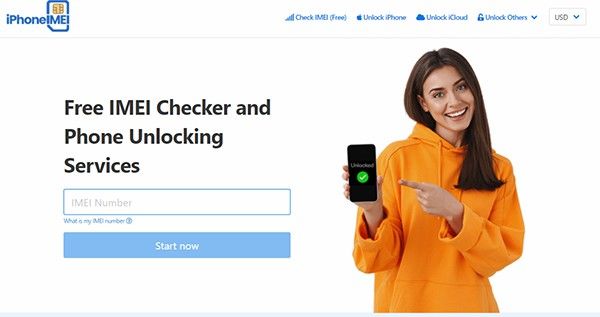 User Review:
7. Checkm8
Well, if you are looking for a way to bypass iCloud. I think this is a good news for you. As many users have tried and reported, Checkm8 is a reliable icloud activation lock removal free to use. It also works on iPad activation lock bypass.
It is completely free, don't worry about be cheating.
There detailed guide on their website to help you use the software.
It supports both iPhone(iPhone 4S to iPhone X) and iPad(iPad 2 to iPad Pro 12.9).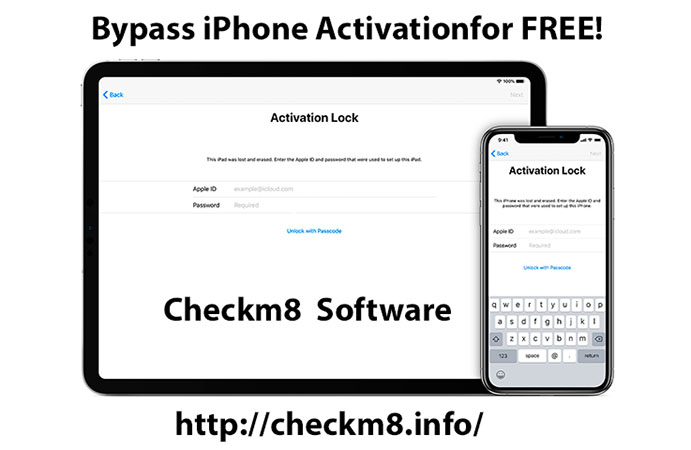 The cons is the that the software only can be used on Mac.
User Review:
8. iCloud Assistant Pro
iCloud Assistant Pro is an iCloud unlocker tool which can help you remove the activation lock without needing any credential or password. However there is no official way to download it, but you can still take a shot on it's crack version.
It has the user friendly interface and can used in simple steps.
This tool will do no harm to your computer and idevice and can be hidden completely.
It supports

iOS 7 to iOS 11

from iPhone 4s to iPhone X.
The working speed of it is fast and has many different features.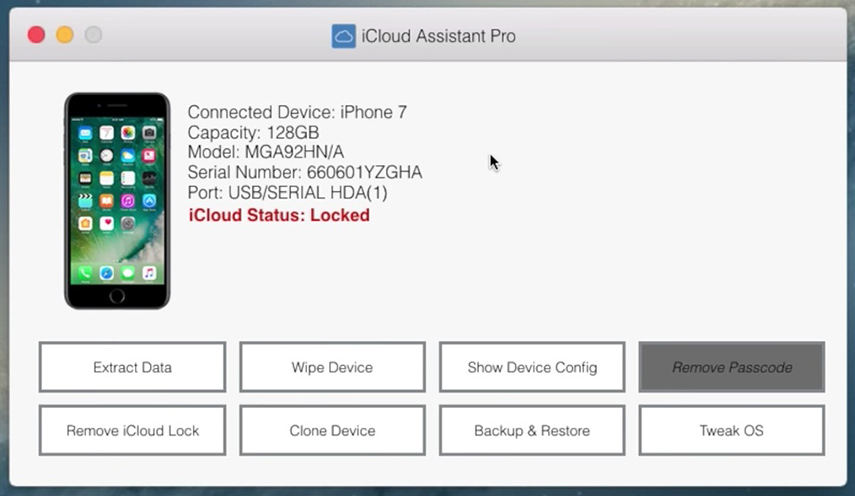 The disadvantage is that the price is a little higher than other software and it may lag when there are too many task working together.
User Review:
9. Gadget Wide
Gadget Wide is also an highly recommended iCloud removal tool. It is used worldwide and has a detailed online guide which can help users to unlock iCloud easily.
It is completely free, you can use it without any limits or ads.
Gadget Wide runs fast and everyone can use it whenever they want.
The best part is that this software can be used with device from iPhone 4 to iPhone X in the system from

iOS 7 to iOS 11

.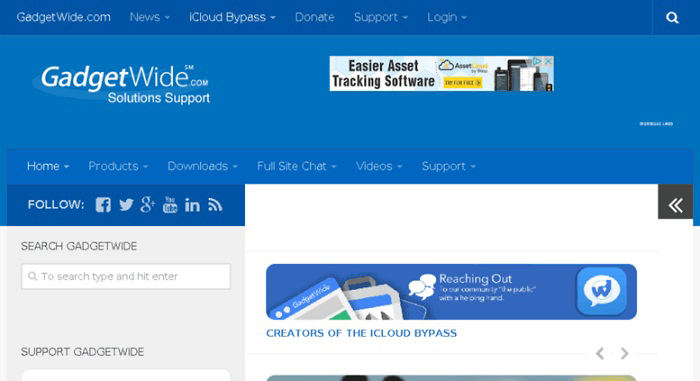 However, only the Windows Users can use it and you must use iTunes together.
User Review:
10. Using Apple iPhone Unlock Service
Apple iPhone Unlock is a fast icloud activation lock removal free online 2023 which can get iCloud unlocked in 2 days. It will help to delete the iCloud lock so that you can enter and use your device again.
How to Use:
Go to the Apple iPhone Unlock.
Input the iPhone model, IMEI number of the iPhone needed to be unlocked.
Then, you will be asked to pay for the service according to your device mode. Wait for 1-3 days to get your iCloud account unlocked.
User Review:
11. Using iCloud Activation Bypass Tool Version 1.4
The iCloud Activation Bypass tool version 1.4 which is really an useful software in market to bypass iCloud.
All the functions are displayed on the home interface for you to view.
Through the whole process, you can check the DFU mode guide to proceed.
The software is free to use and you will not lose any data.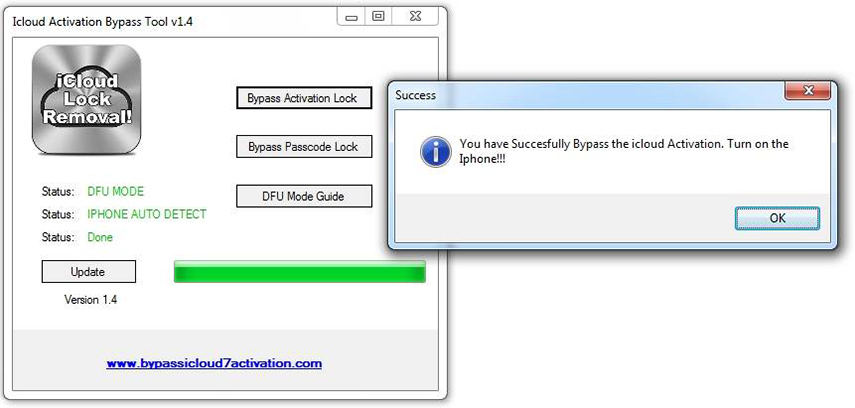 The cons is that some users found that their device cannot be detected or the response is slow.
User Review:
12. Using Open My iCloud
Open My iCloud is another user verified removal tool for iCloud activation lock, use it can solve this kind of problem without any hassle.
Like other software, it is also can be used for both professionals and the first time user.
It is compatible with iOS system from

iOS 7-ioS 11

.
What you must keep in mind is that the tool uses the IMEI number of your device to proceed unlocking.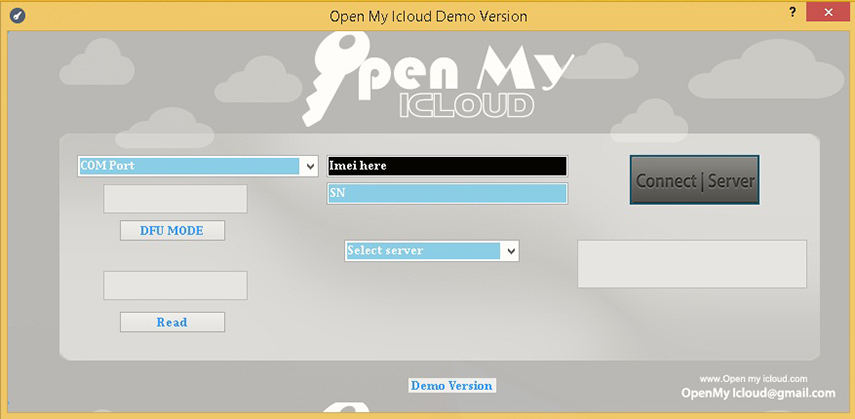 The disadvantage is that: the software only available in Windows and doesn't support Mac. And it is hard to find a way to download it.
User Review:
How to Bypass Activation Lock for Free
You might also wonder if there are other ways of removing iCloud activation lock for free. The straightforward method is to get in touch with the seller. Ask them to help you remove iCloud lock online. Just remove the linked Apple ID from your current account with a password.
Unfortunately, the seller mostly wouldn't know such a thing at all.
Or if you own the iPhone legally, you can ask Apple to help unlock Activation Lock. However, there is no 100% for sure. Because they value security highly.
Conclusion
These are the top 12 icloud activation lock removal free which can help you to remove iCloud lock from your iDevice. Make sure to choose the best tool that matches your criteria and soon you will be able to unlock your device and use it normally.
FAQS about iCloud Activation Lock Removal Free
Q1: Is it possible tp bypass iCloud Activation for free?
A: The answer is yes, there are many tools claimed that they can help tp bypass iCloud Activation lock free. However, please be more careful before trying as there are also many scammers.
Q2: Which iCloud Activation Lock Removal Tool is the best?
A: Like we have mentioned above, each software has its pros and cons, we cannot tell which one is the best, but you can give them a try or just ask questions to their support.
Q3: Does a jailbreak remove iCloud Activation Lock?
A: No, the jailbreak can only help you bypass some iOS system restrictions, it cannot remove the iCloud Activation Lock. However, some software can help to bypass the lock after jailbreaking.