iPhone Camera Shutter Sound won't Turn off? Top 4 Ways to Fix
by Anna Sherry Updated on 2021-11-11 / Update for iPhone Tips
Shutter sounds are a nice way to get audible feedback when you click a photo on your iPhone. Even then, some people may prefer to keep their shutter sounds off due to obvious reasons. However, some people may face a pesky problem where their shutter sound doesn't turn off and they keep scratching their heads thinking "how do I remove camera shutter sound".
In this article, we talk about the top 4 ways this issue can be resolved. But first, let's have a look at why this issue occurs in the first place. Let's get started.
Part 1: Why Can't I Turn off the Shutter Sound on my iPhone
When users face this issue, the first question that pops up in their heads is "Why can't I turn my shutter sound off". Well, there could be more than a few reasons for it.
First and foremost, there may be something wrong with your iPhone's sound settings. You might have fiddled with the Settings which caused this issue. Moreover, software issues like bugs and glitches can also cause this problem.
There could also be a hardware issue with your device.
Last but not least, you might not be able to turn off the shutter sounds because your country or region doesn't allow that. You see, some countries like Japan and Korea have a government rule, which forbids turning off camera shutter sounds. This rule is set in place to disregard people from taking sneaky indecent pictures of others.
Part 2: Top 4 Ways to Fix iPhone Camera Shutter Sound won't Turn off
If your country or state doesn't have the above-mentioned government rule and your iPhone camera shutter sound won't turn off still, here are some possible fixes. If you have purchased your iPhone from Japan or Korea then you can directly skip to method 4.
1. Check iPhone's Volume and Mute Switch
The first thing you must do is to check whether you have the correct volume levels set up on your iPhone. You see, your iPhone camera shutter sound won't turn off if you have turned the volume all way up.
Here's what you should check.
Make sure your mute switch is set to "Silent". Your mute switch is located on the left side of your iPhone, just above the volume keys. Ensure it's switched backward in the "Silent" position. Try turning it back and forth and notice the "Silent Mode" popup on your iPhone.

Turn the volume all the way down. Press and hold the volume down key on your iPhone until the volume slider is completely turned down.
2. Restart Your iPhone
If your iPhone camera shutter sound won't turn off after following the above-mentioned steps, there might be a software glitch. And the best, quick way to deal with minor glitches is to restart your iPhone. Here's how you can restart your iPhone.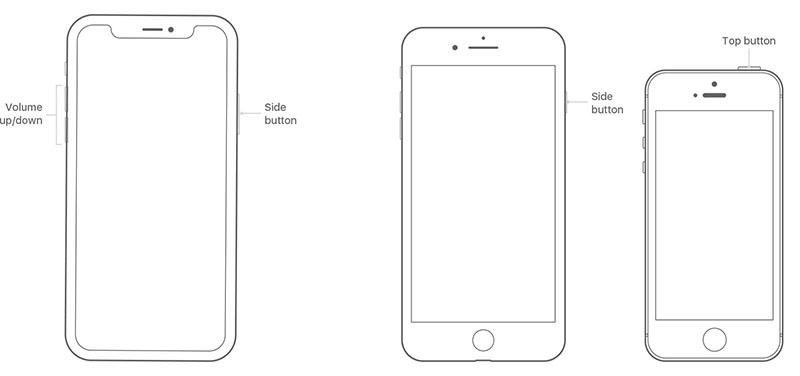 If your iPhone has a home button:
Press and hold the Power button until you see the Power Off slider.
Drag the slider to the right to turn off your iPhone.
Wait for about 30 seconds. Press and hold the power button to power on your iPhone again.
If your Phone is iPhone SE (2nd generation), 8, 7, or 6:
Press and hold the side power button until the slider appears.
Drag the slider to the right to turn off the iPhone.
Then wait for about 30 seconds, and press and hold the side power button to turn it on.
If your iPhone is iPhone X, 11, 12, or 13:
Press and hold the Side button and the Volume down button at the same time.
You will see the Power Off slider; drag it all the way to the right to power off your iPhone.
Power on your iPhone again by pressing and holding the Side button.
3. Update to the Latest iOS Version
If your iPhone camera shutter sound won't turn off after restarting, you should try updating your iOS version to the latest available option. That's because Apple fixes such bugs in new updates when enough users report them.
To update your iOS version, follow the steps:
Open the "Settings" application on your iPhone. Select "General".

Click "Software Update". You should see a "Download & Install" button if a new version is available. If no new version is available, you should see an "Up to date" message.
4. Use the Third-Party Software
If your iPhone camera shutter sound won't turn off even after following the methods given above, it's possible your device has been purchased from a country where it's forbidden to silent the shutter sounds. Search on Google to see whether your government has forbidden turning off the shutter sounds. If it has, then you shouldn't try to do it as it's against the law.
However, if you imported the phone from such a country but your current area doesn't have such a rule, you can use third-party software to silent the shutter sounds.
Here we suggest you use Tenorshare 4MeKey, which can really turn off your iPhone camera sound with three steps. No matter what caused your iPhone camera sound won't be turned off, 4MeKey will mute the sound without any complicated operation steps. What's more, 4MeKey is not only a camera sound remover, which is also a professional Apple account unlock tool that is designed by Tenorshare. With is professional team and experience, you do not need to be skeptical about it.
Let's see in detail:
First, you need to download 4MeKey on your computer by clicking the above button (or you can also go to its official site by clicking "4MeKey"). Then install it and open it on your computer. Connect your iPhone to the computer using a digital cable. Now you need to click "Turn Off Camera Sound" on its main interface.

Now, 4MeKey will jailbreak your device, and you just need to follow the instructions.

Then you need to click "Start" to turn off the camera sound. Wait for about 1-2 minutes, and your camera sound will be turned off successfully.
Conclusion
Many people prefer turning off the camera shutter sounds on their iPhones. But they get disappointed when they face this annoying problem where their iPhone camera shutter sound won't turn off. This article talks about all the reasons you may be facing this issue. Plus, we explored some most common ways and a special method you can fix this problem.