How to Permanently Delete Messages on iPhone 5S/5C/5/4S
by Jenefey Aaron Updated on 2020-03-31 / Update for Other iPhone Tips
Text messages don't actually get deleted. Even after I delete a conversation from iPhone, it can still be found when using Spotlight to enter some keyword and search. Is there a way to permanently delete iPhone text messages?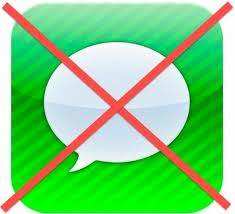 Many iPhone users reported that the messages they had deleted appears again on their Spotlight search. This is because when you delete text messages from iPhone, they don't actually get deleted. Instead, they're marked for deletion by the operating system and hidden so that they appear deleted. But they're still on the phone. Only when you sync your iPhone with iTunes are they truly deleted. As a result, if you want to permanently delete iPhone text messages, the first solution is to sync iPhone with iTunes.
Solution 1: Sync iPhone with iTunes
Syncing is a good and simple way to remover or add contents to iPhone and other iOS devices. If you sync iPhone regularly with iTunes, the cached files or other items that have been deleted from your device will be eliminated, i.e. the new items on your iPhone will overwrite those old files and therefore the old files are deleted completely.
It's easy to sync iPhone with iTunes. Make sure you have the latest iTunes installed before the sync starts.
1. Connect your iPhone to your computer.
2. When iTunes appears, click the Device button in the upper right corner. (If viewing the iTunes Store, click the Library button first.)
3. Click Apply in the lower-right corner of the screen to enable the sync.
Instead of iTunes, you can also have a freeware to erase all the messages that you don't need any more. Free iPhone Care could help you permanently delete more than messages, but also other caches, cookies, etc. Click the link to download this freeware to your computer and have a try.
Solution 2: Restore to Factory Settings and Erase all Data on iPhone
To completely delete messages as well as other data on your iPhone, you can restore iPhone to factory settings through iTunes on your computer or from iPhone. It's worth mentioning that the factory reset process will remove all data and settings on your device. You will lose everything that is stored on your iPhone, from pictures, to music, to notes, and specific app data. If you are looking for specific steps, check the post How to Factory Reset iPhone.
Solution 3: Make Your Cached Texts Invisible in Spotlight
If you want to delete messages in Spotlight search history without syncing or restoring to factory settings reset, you can stop Spotlight from searching messages by using the settings below. This may not get your messages completely deleted; it only makes sure that no one could see your private messages from Spotlight search.
1. From your home screen, tap Settings > General
2. Scroll about halfway down the screen and tap Spotlight Search
3. Scroll to the bottom of the screen and tap Messages to uncheck it.
How to Recover Permanently Deleted Files on iPhone?
Once the text messages are wiped out of your iPhone, they won't appear on your iPhone again. Theoretically there's no way to restore deleted iPhone text messages. Only one powerful third party iOS data recovery tool iPhone Data Recovery could help you achieve this. Just try it if you changed your mind and want to recover wiped iPhone data.