How to Change Location on Tinder with/without Tool
by Jenefey Aaron Updated on 2020-08-07 / Update for iPhone Tips
Finding a date or hooking up online has been one of the major sources of romance for many years. And Tinder is one of the leading dating apps for this service. With around 60 million users and over 1.6 billion swipes per day, Tinder is a happening place for people that are looking for any form of dating. Although this app works in about 196 countries, the top countries using include the UK, the US, and Brazil.
Since the search for a possible date is based on your location, your options are limited to people that stay around you. For many reasons, you may decide to change the location. You don't have to get worked up over this as there are several methods you can explore to change your location on Tinder. Some of these methods require a tool while others don't.
Part 1. How to Change Your Location on Tinder without a Tool
If you don't want to use any tool to change your location, then you should consider using the Tinder Passport feature. This premium feature enables Tinder users to find and chat with matches from different parts of the world. In other words, you don't have to be in the same city with someone before you can chat with them when using the Tinder Passport feature.
Foremost, you need to subscribe to the Tinder Plus or Tinder Gold option. To do this, log in your Tinder account and click the profile icon.
Go to "

Settings

" and choose either Tinder Gold or Tinder Plus. You will be required to authorize payment for the subscription, so bear this in mind.
After subscribing, under "

Settings

" and click "

Location

".

Now, you can add a new location that you want and widen the reach of your matches on Tinder. You will appear in one city at a particular period. However, you can change the city whenever you want.
While this option is easy, straightforward and doesn't require any tool, it comes with a plethora of drawbacks. Firstly, you have to pay a monthly fee of $9.99. If you are older than 31 years, your subscription will increase to $19.99 per month.
Secondly, people can know that you are far away from them by checking the distance between your location and theirs. However, Tinder Plus allows you to use the "don't show my distance" option. Despite this, some users will not chat with you once they cannot see the distance between them and you. Overall, using Tinder Passport may be counterproductive in some cases.
Part 2. How to Fake Location on Tinder Whenever You Want
So, if you decide to change the location, there are several methods you can use to fake your location on Tinder.
2.1. Download Fake GPS Location Tool to Trick Tinder Location
For people using an Android device, you can go to Google Play store and download Fake GPS Location Tool to change your tinder location and chat with people in different locations.
Use this method by doing the following:
After downloading the tool, launch it, and choose an option from its main interface. Click "

Set Location

".
Open the map and choose a coordinate to determine the location where you will appear. You will be prompted to allow the app to access your phone.
When you are done, click "

Start

" to begin using the new location.
Now, you can open your Tinder app and start using it with the newly selected location.
2.2. Use A VPN to Change Location in Tinder
There are different types of VPN online today, and you can use one of them to fake your location in Tinder. For better perspectives, we will use NordVPN to describe how you can change your location on Tinder.
Download NordVPN on your mobile device.
Open the app and enter your credential to sign up.
Once you have been logged in, click "

QuickConnect

".

NordVPN will automatically give you access to thousands of virtual servers.

Choose a location by scrolling to any country of your choice

When you are done with all these, start using Tinder while appearing in your preferred location.
Part 3. Jailbreak iPhone to Change Location in Tinder
You can also change your location in Tinder by jailbreaking your device. It is worthwhile to note that jailbreaking means that you will remove restrictions that the operator or manufacturer added to the device during production. With this, you can install applications such as The Anywhere that can make changing your location in Tinder easy and quick.
Even though jailbreak can provide access to tons of benefits, you should note its downsides. Jailbreaking voids the warranty of your iPhone, so you may encounter some challenges if your device has a problem.
Furthermore, you may download some dangerous third-party applications after jailbreaking. Such apps may have malware and other suspicious content that can affect your iPhone.
So, before jailbreaking your iPhone to change your location in Tinder, ask yourself whether it is worth it or not.
Here is A Bonus: What to Do If Fake GPS Tinder Not Working?
If using Fake GPS Tinder doesn't work on your device, you will not be able to change your location. In most cases, this is usually to different problems that are affecting the proper functioning of your iPhone. If you find yourself in this situation, it is crucial for you to first fix the iPhone system problem and then try to find a way around the location issue. To solve any problem with your iPhone system, we recommend that you get Tenorshare ReiBoot.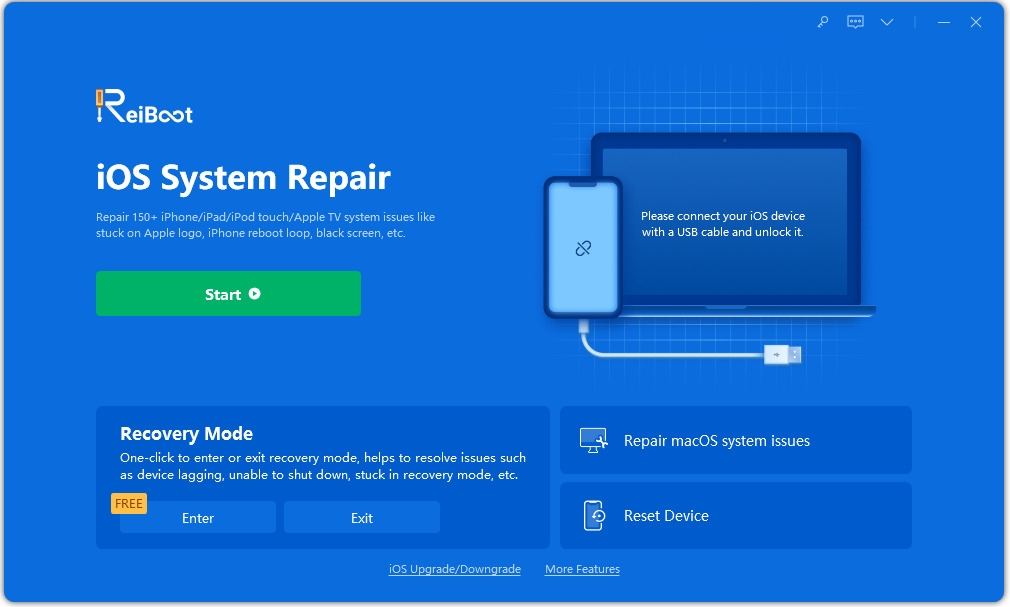 Tenorshare ReiBoot is a top-notch iPhone recovery mode tool that can be used for different functions. This free program can be used for fixing system problems such as iPhone that is stuck on the Apple logo or in recovery mode. Also, it can fix iTunes Error 4013/4005, and lots more. The most amazing thing about this tool is that it requires a single click to fix your phone.
So, you should never let the iPhone system problem get the best of you again. Leverage the features of ReiBoot to continue enjoying your iPhone.
Conclusion
Regardless of your reasons, you can explore the tips above to change your location in Tinder and start connecting with people in different locations. If none of the methods works, your device probably has a system error. Don't hesitate to use Tenorshare ReiBoot to get rid of the system errors.
Freely Change GPS Location without Jailbreak!
Plan a route by selecting two or multiple spots on the map
Easy to simulate GPS movement based on customized route
GPS joystick to take better control
Import GPX file to start a designed route