Free Raw to JPG Converter Collections 2023
by Anna Sherry Updated on 2022-10-17 / Update for Photo Tips
If you didn't know already, your new iPhone 14 Pro can take 48MP RAW images. We know, this is a mouthful, but this new feature allows for some drastic improvements for pro photographers.
If you don't know what is RAW and raw to jpg converters, this article is a must-read for you.
Below-mentioned is everything you need to know about this subject, i.e., the definition of RAW, how you can covert it into standard JPG format, and whether there's any advantage of shooting in RAW.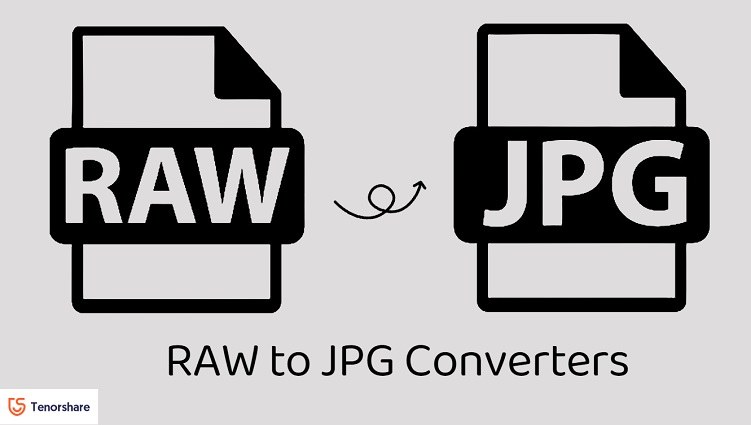 Part 1: What is Raw?
Before we jump into conversions, let's talk about what is raw photo.
When you take a photo using your smartphone, your smartphone brand's image processing does its magic to tune different settings of the photo. For example, when you take a portrait photo on your iPhone, Apple's processing artificially blurs the background of the photo, clears up the skin of the subject, increases light in low-light areas, and does a lot of other things.
However, this processing may not be ideal if you're a professional photographer and want to have more control over how your photo looks. For example, the photographer may not like the bright and colorful processing of iPhones because they might want a shot to look dull and cinematic.
That's where the RAW format comes into play. When you take a raw photo on your phone, it doesn't apply any post-processing to the image. The details captured by the hardware will be preserved as they are, and your smartphone brand's processing won't affect the details.
What benefit does it offer?
Well, when you take a photo in RAW image format, all the details captured by the sensor are fully preserved.
When you import the photo into editing software, like Adobe Lightroom, you get a lot of control over the details. You can fine-tune the color, sharpness, shadow details, and tons of other metrics according to your own will.
Part 2: Top 10 Free Raw to JPG Converters
Now you know what raw pictures are, it's time to talk about how you can convert them to a standard JPG file.
Why would you do that? Well, if you simply are happy with the unprocessed look of the image and want it in a JPG format, you can use a converter to get one.
Below-mentioned is some of the best tools you can use for this kind of conversion.
Related read How to HEIC to JPG.
Part 3: Is Raw Better than JPG? RAW VS JPG
Now that you know raw photo meaning and how you can convert it to JPG, it's time to talk about whether you should capture your daily photos in RAW or JPG.
If you're a professional photographer who edits their photos after capturing them and need the most amount of control while editing, you should capture in RAW.
On the other hand, if you use your smartphone camera for day-to-day usage and don't edit your photos in professional software, capturing them in JPG makes more sense for you. That's because RAW photos often look very dull because there's no processing applied to them.
At the same time, raw photos for editing have perks of their own. You get a lot of control over the different specs of each image, which can make your photos look much better after editing.
Simply put, there's no clear answer to which format is better. It all depends on what you want.
Bonus: How to Convert Picture to PDF on iPhone (One-Click)
Now that you know everything about RAW file format, it's time to give you a bonus tip!
Want to present a bunch of your photos in an organized PDF? Tenorshare iCareFone can help you create one with ease. All it takes is just a few minutes. It's an all-in-one iOS data management tool that can help you manage your iOS data on computer in an easier way. iCareFone main features:
Back up and restore iOS device easily
One-click to export device photos to computer
Transfer iOS data to anywhere you want
Here's how it works.
Download and install iCareFone on your computer, then open it. Connect your iPhone to the computer. Select the Manage tab.

Select all the photos you'd like to convert, then hit Export.

Select PDF as the file format, and your photos will be saved as PDF in no time!
The Bottom Line
There you go — now you know RAW picture meaning and are also aware of the best tools to convert RAW files to JPG.
If you'd like to convert your photos into a PDF instead, simply use Tenorshare iCareFone.