Full List of Banned Apps in India, How to Download Now?
by Anna Sherry Updated on 2022-11-23 / Update for iOS App
TikTok banned in India; FreeFire/BGMI banned in India; AliExpress banned in India — "What to do?!"
Unless you've been living under a rock, you know the drastic wave of app bans has been hitting the Indian market. Many Chinese apps banned in India, and many users are not sure why that's happening and what they can do about it.
If you're one of those, this article is going to be a lifesaver for you.
Here's everything you need to know about the situation, and also how you can download any of the banned apps even now!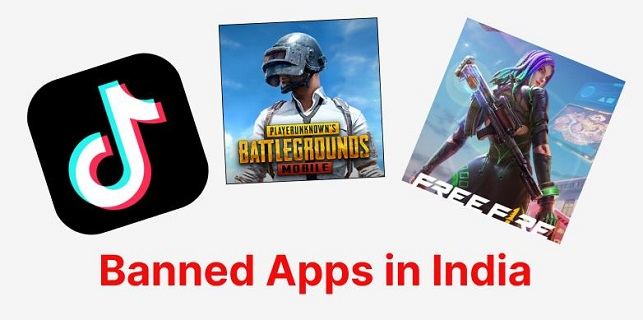 1. Full List of Chinese Banned Apps in India (More Than 52 Apps)
So, what are all the banned apps in India? This section is going to answer that!
Below-mentioned is the list of all the apps banned in India.
BGMI banned!
PUBG India banned!
TikTok banned!
Garena Free Fire banned!
Likee banned!
Weibo banned!
ShareIt banned!
Clash of Kings banned!
WeChat banned!
DU Battery Saver banned!
UC Browser banned!
Baidu Map banned!
AliExpress banned!
Alongside these popular apps, the government of India has also banned tons of other unpopular Chinese apps in multiple waves. To read the complete details of each ban wave, visit this XDA page.
2. Why are Chinese Apps Banned in India?
So, what is the exact reason for the waves of the Chinese app ban in India? That's what this section is all about!
You see, the Indian government considers Chinese apps a threat to public privacy and security. They believe that Chinese apps could mine user data and hand it over to the Chinese government for political purposes.
Whether that's true or not is a story for another day. However, this is the main reason tons of Chinese apps have been banned in India, and more will probably follow suit soon.
3. Hot Banned Apps in India Download on iOS Device[From Tiktok to Free Fire]
Now that you know the reason for the ban, it's time to talk about how you can perform a BGMI India download on your iPhone. Not only BGMI, but you can download any of the popular banned apps you want.
The method we're going to use is Tenorshare iCareFone, simply because it's the easiest method to download and install any of the banned apps in India.
You don't have to go through any hard-to-follow steps. All it takes is a few mouse clicks and you're good to go! It's 100% safe and privacy protected!
That said, here's how to perform a PUBG/BGMI/FreeFire/Tiktok download (or any other app download) with iCareFone:
Download and install Tenorshare iCareFone on your computer. Connect your iPhone to the computer. Open iCareFone and select the Manage tab.

On the left-hand side, select the "Apps Download" menu. You will see a list of apps available to download.

Simply select your desired app from the list, and it will be downloaded and installed on the connected iPhone.
Be noted that with this method, you can only download apps that you had previously downloaded with that Apple ID before. You won't be able to install an app you haven't "got" before.
Related read How to install banned TikTok in India.
4. Android Banned Apps in India APK Download
Now that you know how to do a Free Fire India download, or any other app download for that matter, on iOS, it's time to talk about Android.
The preferred method for installing banned apps on an Android device is through APKs. You can download and install an APK for the app you want on your phone, which will give you access to the app effortlessly.
Below-mentioned is the APK download information for a few popular apps.
1.PUBG Mobile
To download the PUBG Mobile APK on your device, click here.
2.BGMI
To download the BGMI APK, click here.
3.TikTok
To download the TikTok APK on your phone, click here.
4.Garena Free Fire
To download the APK file for Garena Free Fire, click here.
5.AliExpress
To download the AliExpress APK on your phone, click here.
How to Install the APKs
After you've downloaded an APK file from any of the links above, it's time to install it. To do that, follow the steps.
Pull down your notification panel.
Tap the Download Complete notification for the APK.

You need to give "install unknown apps" permission to the browser where you downloaded the APK file.

Tap Install, and then wait for the installation to complete. It shouldn't take more than 10 seconds on a modern flagship phone. But, it could take anywhere to a few minutes.
If you've downloaded a game APK, open the game after the installation. Then, the game will download additional resources. Wait for it to complete.
5. Is it Safe to Use Banned Apps in India?
If you download your APK files from a trusted source, like APKMirror, you can use the apps safely on your device.
But, if you download a compromised APK from a shady source, it might pose some privacy problems on your device. So, always make sure to download your APKs from trusted sources.
The Bottom Line
And there you have it — that's how to download and installed Chinese banned apps in India.
If you're using an iPhone, simply use iCareFone to get any app you want. If you're on an Android phone, just download the APK file for the app from a trusted source, and then install it to your phone.