Difference Between No Location Found & Location Not Available: Everything You Should Know
by Anna Sherry Updated on 2023-02-27 / Update for iPhone Tips
Hi there. I often share location with my friends and family in the Find My app on my iPhone. Sometimes I see the Location Not Available error, and sometimes the No Location Found error. I was wondering what's the difference between No Location Found vs. Location Not Available. Could someone help me out?"
Find My app is a really handy app by Apple. In this app, you can see the location of your Apple products, your AirTags, and even your friends/family who choose to share their location with you.
However, this feature can sometimes put you in a tricky situation when you can't figure out if the other person stopped sharing location or simply lost the internet connection. That's why there's so much confusion between "No Location Found" and "Location Not Available".
But don't worry! After reading this post, you will fully understand the meaning of both.
1. What Does Location Not Available Mean?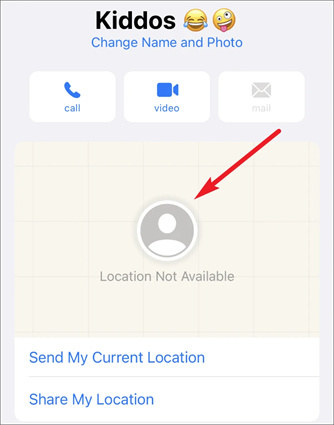 In short, Location Not Found means the other person has stopped their location with you.
When the other person goes into their Find My app and stops sharing their location, you will begin to see this message in your Find My app.
Some people believe "Location Not Available" means there's an internet connection error. But that's not the case. There's a different error message for those scenarios. You guessed it, it's "No Location Found".
Talking about that, let's explore the No Location Found meaning next.
Related read Fix iPhone Location Not Available.
2. What Does No Location Found Mean?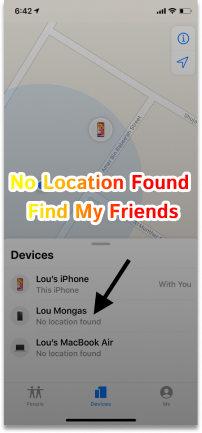 Does No Location Found mean they stopped sharing? Well, no.
This message appears when there's a technical error in the location-sharing feature.
It could be due to a bad internet connection, low battery, or other technical reasons, which we will talk about in the next section.
For now, just remember that "Location Not Available" means the other person has stopped their location, and "No Location Found" means there's some sort of technical error and the other person hasn't stopped sharing their location.
Related read Fix No Location Found Find My.
3. Why Does It Say No Location Found?
As said earlier, No Location Found iPhone appears when there's a technical error. That means if the location data can't be transmitted from the sending device to the receiving device, then you will see this error.
Here are a few reasons why this might happen.
The other person doesn't have an internet connection.
Their internet connection is too slow or unreliable.
Their phone is turned OFF.
They have very low battery and Low Power mode turned ON, which could affect background location activities.
They are in a distant place with low cellular connectivity to be able to reliably connect to the internet.
4.How to Share Location With Someone in Find My
If you don't know how to get started with this feature in the first place, this section has got you covered.
It's actually really simple to use this feature. All you need to get started is your Location Services turned ON. Then, you can open Find My and start sharing location and request for location from your friends/family.
Here's how to do this. To share your location:
Open the Find My app.
Select the "People" tab from the bottom.

Tap the "Start Sharing Location" button.

Choose a contact you'd like to share your location with.
Choose the duration you'd like to share the location for.
Now, the other person will start seeing your location. Then can also choose to share their location in return.
If you'd like to ask them to share their location with you, follow the steps below.
Open the Find My app and select the People tab.
Choose a person you're sharing your location with.
Scroll a bit down and choose the "Ask to Follow Location" button.
The other person will receive a notification with permission. They can either accept it or deny it.
Bonus: How to Change iPhone Location without Jailbreak
Want to temporarily change your iPhone's GPS location? Well, we've got you covered! You don't need to jailbreak your iPhone or do any other kind of complex trickery for this task. All you need is Tenorshare iAnyGo installed on your computer.
Also, it is compatible with all location-based applications, including Facebook, WhatsApp, Fitbit, Pokémon GO, and Fitness.
Here's how it works.
Download and install Tenorshare iAnyGo on your computer. Open the app. Click "Enter". Connect your iPhone to the computer using a USB cable.

Choose a location on the map that you'd like to change your location to. You can choose any point around the world.

When you've picked a location, simply click the "Start to Modify" button, and your location will change on the spot! Other people will see your location exactly where you choose from iAnyGo.
The Bottom Line
No Location Found vs. Location Not Available is a common question among Find My users. People just can't seem to remember what both of them mean.
However, after reading this post, now you have a clear understanding of how both of them differ.
Lastly, if you want to temporarily change your iPhone's location to a place where you're not present, Tenorshare iAnyGo is your best friend.