How to Get Unbanned from Tiktok: What You Need to Know
by Anna Sherry Updated on 2023-03-31 / Update for iOS App
Hi, I'm seeing a message on my TikTok app that I've been banned from the app. What do I do now? I don't even know how this happened. How to get unbanned from TikTok now? Your help will be appreciated!"
Getting your account banned from a social app is one of the worst feelings out there, especially if the platform is your favorite. As you're reading this post, you've probably got yourself banned from TikTok, and are wondering what to do now.
Well, don't worry. In this post, we're doing to dive deeper into this subject and find out how to get your TikTok account unbanned. Let's get right into TikTok unban.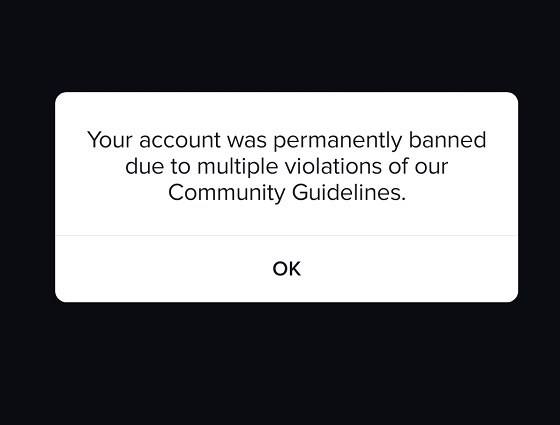 Part 1: Why Does Someone Get Banned on TikTok in the First Place?
So, why would someone get banned from TikTok?
Well, if someone does something wrong or against the rules on TikTok, they might get banned.

For example, if they post inappropriate content like nudity, hate speech, violence, or scams, or they use music or images that they don't have permission to use, they could get banned.

If they create fake accounts or keep breaking the rules even after being warned, they could also get banned.
Basically, TikTok wants people to be nice, honest, and follow the rules to keep the platform safe and fun for everyone.
Part 2: What are the Different Types of Bans on TikTok?
Before we talk about how to unban your TikTok account, you need to understand the types of bans in this app.
There are primarily two types of bans on TikTok - temporary and permanent.
Temporary Ban
If a user violates TikTok's community guidelines, they may receive a temporary ban. This ban can last from a few hours to a few weeks depending on the severity of the violation.
During this period, the user may not be able to access their account or post any content on the platform. Or, they might be restricted from using one or more of the TikTok features, like posting new content or commenting on others' posts.
Permanent Ban
A permanent ban is the most severe punishment on TikTok. If a user repeatedly violates the community guidelines or engages in serious violations such as hate speech, violence, or sexual content, they may receive a permanent ban.
This ban means that the user will likely never be able to access their account again.
Now, let's talk about TikTok unban account, shall we?
Part 3: How to Unban Your TikTok Account?
If your account is temporarily banned, you can either wait for it to expire on its own, or contact customer support.
Remember that a temporary ban goes away anywhere from a few days to a few weeks. The exact time is mentioned in your TikTok app.
If the ban duration is too long and you can't wait, it's better to try and contact customer support to unban TikTok account.
Be noted that getting in touch with CS team is also the only method you can use if your account is permanently banned. In such a case, you should put as much details into your message as possible to increase your chances of getting unbanned.
That said, here's how to unban TikTok account by contacting customer support.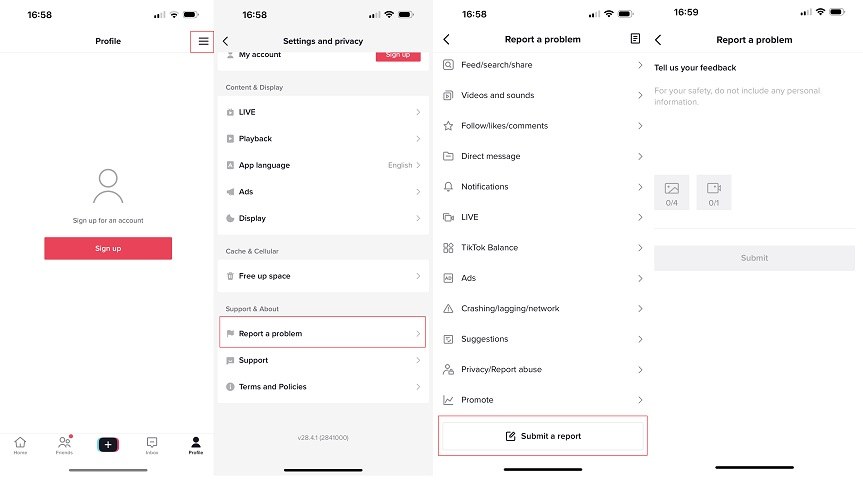 Open the TikTok app on your device.
Tap on your profile icon in the bottom right corner of the screen to go to your profile.
Tap the three dots in the top right corner of the screen and open the settings menu.
Scroll down to the "Support" section and tap on "Report a problem."
Scroll down and tap "Submit a report".
Fill in the information with your request. Be as detailed as possible. You could also attach images or vides to improve your case.
TikTok's customer support team will review your request and get back to you with more information. It may take 24-72 hours to get a response from them.
And that's how to get unbanned on TikTok!
Related read Banned from WhatsApp, How to Activate it?.
Part 4: Tips to Not Get Banned on TikTok
Now you know how to get my TikTok account unbanned, but to be honest, it's better if you don't get banned in the first place.
Here are a few tips you should follow.
TikTok has strict community guidelines that outline what is and isn't allowed on the platform. Be sure to read these guidelines and follow them closely.
TikTok has a policy when it comes to inappropriate content, such as nudity, hate speech, or violent or graphic content. Avoid posting anything that could be considered inappropriate or offensive.
Make sure that any music or images you use in your TikTok videos are copyright-free or that you have obtained the necessary permissions. Using copyrighted content without permission can result in a ban.
Avoid engaging in spammy behavior, such as creating fake accounts or commenting excessively on other users' videos. This can be seen as suspicious and may result in a ban.
If TikTok sends you a warning about your content, take it seriously and make the necessary changes to avoid getting banned.
Treat other TikTok users with respect and avoid engaging in any behavior that could be seen as bullying or harassment.
Again, rather than trying to get TikTok unban, it's better to take precautions and not get banned. The tips above should help you with that.
Bonus: How to Download TikTok in a Location Where It's Banned
TikTok is banned in many countries right now, including India(maybe will banned in the US either). If you're located in one of these countries, you might be wondering how to use the app.
Well, there's good news!
With a tool called Tenorshare iCareFone, you can easily install TikTok on your iPhone and start using it on no time. iCareFone offers an access for iOS users to download banned apps. It's 100% secure!
Here's how it works.
Download and install Tenorshare iCareFone on your computer and connect your iPhone to it. Open iCareFone. Select the Manage tab.

On the left-hand side, select the "Apps Download" menu.

You will see a list of apps available to download.

Simply select TikTok from the list, and it will be downloaded and installed on the connected iPhone.
Note: This method only works if you had previously downloaded the TikTok app on your iPhone before. If you hadn't, this method won't work.
Related read How to Download Apps not Available in Your Country.
Final Thoughts
And that's everything you need to know on how to get TikTok account unbanned.
Remember, the rule of thumb is to not get banned in the first place. So, make sure you always post content that complies with TikTok's terms of service. Don't post anything that breaks the rules. If you keep breaking the rules again and again, you will likely get banned from the app permanently!