How to Turn off Shutter Sound on iPhone? 7 Different Ways
by Anna Sherry Updated on 2023-09-20 / Update for iPhone Tips
iPhone cameras, like all other smartphone cameras on the market, have a shutter sound. Even though most people prefer keeping the shutter sound on to receive audible feedback while clicking photos, some people may prefer otherwise, especially in calm and noise-free environments where you don't want your iPhone to make unwanted sounds. And in some special areas, people cannot turn off their iPhone camera sound according to the local laws.
In this article, we explore several ways you can disable camera sound iPhone. Let's dive in.
Part 1: 4 Common Methods on How to Turn off Shutter Sound on iPhone
This section mentions 4 common ways to turn off the iPhone shutter sound. Note that if you have purchased your iPhone in Japan or Korea, these methods won't work for you and you can directly skip to part 2.
1. Turn off Shutter Sound iPhone Directly via Turning Down the Volume
The first and most obvious way to turn off shutter sound iPhone is to turn down the volume — and it's as easy as it gets.
To turn down the volume:
Press and hold the volume down key on your iPhone.

Keep holding the button until the volume slider is completely turned down. Now you may not hear the shutter sound whenever you click a photo.
2. Turn off Shutter Sound on iPhone by Turning on the Silent Mode
Another answer to the question, "how to remove camera sound on iPhone?" is to turn on the infamous Silent Mode using the mute switch. The Silent Mode is popular on iPhones because, unlike most Android smartphones, iPhones can be turned silent using a hardware switch, rather than a software setting.
Here's how to do it.
Find the silent switch on your iPhone; it's located on the left side of your iPhone, right above the volume keys.

Turn off the switch by pushing it backward. You will feel haptic feedback when the switch gets turned off. Furthermore, you will see a popup on your iPhone saying the Silent Mode is turned on.
3. Turn off Shutter Sound on iPhone through Taking Live Photos
This method may not be as obvious, but it works nonetheless. If you're not already familiar with Live Photos, it's a handy camera feature on iPhone that captures slightly moving photos to promote liveliness.
If you capture a Live Photo, the camera doesn't make a shutter sound by default. So, the Live Photos feature is a great answer to the question "how to turn off camera shutter sound on iPhone". Here's how.
Open your Camera application.

Tap the Live Photos icon; it looks like two circles surrounded by dots. The word "Live" will appear when you turned on the live photo.

Then tap the shutter button. In this way, you can get live photos without sound.
4. Take Photos While Shooting Video on iPhone
Another answer to how to turn off camera shutter sound is to take photos while a video is being recorded. Follow the steps:
Open your Camera application. Navigate to "Video" in the camera modes.
Start recording a video by pressing the shutter button.

While the video is being recorded, tap the Click button on the bottom right corner and a photo will be captured without any shutter sound.
Part 2: 3 Smart Methods to Turn off Shutter Sound on iPhone
Here are 3 special ways on how to remove shutter sound on iPhone. These methods also work on iPhones purchased in Korea and Japan. However, be noted that using the below-mentioned methods to take indecent or invasive photos might put you in complicated situations.
1. Connect Earphones While Taking Photos
A general "hack" you can use to remove camera sound iPhone is to connect your earphones with the iPhone. Note that this method works with wired earphones, as well as wireless earphones connected through Bluetooth.
When your earphones are connected, the shutter sound is played inside the earphone speakers. You won't hear the sounds if you haven't inserted the earphones in your ears.
However, be noted that modern iPhone don't have a headphone jack. If you have an iPhone 7 or newer, you will need a 3.5mm-to-Lightning adapter to connect your wired earphones. However, your AirPods or other wireless earphones should work flawlessly.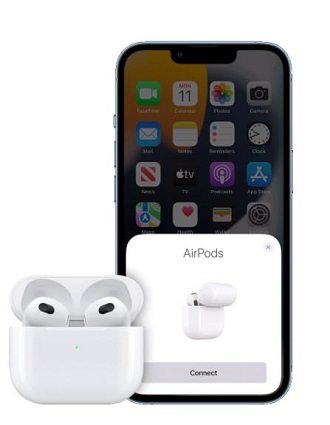 2. Play Music While Taking Photos
The second method on remove camera sound is to turn on the music. While this method is not suitable if you're in a meeting, library, or other calm environments, it works if you just simply hate the shutter sounds but are okay with music.
Open up the music application of your choice: Apple Music, Spotify, or YouTube Music.
Play a song you like and let the music app run in the background.
Open the Camera app and capture photos without the shutter sound.
3. Use Tenorshare 4MeKey to Turn off Shutter Sound on iPhone
Actually there are some third party software that can help turn off shutter sound on iPhone without muting. One of the most reliable is Tenorshare 4MeKey, which can turn off iPhone camera sound within several steps even if the iPhone is purchased in Japan or Korea. Besides, 4MeKey is a multi-functional tool, which means 4MeKey can also remove your Apple ID or Activation lock without password.
Do not need a lot of words. Just try 4MeKey according to the steps below and you'll be surprised by it:
Download and install 4MeKey by clicking the button above. The launch the program and connect your iPhone to the computer. Remember to trust the computer. Then click "Turn Off Camera Sound" on its interface.

Then 4MeKey will jailbreak your device. You just need to follow the instructions step by step.

Then you need to confirm your device information and click "Start". Now, 4MeKey will start to turn off your camera sound. And you need to wait for a while. After the process, you can take photos without any camera sound.
Conclusion
Although the shutter sounds are a nice way to get audible feedback while taking photos, some people may prefer turning them off. This article mentions several ways you can use on how to off shutter sound in iPhone. Furthermore, it also includes three additional, special ways to neglect the shutter sound on Korean and Japanese version iOS devices.