How to Turn Off Camera Sound on iPhone 8
by Anna Sherry Updated on 2021-11-15 / Update for iPhone Tips
Apple's iPhones have earned a special place in the market due to photography. With their high-end capabilities, iPhones capture the best-level photos. iPhones have a characteristic shutter sound that plays every time you take a photo, mimicking the sound of a digital camera. But some of you must want to turn it off. Whether you have this need or interest, you can read the following article on how to turn off camera sound on iPhone 8.
Part 1: Why You Need to Turn Off Camera Sound iPhone
One could debate that the camera shutter sound provides you with a different feel, but liking this shutter sound is a totally subjective matter. It could so happen that you do not like this sound or it may be just that you are in a class and you do not want to attract unwanted attention every time you take a snap of the contents of the blackboard. Reasons such as these could be why you want to turn off camera sound on your iPhone 8.
Part 2: Methods to Turn Off Camera Sound iPhone 8
Not being able to turn off the shutter sound manually from the camera settings is surely a bummer. However, there are certain ways you can get rid of this. If you are one of those who need to turn off the camera sound in iPhone 8 due to whatever reason, then do not worry as you can easily accomplish this feat.
1. Turn on Slient Switch
When the sounds are turned up, your iPhone 8 will ring for calls as well your application notifications. But allowing your phone to be put into the silent mode will turn off all the extra sounds. So when you take a screenshot or take a snap, the camera shutter sound will also be turned off. To put your iPhone 8 in the silent mode:
Locate the top most button on the left edge of your iPhone 8

Push this switch away from you revealing an orange line on the switch. This will put your phone in the silent mode.
2. Enable Live Photos
Live photo is kind of a moving picture that includes 1.5 seconds of video before and after you take the picture. If iPhone played the camera shutter sound, then it will be turned off during taking the live photo. This feature is normally enabled from the settings. If not, go to Settings > Camera > Preserve Settings and turn on the live photo toggle.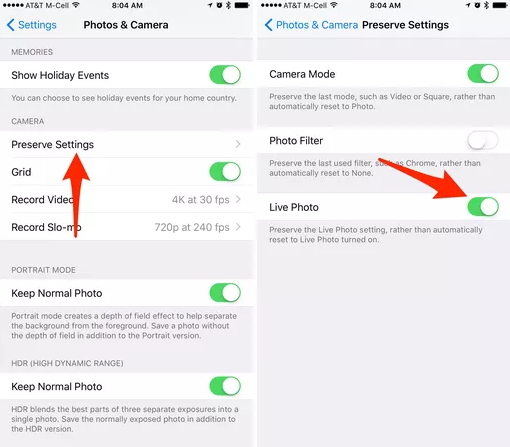 Live photo is a three-concentric-circle menu in the top bar of camera app on your iPhone 8.
3. Use Third-Party Camera Apps
If you are unable to turn off the camera shutter sound using the above features, or you just want to stop using the in-built camera app then you may want to make use of third-party applications that can help you capture great shots without playing the bothersome camera shutter sound. There are may popular camera apps in the app store. Pick your favorite.
4. Use 4MeKey
People who bought Korean or Japanese iPhone 8 realize very quickly that whatever they do, they just can not turn off the irritating camera shutter sound. The reason is that in these countries, the sound has to be turned on by default at all times in order to prevent people from taking pictures secretly. As a result, privacy of people is ensured. Nevertheless, 4MeKey can go around this too.
Launch 4MeKey on your PC and connect iPhone to it. Select Turn Off Camera Sound to begin.

Click Start to continue. Then you need to jailbreak your iPhone.

After the jailbreaking process, confirm the device information.

Then the program will start turning off the camera sound.

In a few seconds it will success. When you reopen camera, there is no sound to take pictures.
Conclusion
iPhones are popular partly because of their cameras and user-friendly interfac. You may be a fan of the camera sound that plays on taking snaps or they could easily bother you. To turn off camera sound on iPhone 8 is quite easy to accomplish even though it is made in Japan or Korea with 4MeKey.