3 Free and Effective Apps on How to Run an iPhone Test / Diagnostic Test
by Anna Sherry Updated on 2022-12-20 / Update for iPhone Tips
Getting a new iPhone is an exciting day — but it can turn to ashes if you end up getting a fake or faulty iPhone. That's because resellers today are selling tons of replicas or faulty phones to earn profit.
If you're in the used market or buying one from a third-party reseller, it's important to find out whether the iPhone is authentic before making the transaction. To do that, you can use a diagnostic tool that thoroughly checks all the components of an iPhone.
In this article, we talk about the top 3 tools you can use to test iPhones. Plus, we also talk about why you should do these tests in the first place.
Part 1: How to Run iPhone Diagnostic Test with 3 Free Apps
To perform an effective diagnostic test, you need an authentic iPhone test app. Below-mentioned is the top 3 apps available in the market right now.
1. Tenorshare iCareFone(PC)
Tenorshare iCareFone is one of the best apps you can find to run an iPhone diagnostic test. With Tenorshare iCareFone, you can check the authenticity and functionality of your iPhone in an instant.
It's got the highest probability of showing you an authentic report. Plus, it has tons of other features to make your iPhone experience a lot better! iCareFone is an iOS management tool that you can use to manage your photos, videos, contacts, etc. It's also a free backup tool that can help you backup all your device data to your computer.
The most important is that iCareFone can run diagnostics on iPhone, which is totally free. Here's how it works.
Download and install Tenorshare iCareFone on your PC. Connect your iPhone to the PC. If you're connecting it to that PC for the first time, tap "Trust This Computer" on your iPhone's screen when prompted. Then open iCareFone on your PC.

On the Home page of iCareFone, click "View" right next to "Test Report". On the page that opens up, you will see all the details about your iPhone's hardware.
Here's how you can understand this report.
If you see the text, "Congratulations, your device has not been disassembled." at the bottom left, it means the iPhone has never been opened. That means no component has ever been taken out and replaced with a new one.
The "Battery Life" label on the bottom right indicates the current battery health of your iPhone. New iPhones always have 100% battery health.
The "Charge Time" label indicates how many times the iPhone has been charged to 100%.
The "Activation Status" means the iPhone has connected to Apple servers and started its warranty period.
In the table you see at the top, you can view the status of all the hardware components of your iPhone.
Each of the rows should say "Normal". If that's not the case, that means there's something wrong with the specific hardware component of that row.
A video guide for you:
2. TestM
Another popular tool you can use to run an iPhone hardware test is TestM. It's an iOS and Android app that you can download directly on your smartphone.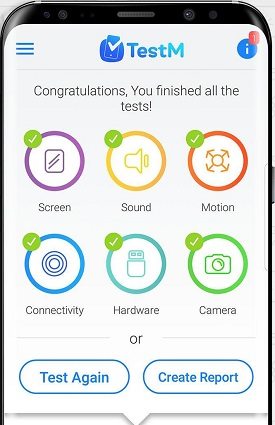 After downloading it, the app takes an extensive test of your iPhone and presents you with a report of the final results. The report is divided into various sections, based on the hardware being tested.
For instance, the touch screen and 3D Touch technologies are indicated under the "Screen" section.
Furthermore, the earpiece, speaker, microphone, and headphone tests are showcased in the "Sound" section, and so on.
However, due to the nature of this tool, it might not be as reliable as iCareFone. That's because this app's tests are run on the iPhone itself, which is not a sophisticated method of testing an iPhone's hardware.
3. Phone Diagnostics
Another popular tool to run diagnostics iPhone is Phone Diagnostics. This handy app is not essentially a diagnostics tool, but it can help you test the functionalities of your device on your own.
With this app, you can test the functionality of your iPhone's hardware from a single screen. For instance, you can use the "Digitizer" feature to check the touch screen of your iPhone. It asks you to touch different areas of your screen so you can check whether they work correctly.
Part 2: Why Should You do iPhone Test
If you're wondering why you should run an iPhone hardware test in the first place, this section has got you covered. Here are the top reasons to do Apple diagnostics iPhone.
To check the hardware functionality of a used iPhone before purchasing it.
To find out whether an iPhone is real or fake.
To check whether all the components of an iPhone are working fine.
To find out whether any components of an iPhone have been replaced with new ones.
To find out whether the iPhone has been opened and repaired before.
To find out whether the iPhone is in its optimum condition.
Conclusion
Running an iPhone hardware diagnostic is the best way to figure out whether an iPhone is authentic or not. Using a reputable diagnostic tool can save you from many types of fraud.
In this article, we have taken a look at the top 3 tools you must use to run diagnostics on your iPhone. If you want to have the best results, Tenorshare iCareFone is your top choice.