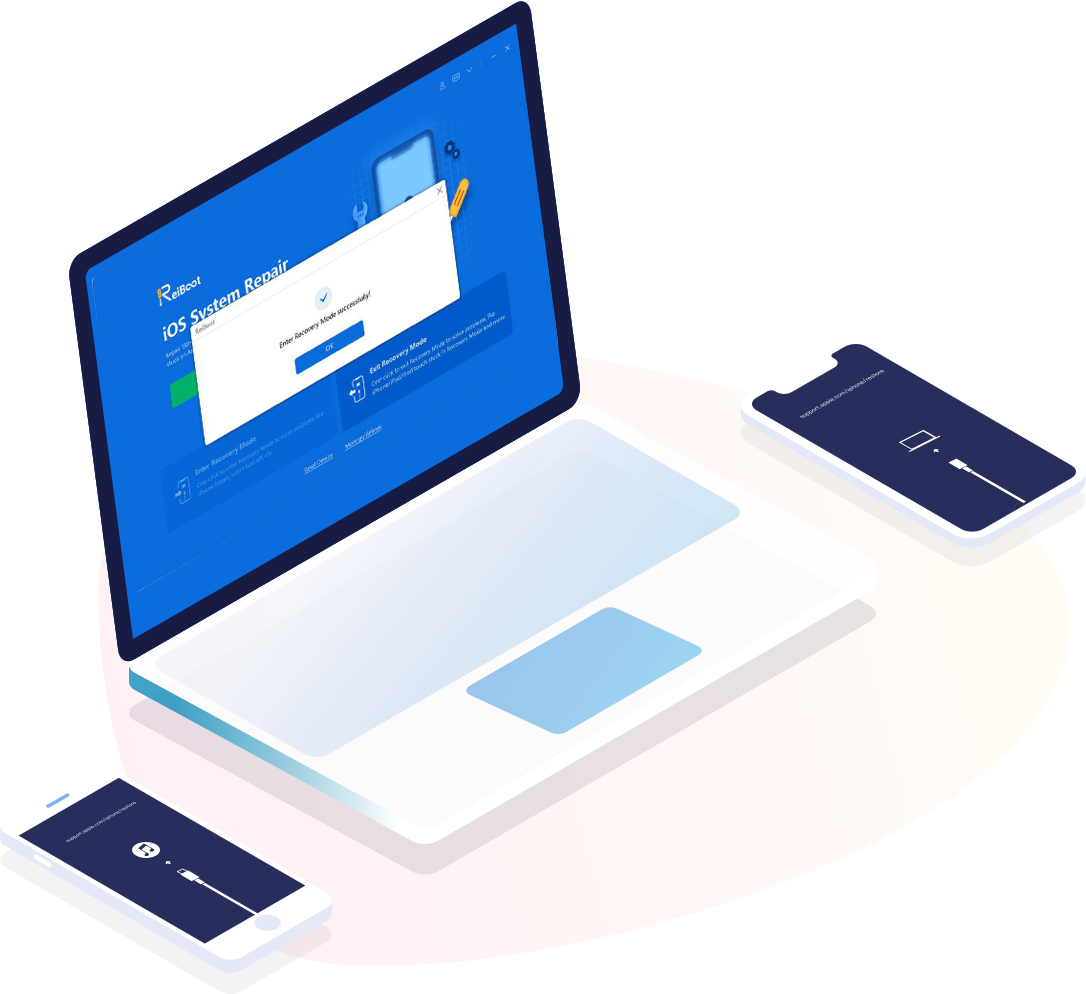 Put iPhone in Recovery Mode/Exit Recovery Mode
Totally Free
FREE
ReiBoot (Mac or Win) is the World No.1 iPhone repair tool that offers you a free way to fix iPhone stuck in recovery mode (support.apple.com/iphone/restore error) with only 1 click, super easy.
Provide More

Beyond Your Imagination

ReiBoot is far more than just an iPhone recovery mode tool, it is also a professional iOS system repair tool that can help you solve more than 150 iOS system problems, downgrade iOS 16 without iTunes, troubleshoot Apple TV problems, iPhone/iTunes errors, and more...
Save Your Life from
Various iOS Stuck Scenarios
ReiBoot enables you to fix various iOS system issues without losing a single byte, like iPhone recovery mode, white Apple logo, black screen, looping on start. etc.
Device Bug

Screen Stuck

iOS Mode Stuck

iPhone Error

Apple Driver Error

Update Problem
iPhone is frozen
iPhone keeps restarting
iPhone won't turn off
iPhone light won't turn
FaceID not working
iPhone battery drain
iPhone stuck in headphone mode
iPhone not ringing
iPhone boot loop
iPhone won't restore
iPhone won't restart
Computer not recognizing iPhone
iPhone screen won't rotate
Cannot get mail on iPad
iPhone won't reset
iPhone stuck in portrait mode
iPhone stuck on airplane mode
iPhone stuck on do not disturb
Apple TV won't turn on
iPhone stuck on no service
iPod touch stuck in headphone mode
Apple TV stuck on ask Siri
iPhone stuck in shutdown mode
Apple TV stuck on setting date and time
Apple TV stuck in conference mode
Apple TV stuck on could not sign in
Stuck on connect to iTunes screen
Stuck on white screen
Stuck on loading screen
Stuck in silent mode
Stuck on Emergency SOS
Stuck on lock screen
Apple TV stuck on Home Sharing screen
Apple TV stuck on computers and settings
Apple TV stuck on Data & Privacy screen
Stuck on call screen
Apple TV stuck on home screen
Apple TV stuck on language selection
Stuck on zoom mode
Apple TV boot loop
Stuck on searching
iPad stuck on App Analytics screen
iPad stuck on choose a wifi network
iPad stuck on remote management
iPad stuck in lost mode
iPad stuck in kiosk mode
iPad stuck in split screen
ipad stuck on install now
iPad stuck in sleep mode
Apple TV stuck on update screen
iPhone stuck in DFU mode
iPhone stuck on updating iCloud settings
iPod touch keeps flashing Apple logo
iPhone stuck on iTunes logo
Apple TV stuck on AirPlay screen
iPhone stuck on restoring from iCloud
Apple TV stuck on activating
Apple TV stuck in Recovery mode
Apple TV stuck on Apple logo
iPhone stuck on verifying restore
iPod touch stuck in disk mode
iPhone error 1009
iPhone error 14
iPhone error 2009
iPhone error 29
iPhone error 1671
iPhone error 75
iPhone error 0014
iPhone error 9
Other iPhone errors
iTunes error when restoring iOS devices
Can't restore error
iTunes unknown error -50
iTunes sync error -54
iTunes error 0x8000068
iTunes error 0x800000a
iTunes error 45054
Other iTunes errors
Stuck on slide to upgrade screen
iOS Update Failed
Stuck on verifying update
iOS download stuck
Insufficient space for iOS download
Unable to install update
iPhone software update failed
ReiBoot:

Deeds, Not Words
FAQs

about ReiBoot for Mac & Win
?

Is Tenorshare ReiBoot Free?

ReiBoot helps any iOS device free to enter recovery mode with one click. When you encounter iPhone stuck in recovery mode, you can easily exit recovery mode (5 free times). As for Repair Operating System and Factory Reset, you can upgrade to ReiBoot Pro to enjoy all functions like fixing frozen screen/white screen...

?

Can hardware issues be fixed by ReiBoot?

No. ReiBoot mainly solves the most iOS system issues like Apple logo, boot loop,etc. However, if your device has a hardware problem caused by jailbreak, the computer environment problem or other reasons, then it can't be fixed by any software.

?

Does ReiBoot Bypass iCloud Activation Lock?

No. ReiBoot only fixes iPhone not activating issues caused by network or system issues instead of iCloud activation removal. You can use the software called Tenorshare 4MeKey to remove iCloud Activation lock.

?

Is Tenorshare ReiBoot safe to download?

YES, it is 100% safe to download as the software is virus-free and ad-free. The first priority of ReiBoot is to repair your device with no harm.

Our website has been tested in McAfee Web Advisor is totally safe and secure without any risk.

?

How do I put iPhone in restore mode?

Restore mode means recovery mode. So you can quickly and simply put your iPhone in restore mode using Tenorshare ReiBoot.

?

How can I restore my iPhone without iTunes?

If you don't want to use iTunes to restore iPhone, you can restore iPhone without iTunes using Tenorshare ReiBoot. To do that:

Download and install ReiBoot on your computer.
Connect your iPhone to computer.
Click "Repair Operating System" to go on.
Click "Fix Now" to proceed.
Click "Download" to install corresponding firmware package.
Click "Start Repair" to begin system recovery.

?

What's the difference between Standard Mode and Deep Repair?

Standard Mode can fix almost all iOS stuck issues, such as stuck on Apple logo, stuck on frozen screen/black screen and more. When the iOS bugs cannot be repaired by Standard Mode, the program will guide you to use Deep Repair which will easily repair your iOS bugs, and reset your iPhone to factory settings. Please note that when you use Deep Repair, all your data will be erased.

?

What's the difference between ReiBoot Repair and iTunes Restore?

iTunes Restore is to restore the iPhone/iPad/iPod to factory settings. It also can be used to repair iOS but comes with a high failure rate, data loss, and more issues.

ReiBoot Repair, mainly focuses on fixing all iOS system errors. It has three repair modes with a higher success rate and fully compatible with any iOS device. Moreover, ReiBoot is simply unmatched in terms of speed and reliability and offers many more features than iTunes. When you use Standard Mode on ReiBoot to repair stuck on black screen or other issues, it won't cause any data loss.

?

How to use ReiBoot for iOS system repair?

To use ReiBoot for iOS system repair, follow the detailed steps:

Download and install ReiBoot on your computer.
Double click ReiBoot on your desktop then connect your iPhone.
From the main interface, click 'Repair Operating System' option.
Then click Fix Now > Fix Now > Download > Repair Now > Done.

?

ReiBoot failed to obtain the firmware download address?

When ReiBoot failed to obtain the firmware download address, you can try:

Click 'Copy' on the bottom right of the ReiBoot UI.
Then it will download a firmware on your browser at the download bar.
After firmware downloaded, go to ReiBoot UI > use 'Select' to import the firmware.

?

How to know which version the device can downgrade to?

ReiBoot can downgrade any version of iOS to previous version as long as Apple is still signing it. You can visit IPSW website to check which firmware Apple is signing.