How Do Streaks Work on Snapchat? [2023 Update]
by Anna Sherry Updated on 2022-01-04 / Update for iPhone Tips
One thing that hooks the social media users to Snapchat is Snapchat streaks. It can be considered a special game offered by Snapchat with a reward in the form of emojis. You might have seen a flame emoji next to your friend's Snapchat name. It shows that he is on a Snapchat streak and has a BFF who cares enough to send him amazing snaps.
Despite its popularity, "how do Snapchat streaks work" still remains a question that often troubles many Snapchat users. So, if you want to know the rules of streaks, create longer streaks, and never lose the streak, stay tuned. This guide will solve your queries related to streaks on Snapchat:
Part 1: What is a Snapchat Streak?
Snapchat streak is an activity where you send direct snaps to your friend back and forth for several days without missing a day. It displays as a flame emoji along with a number shown next to your friend's name, signifying how many consecutive days you have been sending snaps with this friend. For instance, if you send a snap to your friend every day for seven consecutive days and he/she also reply back with a snap, you will have a snap streak at the count of seven with a fire symbol. Once you start making streaks, it is a lot of fun to extend them.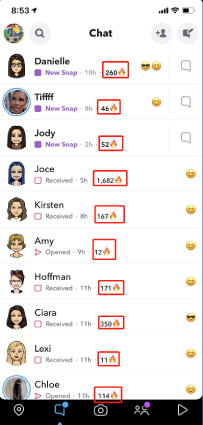 Part 2: How Do Streaks Work on Snapchat?
To keep the longer Snapchat streaks, you must know the basics of streaks, including: how do streaks work on Snapchat? What are the rules of Snapchat Streaks?
A streak begins only when both parties send a snap (not a chat) to each other within 24 hours for more than 3 consecutive days. Once both parties have done this, a fire emoji will appear next to that contact's name, along with the amount of days the Streak has lasted. If you can maintain the streak for a long time, Snapchat will reward you with special emojis such as "100" for streaks lasting 100 days or "mountain" for a very long streak as a return. But if either party goes 24 hours without snapping the other side, the snapstreak will come to an end.
Note: Before the loss of a snap streak, an 'hourglass' emoji(⌛)pops up next to the friend's name, which indicates that your snap streak is about to expire. If you don't send a read snap before this timer runs out, you lose your streak.

The rules of Snapchat streaks are simple:
You need to send a snap daily. If you fail to send a snap, your streak will be broken.
It works between two people. You must send a snap within 24 hours. Otherwise, the streak will be lost.
As the streak works between two people, you and your friend need to send snap back and forth for at least three days in a row.
Not every message and story will count as a streak. Photos, videos, and stories all count towards the streak. So, you can send snaps in the form of photos, videos, or stories and make a streak.
Cases that are not considered as Snapchat streak are:
Answering your friend in a Snapchat group does not count as a streak.
Just tapping on a story and watching it would not make it a streak. You must respond to the story to count it as a streak.
Any content snapped through Memories or Spectacles will not count as a streak.
Part 3: How to Do Streaks on Snapchat?
Streaks are a great way to show your strong bond with your friend but do you know how to do streaks on Snapchat?
To start a streak with your friends, follow these steps:
Ask to Start a Streak

You can ask your friend to start a steak in three possible ways:

·Send a message asking to create a steak

·Put it on your story and ask for the streak

·Naturally begin a streak without using the above two options

Send Photo or Video Snaps

Once you find a friend willing to start a streak, please take a photo or video from the Snapchat camera and send it to your friend. When you send the snap, a red arrow with the status "Delivered" will be visible.

Wait For Snap Back

Now, wait for your friend to snap back. If you and your friend do not send each other snaps for three consecutive days, the streak will not start, and you need to restart the streak.

Maintain the Streak

Once you and your friend have snapped each other for more than three consecutive days, a fire emoji will appear next to your Snapchat username. To keep the streak going, repeat the process every day.
Part4: FAQs about Snapchat Streaks:
Q1: How Can I Know When a Streak Is About to End?
When you see an hourglass symbol ⌛ next to your friend's name, it means your streak with a friend is going to expire soon.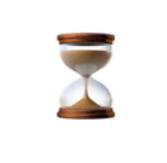 Q2: How to Keep/Maintain Streaks on Snapchat?
To keep streaks on Snapchat, both snap chatters must send a snap to each other within a 24-hour window.
Q3: Can I have a Snapstreak in a Group Chat?
No, snaps sent in a group do not count as streaks for individual snap streaks with your friend.
Bonus Tips: How to Deal with Snapchat not working?
Many users complain about their Snapchat not working properly after they have updated their iPhone to iOS 15. Some claimed it showed that "it could not connect" when they opened the app, others reported that the Snapchat notification was not working on their iPhone.
If you also face the same issues, luckily, there is a quick fix to it. As an awesome tool capable of fixing all sorts of iOS issues, Tenorshare ReiBoot helps you get rid of Snapchat not working problem in a single click without losing your data.
Here are the steps to use it for Snapchat not working:
Download and install Tenorshare ReiBoot on your PC, and then connect the iPhone to the PC with a USB cable. Once the program recognizes the device, tap on the Start button to begin the iOS system repair.

Choose "Standard Repair" mode to start to repair your device.

Click on Download button to download the latest firmware package needed for the device.

When the firmware is downloaded successfully, click on "Start Standard Repair"and the startard repair will be in progress.

In a few minutes any issues on the device will be fixed and the Snapchat should be work as normal.
Conclusion
Now that you have got the answer to the question "how do snapchat sreaks work", use this guide to make streaks and extend them without the fear of losing them anymore. And if you ever come across Snapchat could not connect issue or the problem of Snapchat not working properly, download Tenorshare ReiBoot on your PC/Mac and get rid of this problem forever.