[Proved Solutions] Why Can't I See Comments on My Facebook Live Video
by Jenefey Aaron Updated on 2020-08-29 / Update for iPhone Tips
Facebook is one of the most user-friendly social media platforms in the world, through which users can share photos and videos with others. But recently, many users have complained about issues related to Facebook reviews. For example:
"When I click the Comment button, it shows a load cycle on my phone."
"I can't check my previous comments."
"When I click "View more comments", they don't appear."

In short, when you encounter this situation, you must be extremely depressed. And you will be eager to know why can't I see comments on my Facebook Live video and how to see Live video comments on Facebook . Well, this article is absolutely your most intimate helper, it will answer all your questions, please read it carefully.
Part 1: What is Face Book Live
In April 2016, Facebook launched Facebook Live, which has been popular since its launch. Facebook Live is a feature of Facebook's social network, where you can broadcast implementation videos to Facebook via a camera on your computer or mobile device.
And these live broadcast individuals or companies can decide who can see their videos on Facebook and use it to attract viewers.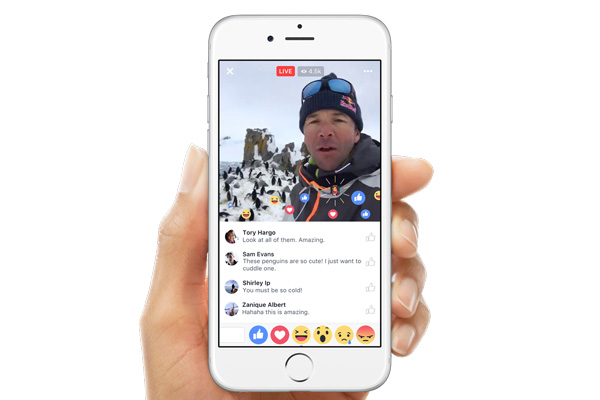 Part 2: Why Can't I See Comment During My Facebook Live Video
It's no doubt that If you can't see comments Live video Facebook, you will be anxious. But have you ever think why can't I see comments during my Facebook Live video? If you curious about that, and we provide with you different reasons.
Network Connection Problem: When your network environment is bad or you are not successful in joining the network, it will affect the comments loading of videos.
Facebook server has the temporary glitch : When a Facebook server fails temporarily, Facebook services will shut down, which prevents you from viewing comments. What you can do is report the problem to Facebook and wait.
Corrupt storage : When the cache of Facebook application or browser is too much, it will lead to abnormal behavior of Facebook, which will affect the loading of Facebook comments.
Private Comments : When the comment writer sets up the comment private, the comment can only be seen by self and friends. In addition, if the writer changes the privacy of the Fan Page, you won't see comments.
Part 3: [6 Methods] How to See Comments on Facebook Live Video
Now you have already known what is Facebook Live and why you can't see comments on Facebook Live video. So here we provide with you some general solutions.
Solution 1: Check Your Network Connection
When the mobile network is abnormal, Facebook's comments loading exception may be related to it. First of all, you need to check whether your device joins Wi-Fi normally. Second, if you join Wi-Fi successfully, you can check whether there is any problem with Wi-Fi. You can try loading other pages with this network connection.
In addition, some users report that they can see comments on the Facebook on mobile data, but not on Wi-Fi, so you can switch between your phone's mobile internet and Wi-Fi.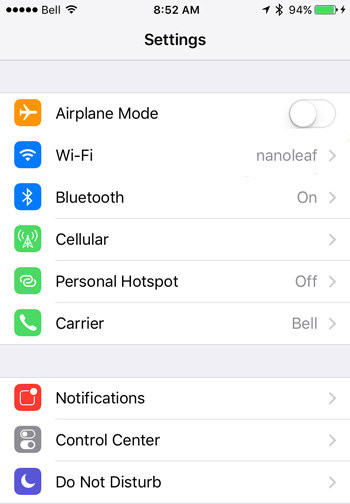 Solution 2: Refresh the App
Refreshing the application is also a solution. Sometimes Facebook just gets stuck and can't load comments successfully. In this case, refreshing Facebook can solve the problem. But if that doesn't solve the problem, you can try other solutions.
Solution 3: Clean Facebook Cache
When there is too much files data in Facebook applications, if we don't clean it up in time, it may cause you to be unable to watch Facebook comments normally. Therefore, you can solve the problem by cleaning the cache.
Open the Facebook app and choose the "More" option.
Then, Click on "Settings" and select "Account Settings".
After that, Choose "Browser" option.

When you come to Browser settings page, tap on "Clear Data".
Solution 4: Re-Install the Latest Version Facebook
If the previous methods still don't solve your problem, you can try to uninstall the Facebook app, then download the latest version of Facebook from the Apple Store and re-install it on your device
First, unlock the phone, then press the Facebook app.
Next, click on the cross icon in the upper left corner of the application.

Then, please click "Delete".

After that, go to the apple store or Google play store to find Facebook and download it again!
Solution 5: Re-login Facebook Account
Sometimes it's a simple and useful solution to log out and log back in to your Facebook account. To log out of your account, please do as the following steps:
Unlock your phone and open the Facebook app.
Then, click on the "More" icon in the menu bar below.

After that, please tap on the "Log Out" option.

In a few minutes, please open the Facebook app again and log in.
Solution 6: Force-quit & Restart the App
Restart always be regarded as a universal solution to fix all kinds of issues of phone. So, when you encounter the situation that Facebook Live video can't see comments, you can try this method. But before you start, please force your Facebook app to stop.
Launch your phone and turn to "Settings", then choose the "Applications".

Next, open "Facebook", Tap on "Force Stop". After that, restart your phone to check if the problem is solved.
Part 4: Tenorshare ReiBoot - Effectively Fix Facebook Live Video Can't See Comments
If you have tried all of the above methods, but still can't solve the problem. Well, there may be something wrong with your iOS system. I recommend that you use Tenorshare ReiBoot, which can fix all iOS system problems such as stuck on Apple logo, screen won't turn on, recovery mode loop and so on. The most important is that it supports the latest version of iOS 14.
First, download and install it on your computer. Then, connect your iPhone to the computer with a USB cable.

Please launch the software, choose "Repair Operating System" option.

Now, click on "Fix Now".

After that, you need to download the firmware package.

Tap on "Repair Now" to repair iOS system which may take some time.

Last, press "Done" to finish the process.
Conclusion
By reading the above, I believe you already know why you can't watch comments on Facebook Live video and how to solve this problem. Although we have provided many solutions, they are not able to solve them 100% success rate.
So. I recommend you use Tenorshare ReiBoot. It's the best solution. It not only can solve this problem, but also can fix various iOS problems,such as iPhone stuck on loading, iPhone recovery mode, black screen, etc. Anyway, it's well worth trying. Finally, I really hope this article can help you.
FAQ about Comments on Facebook
Q1: How do I enable live comments on Facebook?
All you need to do is swipe right on the screen. Comments, likes and other reactions will be disabled and you can watch the video in peace. And If you want to get them back, all you need to do to get them all back is to swipe left again.
Q2: Can comments be turned off on Facebook Live?
To turn off commenting on your own post or a post in a group you admin or moderate: From your News Feed then tap Groups and select your group. Go to the post you want to turn off comments for. And then click Turn off Commenting.
Q3: How do I turn comment ranking on or off for my Facebook Page or profile?
Please click "Settings" in the bottom left of your Page.
Then, tap on "Comment Ranking".
To turn comment ranking on, choose the box next to "See most relevant comments by default".
Last, Click on "Save Changes".