How to Remove Apple ID from iPhone without Password
by Jenefey Aaron Updated on 2020-04-27 / Update for Apple ID
With the development of new technology of iPhone, people are accustomed to using their iPhone to play games especially when they are outside. Have you ever met the situation that you need to remove your existing Apple ID from your iPhone to change another one for playing games on foreign servers but you forget your original Apple ID password? If you are a game player, you are definitely going to rush when you encountered this situation. Don't panic, for this, there are 4 ways about how to remove Apple ID without password for you to deal with this awkward status.
Part 1: Removing Apple ID from iPhone without Password by Tenorshare 4uKey
4uKey is one of the convenient tools to help you remove your Apple ID without password with several steps. And it can also help you to remove your iPhone screen passcode. Today we are going to be acquainted with the steps of how to remove Apple ID from iPhone 6/6S without password as an example.
Step 1 Download and Install
Download 4uKey on your PC or Mac, and then launch it. You'll see the following interface and click"Unlock Apple ID" on the right side of it.
Step 2 Connect your iPhone to your Computer
Connect your iPhone to your computer with a USB cable and unlock your iPhone. Then click "Trust" in a pop-up window on your iPhone.
Step 3 Remove Apple ID
Click"Start" button to unlock your Apple ID.
PS:If "Find my iPhone" is off,this process will be continued few seconds and if "Find my iPhone" is on, then you have to reset all settings on your iPhone and the process will start after your iPhone reset and restarted. The details are as follows:
1.If the "Find My iPhone" is on, you must reset all settings on your iOS device first. How to do: go to "Settings > General > Reset All Settings". After you reset all settings, your device will automatically restart. And Tenorshare 4uKey will start removing your Apple ID or iCloud account immediately.
2.When the Apple ID unlocking process is complete, you can login into a different Apple ID or create a new account.
Notes:
Do not use the original Apple ID to register again in this device.
If your device is below iOS 10.2, your data will be lost after the Apple ID unlock process is complete.
If your device version is iOS 11.4 and above, or your device is unactivated, 4ukey is ineligible to bypass Apple ID and iCloud account.
Do not erase all contents and settings on device or restore iPhone with iTunes after Apple ID removal. Because the original Apple ID is necessary to activate your device after restarting, and you will not be able to remove the Apple ID through the software again!
This is our video link about how to remove Apple ID from iPhone without password with Tenorshare 4uKey.
Part 2: How to Remove Apple ID from iPhone without Password Using iTunes
You can also remove your Apple ID from iPhone without password using iTunes. Here is an example about how to remove your Apple ID from your iPhone 6s without password. In this way, you have to keep your iPhone and your computer linked all the time while your iPhone may get stuck when you are in the second process and you need to keep on pressing Side and Home button to make sure your iPhone get in the recovery mode first then to remove.
Step 1: Switch off your iPhone and connect it to iTunes on the computer.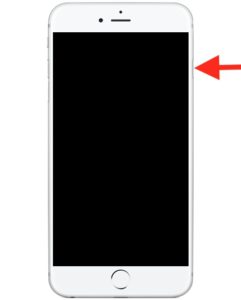 Step 2: Press and hold the Home button until you see the iTunes logo on device screen. Then it's time to restore your iPhone with iTunes.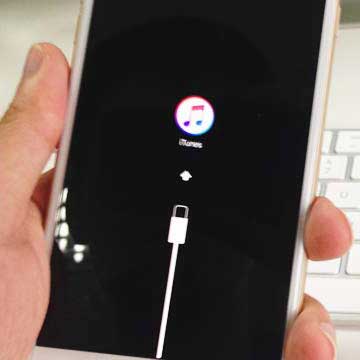 Step 3: Click Restore to start the process.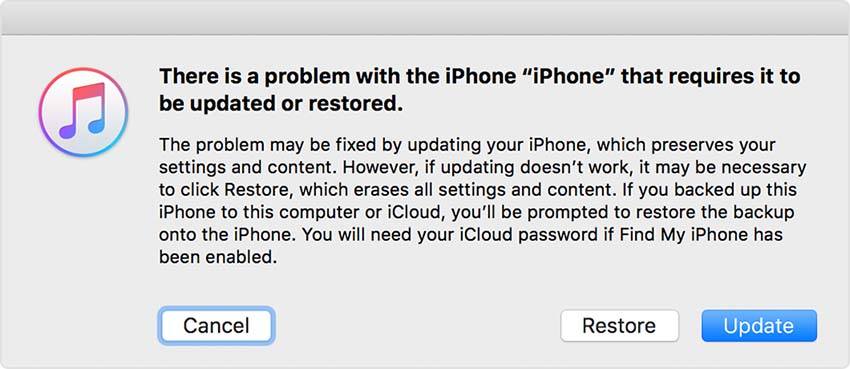 Part 3: Using Settings to Remove Apple ID/iCloud Account without Password
If you are outside without any computers, you can also use your iPhone itself to remove your Apple ID/iCloud account. The processes are as follows. In this way, you have to repeat several same procedures to make you forget your account.
Step 1: Go to Settings>iCloud. When asked for a password enter anything you want on the required field then click on "Done"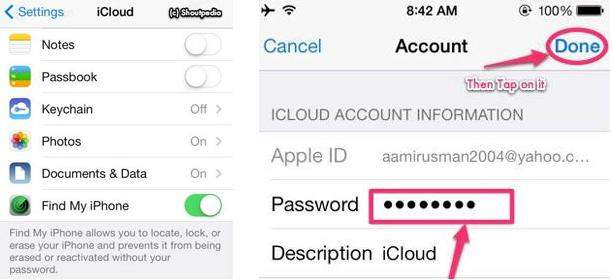 Step 2: The prompt would then say that you have entered the incorrect password. Click "Done". On the main panel of your iCloud interface go to your Account again, this time though you would need to remove the description then click on "Done".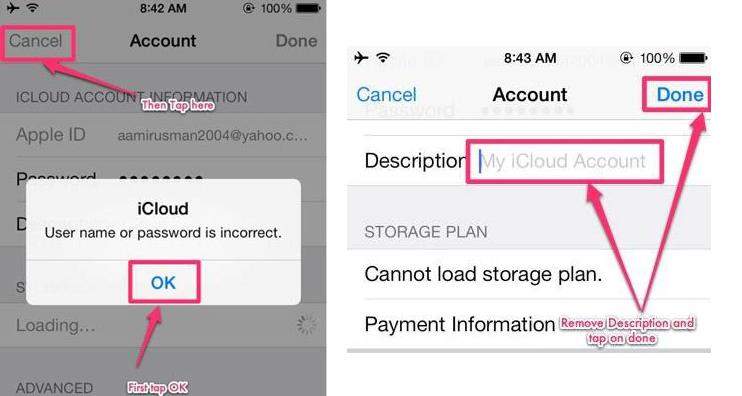 Step 3: Once you are able to do so you would notice that when you go back to the iCloud interface on your iPhone you won't be required to enter a password and that the "Find My iPhone" feature is automatically turned off. You can now scroll to the bottom to delete the associated ID on your iPhone.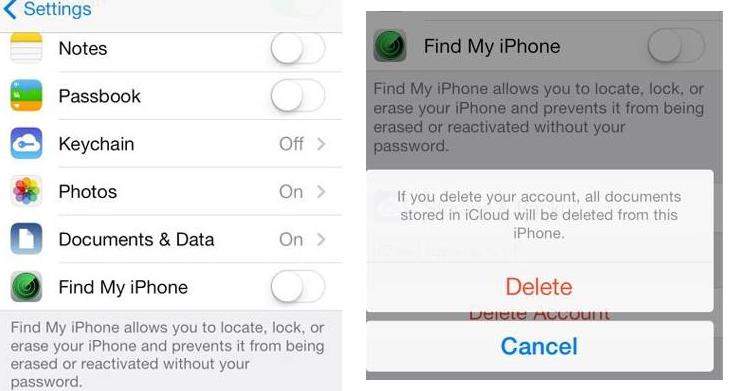 Part 4: Using iCloud Website to Remove your Apple ID without Password
If you don't have a password, you can't log out to remove iCloud/Apple ID. If you can't log out of iCloud because you forgot your Apple ID password, you can retrieve it through the following tutorial:
Step 1: First log in with your computer https://www.icloud.com/ or https://iforgot.apple.com/password/verify/appleid. This is iCloud's official website to retrieve the password entrance.
Step 2: Enter the Apple ID name and click Continue. The next step will be to see two options: Email Verification or Answer Security Question. If you remember the answer to the question, you can change the password by answering the question. If you don't remember to verify the e-mail address , the system will send an e-mail to the e-mail address of the registration id at the time.
Step 3: In the mailbox you will see an email from Apple that resets the Apple ID password and click on the "Reset Password" link in the email. It will open the web page where the password is reset. Now you need to re-enter a password. (You must click within three hours of receiving the email, the expired link will be invalid).
Step 4: Set the password successfully, you can now remove your Apple ID
Conclusion
With the comparison above, we can clearly found that the steps of Tenorshare 4uKey is the most convenient way to remove Apple ID from your iPhone without password. For iTunes, you have to make your iPhone into a recovery mode and wait a long while to keep its connection with the computer. For iCloud Website, you have to find your password first to remove your Apple ID then to remove. And as for Settings, it's more convenient than others cause you don't need to carry any computers to connect with. But you also need to repeat several steps to reach out your object of removing. And it is believed that most game players will know that play games on computers is much more convenient and comfortable than your skinny iPhone. With regard to this,Tenorshare 4uKey is a great choice for you.For more details, please refer to here