Snapchat Streak Lost? Five Quick Steps to Help You Get it Back
by Anna Sherry Updated on 2022-05-31 / Update for iPhone Tips
Hello There! Is there a useful way to learn how to get a streak back on Snapchat? Somehow on this Friday morning, I opened the Snapchat app to find my 180-day long streak with a close friend has been lost. What a Tragedy! Now I'm looking for the way to recover our lost Snapstreak. Any working method to get back a lost Snapchat streak?"
Most people have been in such a situation and get stressed or nervous. But it's time to leave such worries aside and read through this blog to learn how to get snapchat streak back in no time.
Part 1: What is a Snapchat Streak?
Snapchat is a massively popular instant messaging app that lets users send photos, videos and messages that self-destruct after a short amount of time. The cool features and temporary, or ephemeral nature of the app help it to stay a hit among young people. Another feature built in the app that makes Snapchat stand out among social networks is Snapchat streak.
A Snapchat Streak, officially called a Snapstreak, occurs when you and your snapchat friend have sent 'snaps' (not chats) back and forth to each other within 24 hours for more than 3 consecutive days. It displays as a flame emoji along with a number shown next to your friend's name, signifying how many consecutive days you have been sending snaps with this friend. If you miss a single day to snap with you regular, the Snapstreak will reset to zero.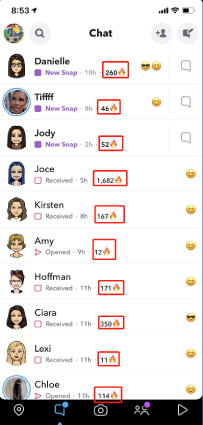 Part 2: Why Has My Snapchat Streak Lost?
The most obvious reason for the loss of a Snapchat streak is that either you or your friend hasn't sent a Snap to each other within a 24 hour window. Before the loss of a snap streak, the app notifies users with an 'hourglass' emoji(⌛)popping up next to the friend's name, which indicates that your snap streak is about to expire. If you don't send a read snap before this timer runs out, you lose your streak. In this case, unfortunately, the Snapchat streak is legitimately over and you can't get back your lost streak.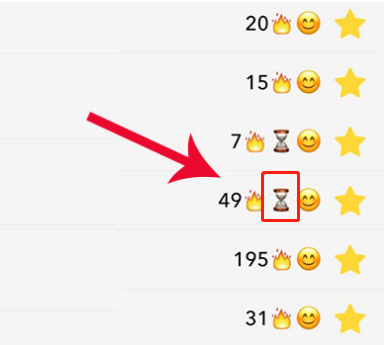 However, forgetting sending snaps isn't the only reason why you lose a Snapchat streak. Sometimes, you may lose a streak due to connectivity problems or sever issues in the app like Snapstreak bugs or errors. If one of you fail to send a Snap due to having problems connecting to the internet, Snapchat will remind you that the Snap has not delivered. If your Snapchat streak loses due to a server bug in the app, Snapchat will help you to get it back.
Part 3: How to Get a Streak Back on Snapchat?
If you are sure that you have sent snaps back and forth with your friend in the last 24 hours but still lost your Snapstreak, here is how you can get your lost streak back on Snapchat with quick steps:
Step 1: Head over the Snapchat Support page via this link.
Step 2: Click on "Contact Us" on the left side of the page to find the "I lost my Snapstreak" option and select it
Step 3: Scroll down until you see an information sheet.
Step 4: Fill in the information sheet with all the necessary information such as your username, email, mobile number, the friend's username with whom the streak got lost, and more.
Step 5: Complete the Captcha request by clicking on the "Send" to send the application.

If you have other needs to recover your lost data from other social media apps such as Viver, Kik and WhatsApp, then you can use a third-party data recovery software Tenorshare UltData to get your deleted or lost data back effortlessly.
FAQs About Snapchat Streak:
Q1. How Can I Start a Snapstreak?
To start a snapstreak, you and your friend need to send snaps (only photos and videos count) to each other for more than three consecutive days. After the third day, a fire emoji with a number will appear next to your friend's username, telling you how many days you've been on a streak for.
Q2. How Can I Know Whether the Snapstreak is Going to End Soon?
You'll see an hourglass emoji (⌛) next to a friend's name if your Snapstreak with them is about to expire.
Q3.How to keep the Snapstreak Going or Active?
All you need to do to get a Snapstreak going is to keep sending Snaps! It might sound like the worst advice, but this is what users often forget to do, in an attempt to send a "perfect" picture.
Extra Tip: How to Change Your Snapchat Location?
With the interactive mapping tool Snap Map in Snapchat, you are able to share your current location with your friends and view Snaps from nearby. However, there are several instances when you don't want to expose your location on Snapchat on your iPhone, so you're considering changing or faking your location. Here we recommend you Tenorshare iAnyGo, one of the most useful and easy-used iOS location changers. Below are detailed steps on how to change your Snapchat location with the app.
Download and launch Tenorshare iAnyGo. Once it has been launched, the default mode of this program is "Change Location".

Connect your iPhone to your computer via a USB cable. After this, you should unlock the iPhone and tap "Enter" to continue the process.

Select a spot you prefer and hit "Start to Modify" to change your location. 

Conclusion

It could be easy and straightforward to have your location changed on Snapchat with the help of a reliable iOS location changer. If you want to hide or change your Snapchat location, then use Tenorshare iAnyGo, as it is the best user-friendly solution that you can try.