Top 5 Ways to Fix Cash App Unable to Sign in on This Device
by Anna Sherry Updated on 2021-08-30 / Update for iPhone Tips
Many users will receive this reminder " Unable to Sign in on This Device" when trying to login cash app on their device. Such situation is becoming increasingly common but many people don't know why it happens and how to solve it.
Don't worry, this article will show you Cash App writing unable to sign in on this device means what and offer you 5 good ways to fix Cash App unable to sign in on this device.
Part 1: Why Cash App Unable to Sign in on This Device? The Reasons
Cash App is designed for digital currency, so it has strict operation rules to secure your money. To know the reasons behind Cash App unable to sign in on this device can help fix the problem within a minute.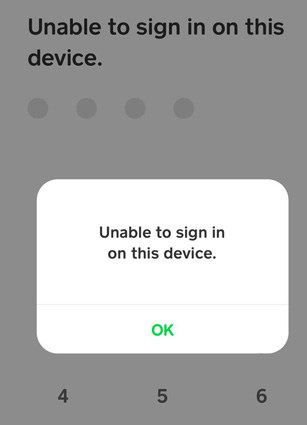 Read the following reasons and check which one caused your problem:
Reason 1: Poor or Unsafe Network Connections
There are 2 types of internet problems that will cause 'unable to sign in on this device cash app': poor internet connections and unsafe internet connections. The former one means your phone was connected to an internet that the signal is too weak to support the proper working of an app including Cash App. An unsafe internet means you connect to an internet that will monitor your phone and steal your password. It always happens when you connect to an unverified public network. Actually, your personal data is at risk when your phone is connected to an unknown public network.
Reason 2: Outdated Version
The outdated version of Cash app will also cause Cash App unable to sign in on this device. We all know that any applications need to be up to date if you want it work properly. Basically, when a new version of an app released, the older one will perform malfunction, which usually a way adopted by the app's company to prompt you to update to the newest one.
Reason 3: Multiple Devices' Login
Generally, it's the primary reason causes Cash App says unable to sign in on this device. Multiple devices' login means you are trying to login in Cash App on different devices simultaneously with only one account, which violated the Cash App polices. You can login on different devices such as your PC, your own phone or your friend's phone, but only allow login on one device at a time.
Reason 4: Apps Background Interference
It always happen when you're using an other app and then suddenly switch to Cash App without truly exit from other app. Other apps may still running when you're using Cash App, and if they are location tracking hiding tools, it will make your existence suspicious. Also some apps are incompatible the Cash app if they are running at the same time. For those reasons, 'unable to login on this device Cash App' message will appear.
It's the reason related to your iPhone operation system. Actually, iPhone is by no means perfect. iOS sometimes crashes or causes a range of problems. There exist lots of iOS glitch issues that been most talked now and some of them will result to 'my cash app keep saying unable to sign in on this device'. Though this reason is not common, we still need to be clear about is possibility.
Part 2: How to Fix Cash App Unable to Sign in on This Device?
After knowing the reasons behind cash app sign in errors, this part we offer you Cash App unable to sign in on this device solutions.
Fix 1: Make Sure Your Network Is Well Connected
Connect to a strong and safe internet may solve the problem 'unable to sign in on this device cash app'. Firstly you need to check your internet at settings. Check whether you're using a WiFi or your cellular data. If you're using a public WiFi, then change to your commonly used WiFi. If you're using cellular data, then try to restart your phone to make cellular data signal stronger.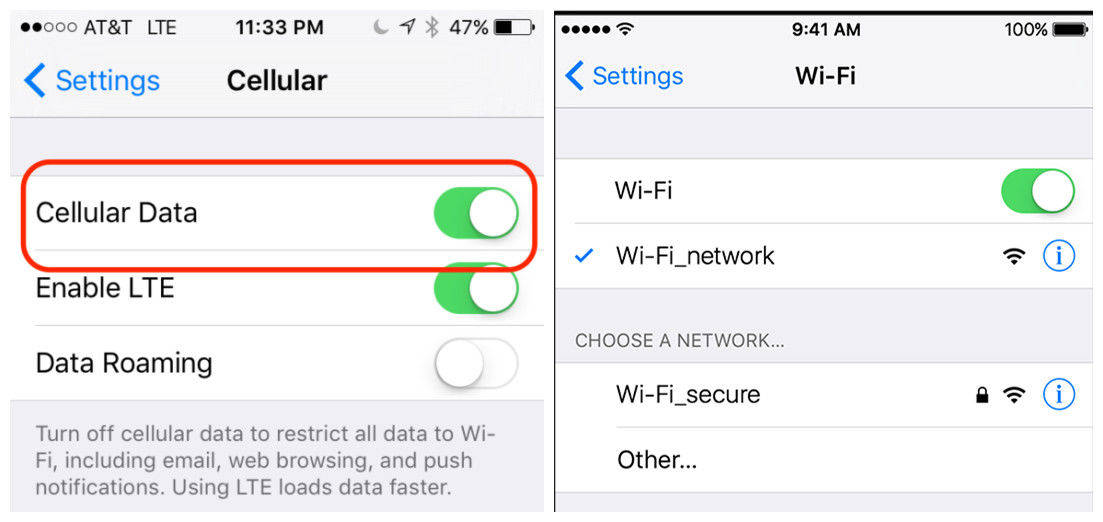 Fix 2: Update Cash App
If you're not update your Cash App for a long time, then to check if there has the newer version. it's easy to fix Cash App unable to sign in on this device by updating Cash App. Go to your app store, search Cash App and see whether it has the newer one. If it has, then choose update and wait for seconds. After the update is complete, open Cash App and login in with your account. You also to login from the official Cash App app or website. Never try to login from the third party.
Fix 3: Ensure Logging Out From Other Devices
Cash App restrict several devices' logging So if you're logging on a new device without logging out from the past one, then it may cause Cash App unable to login on this device. You need to log out from the past device. Tap on the profile icon and then tap sign out. After that you can login to the other device.
Fix 4: Stop Apps Running in the Background
Cash App unable to sign in on this device would also caused by other apps background running issues. You need to clear hidden apps running in the background. Here's how to do it:
At the Home screen of the iPhone, or while in an app, swipe up from the bottom of the screen and pause while still pressing the screen / If you're using an iPhone with home button, then tap home button twice.
When the App Switcher comes up, swipe left and right through the different app cards to find the app that you want to close.

Here we close all the apps with a quick swipe upwards.
Fix 5: Use ReiBoot to Fix iOS Glitch
Maybe you can fix Cash App unable to sign in on this device with above solutions, but when it come to iOS glitch, you can do less about it. If you've tried to restart your phone and found this problem still exist, then we recommend you ReiBoot. You can Download ReiBoot on your PC and it will repair your iOS glitch without data loss, which can also fix various iPhone stuck problems with 99% success rate. Try it by following the steps:
Download and install ReiBoot on Computer.Launch the program and then connect iPhone to your computer using USB.

Now, please read the note below and click the "Standard Repair" option button from the list.

Then, click the "Download" button to get the firmware package downloaded to your computer. It will take some time, please wait for seconds and be sure your iPhone is connecting with PC all the time.

Once the firmware package is downloaded on your computer, you can click 'Start Standard Repair' to start system recovery.

After standard repairing, your device will be restored back to normal. If the problem still exist after standard repair, then choose deep repair(data loss risk) by following the steps above.
Conclusion
Cash App is surly useful for making transactions online, but sometimes the login errors may occur which will bother you. So in this article we talked about the reasons of login errors and offered you 5 solutions to fix 'my cash app says unable to sign in on this device.' We hope you can find the useful way in this article.