TutuApp Download Free iOS & Android 2023
by Anna Sherry Updated on 2023-06-30 / Update for iOS App
Are you wondering what is TutuApp and how it works? Would you like to know whether it really works as an alternative app store for iPhones?
This article has everything you need to know! Without any further ado, let's get right into what Tutu App is.
Part 1: What is TutuApp?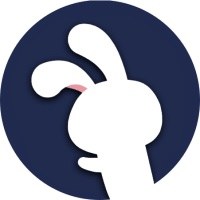 So, what exactly are TutuApp iOS and TutuApp APK for Android? This section explains all of that!
TutuApp is an alternative App Store for both iOS and Android.
Google Play Store is the default App Store for the Android operation system, and Apple's App Store is the default store for iPhones. However, if you want to install apps somewhere other than the official stores, TutuApp can come in handy.
Part 2: Why Use Third-Party App Stores?
If Google Play Store and App Store exist on Android and iOS respectively, why would you need another store on your device?
Well, most people want to be able to install apps that aren't available on the official stores.
For example, TikTok is banned in India and isn't available on the App Store or Google Play Store. If you have another store on your phone, you can download the TikTok app directly from there.
But, be noted that third-party stores like Tutu App iOS come with their own set of cons. Furthermore, there's a huge question of whether TutuApp even works on iOS.
Related read Download Apps Without App Store on iPhone.
Part 3: Does TutuApp Work on iOS and Android?
Even though TutuApp is somewhat of a popular name in the third-party App Store domain, you can't guarantee that it will always work. Let's answer the concern in this section.
If you're an Android user, you can perform a TutuApp download and it will work. All you have to do is install the APK on your phone and it will work great.
However, if you're an iPhone user, we've found that TutuApp doesn't work.
We tried to install and use TutuApp on our iPhone, and all it does is install a bookmark to TutuApp's website on your Home Screen. Furthermore, it doesn't really work as a store in any way.
Why is that? Well, simply because iOS doesn't allow third party app installs. Apple is very strict about the sources that can install apps on iPhones. And for now, there is no third-party App Store support on the iPhones.
So, even if TutuApp pretends that it works on the iPhone, it does not. But don't worry, we will offer you an alternative to TutuApp download iOS in the coming sections! Something that actually works.
But first, let's see how to download it on Android, first.
Part 4: Download TutuApp on Android
To download TutuApp on Android, all you have to do is follow the simple steps below.
Visit the official TutuApp webpage on your Android device's browser: www.tutuapp-vip.com
Select Android from the main page of the website.
Now, select the TutuApp APK Download button.
The download will start. Simply wait for it to complete.
When it's done, click the download notification in your notification panel to start the installation.
Hit the Install button to install the app.

Wait for it to complete. And now, you can close the browser and find the TutuApp in your app drawer.
Note: If it's detected as a harmful app and blocked by the Google Play Protect, you should turn off the harmful app detection by: Google Play store > profile > Play Protect > Settings > turn off harmful app detection > turn off "Scan apps with Play Protect".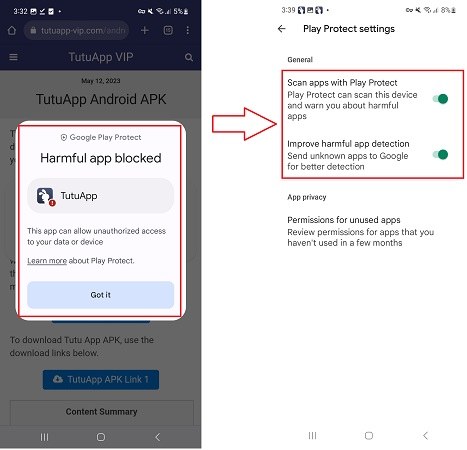 Part 5: Best TutuApp Alternative for iOS
Since Tutu App download doesn't work on iOS, you have to look for an alternative that actually works. Well, let us introduce you to Tenorshare iCareFone. A desktop tool that you can use to install apps on your iPhone.
But wait, how does iCareFone work if third party stores aren't allowed on iOS? Well, simply because iCateFone isn't something you install on your iPhone.
Instead, it's a desktop tool that you install on your computer. After that, you can connect your iPhone to the computer and provoke app installs through your PC.
Furthermore, you can use iCareFone to install apps that are no longer available on the App Store in your country. For example, if TikTok is no longer available in your region, you can use iCareFone to install it on your iPhone! How convenient is that!
This may sound intimidating, but it's actually really easy! Let's walk you through the steps you need to follow.
Download and install Tenorshare iCareFone on your computer and connect your iPhone to it using a USB cable. Open iCareFone and select the Manage tab.

On the left-hand side, select the Apps Download menu.

Enter the App's name to search it and install it on your device.

If you want to download apps that are not available in your country, you can see a list of apps available to download on the apps download main page. Simply choose the one you'd like to download to your iPhone. You can use the search function to install the app on your device.
Note: iCareFone can't make transactions on your behalf to Apple. So, it can only install apps that are free. And if you want to install apps that are not available in your country, you must make sure that the app is acquired before.
This ensures that iCareFone is totally safe to use. It only installs official, non-pirated or modded apps on your iPhone.
Conclusion
And that's how to set up TutuApp lite on your Android device.
And since TutuApp doesn't work on iOS, feel free to install Tenorshare iCareFone on your computer and use that as your alternative App Store. It works like a charm!