How to Truly Turn Off Bluetooth in iOS 17/16/15
by Jenefey Aaron Updated on 2023-09-01 / Update for iOS 11
With the launch of the 17, many things have changed in the Apple atmosphere but these changes are for good. The newer version of the operating system has brought in many new features that can be useful to you on your iOS enabled devices. One of these is how Bluetooth is disabled on your iOS 17/16/15 iPhone or iPad.
With iOS 16/15/14, you can no longer truly switch off Bluetooth from the Control Centre on your iPhone or iPad. You need to go into the settings panel to turn it off for real and the following guide shows how you can do that on your iDevice running iOS 16/15/14.
Steps to Switch off Bluetooth in iOS 17/16/15/14
Now that you can't turn off Bluetooth from Control Centre, you might be wondering where exactly you should head to turn it off. The following shows where and how to disable Bluetooth in iOS 17/16/15/14:
The first thing you'll need to do is unlock your device and go to your springboard.
Then, tap on the icon that says Settings to open the standard settings menu on your device.

Next, select Bluetooth from the list to open Bluetooth settings on your device. On the screen that follows, turn the toggle for Bluetooth to the off position.

That will disable the Bluetooth feature and also make sure the radios are inactive on your device. It has turned Bluetooth completely off on your device.
The WiFi service can also be completely turned off using a similar way.
There are many advantages of turning Bluetooth completely off as it no longer uses your phone's battery as well as keeps no holes open for any attacks on your device. Since the actual radios that make Bluetooth transfers happen are inactive, nothing can be sent and/or received from your device hence it is fully secure.
This should apply to all of you who use iOS 17/16/15 on your devices. Even if you have updated your older device with the latest iOS 11, you will need to follow the above steps to make sure the services are fully disabled on your device and not just their functioning.
Transfer and Manage Content on iDevices with iOS 17/16/15 using iCareFone
Mostly people use Bluetooth for content management on their devices as Bluetooth on an iOS device allows you to send content to other iOS devices and even to your Macs using AirDrop. While it remains a good way to manage content, there are some other apps as well that help you with sharing and managing content on your device.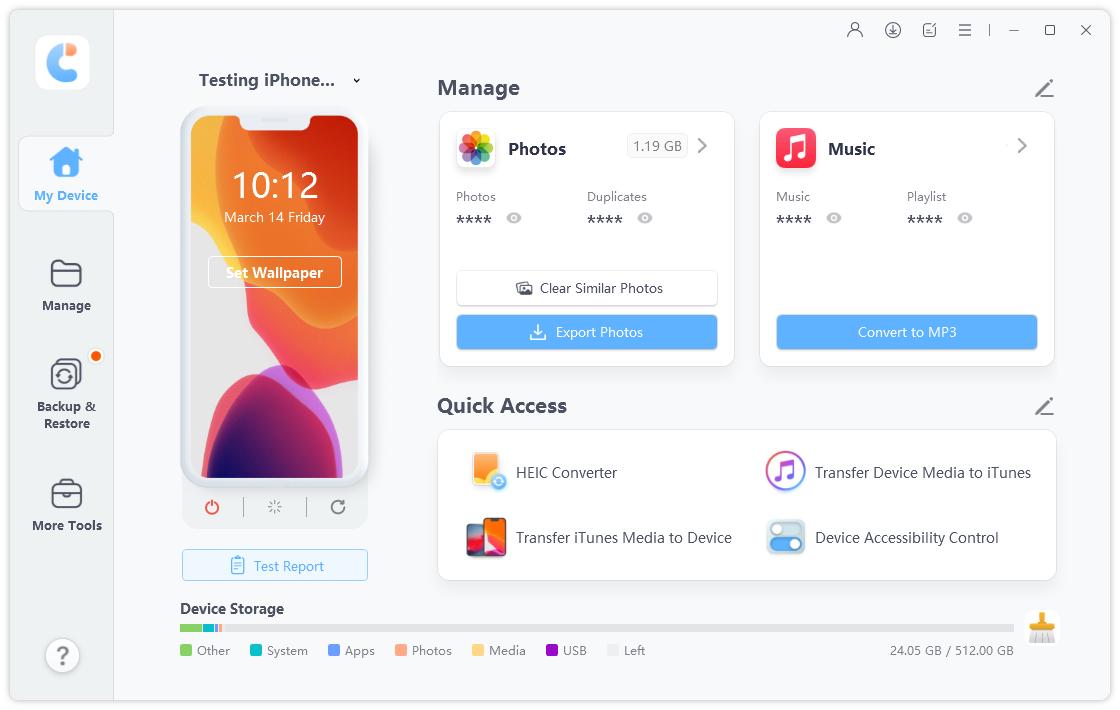 One of these apps called Tenorshare iCareFone can help you perform many actions on your device right from your computer. Once you have installed the app on your PC, you can then use the app's built-in file manager to manage content between your PC and your iOS device. There are also many other features to explore in the app.
The guide above teaches how you can turn off automatic Bluetooth on iOS 17/16/15 iPhone, iPad so that its radios are also turned off. As a bonus tip, you got to learn about a new app called iCareFone that helps you manage and transfer content from your iPhone or iPad running iOS 17/16/15.