Top 3 Ways to Remove Malware from iPhone
by Jenefey Aaron Updated on 2020-03-16 / Update for iPhone Tips
Every time there's an argument between Android and iOS fanboys, security always comes out as one of the strongest weapons on the iOS side. Even though Android is secure enough, the openness character of this operating system makes it a more delicious platform than iOS for shady programmers to experiment with malicious codes.
That being said, it doesn't mean that the closed wall garden of iOS is free of security threat. While the nature of iOS and app approval program makes it impervious to virus infections - unless, on jailbroken devices, there are rare occasions of malware attacks found. Still, the sandboxing feature on iOS should prevent the malware from getting access to other applications to spread itself, or to the underlying operating system.
How can you check if there is malware or two lurking in the dark corner of your iPhone? How do you remove malware/spymare from iPhone X/8/8 Plus/7/7Plus/SE/6s/6/5s/5?
How the Malware Spread Out/Infected Your iPhone?
If iOS is extremely secure, how does this malware infect your iPhone? Since the front door is closed shut and guarded by super-powered soldiers, the malware creators have to find other creative methods.
One of them is to lure the users to download and install the malware themselves using baits. The baits are usually in the form of fake warning that will pop-up when someone visits "bad websites" like free videos online. When users click on the warning, the malware is downloaded and installed.
Another method is by targeting app developers and tricking them into using modified, malicious-code-infected, source code. There were cases in the past where apps built using bad source code pass the app approval program and go out into users devices. Apple had to remove them from the app store and issue fixes.
How to Check If Your iPhone Get Malware or Viruses?
Now that the AppStore door is fixed, the best advice to avoid malware is by avoiding bad sites at all costs. But what if your iPhone is already infected? How can you tell?
If you notice odd behaviors, that's the easiest indication that your iPhone is infected by malware. In the most common scenario, the malware will "hijack" your phone via a pop-up and have it redirected to open an app page in AppStore.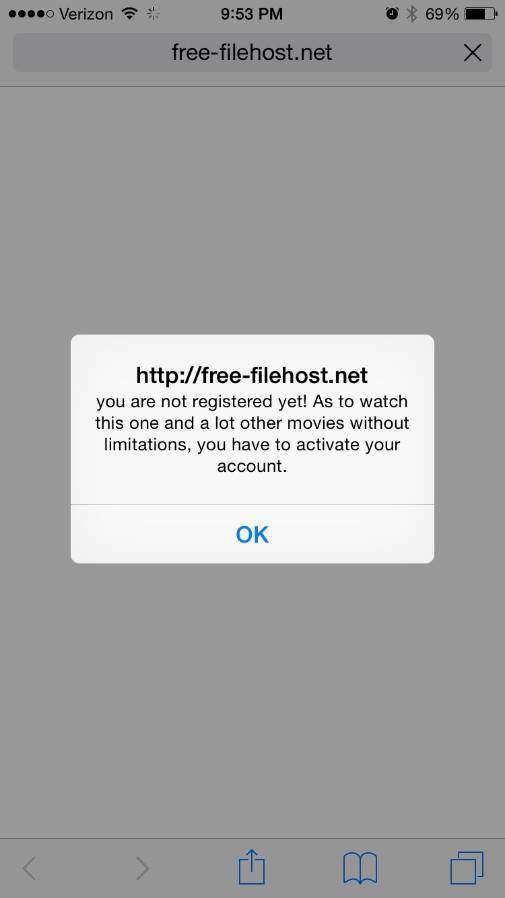 Other common cases are where the malware turn your browser's screen blank-white and immediately take you to the AppStore.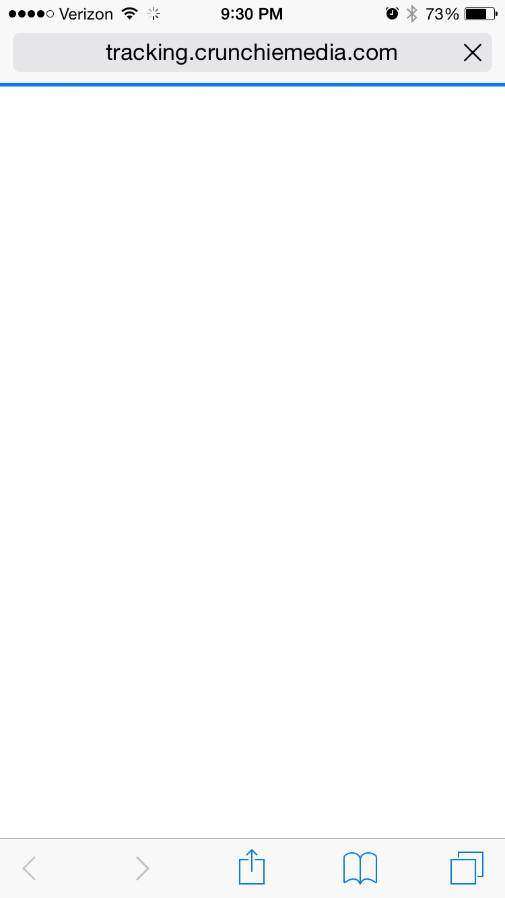 You should be also suspicious about malware infections if you experience frequent app crash and the sudden abnormal spike in your data usage.
To be sure, go to Settings > Safari > Advanced > Website Data and try to spot suspicious sites from the list. You might find unknown (and sometimes gibberish) addresses there.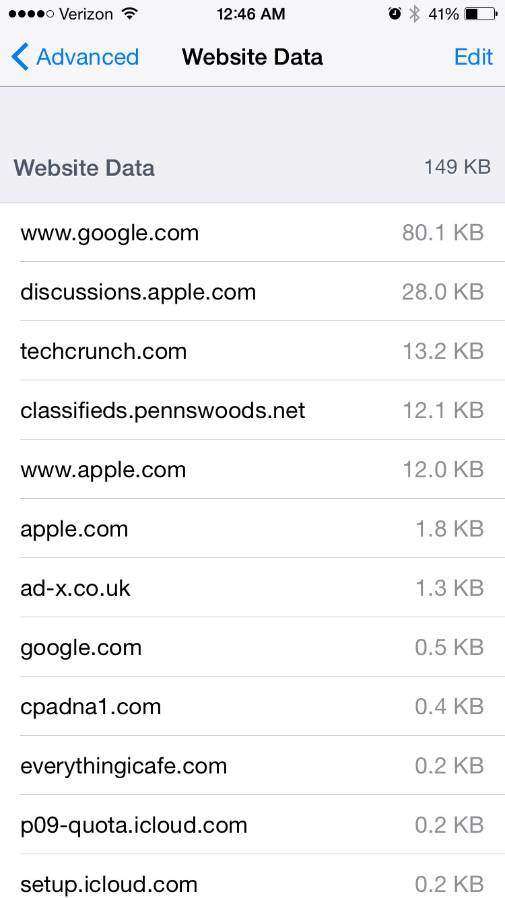 How to Remove the Malware from Your iPhone
What can you do after confirming the infections? Here are the top three ways that you can try.
Spring Cleaning
For a start, you can try to do a spring cleaning. Go to Settings > Safari and clean everything by tapping the Clear History and Website Data.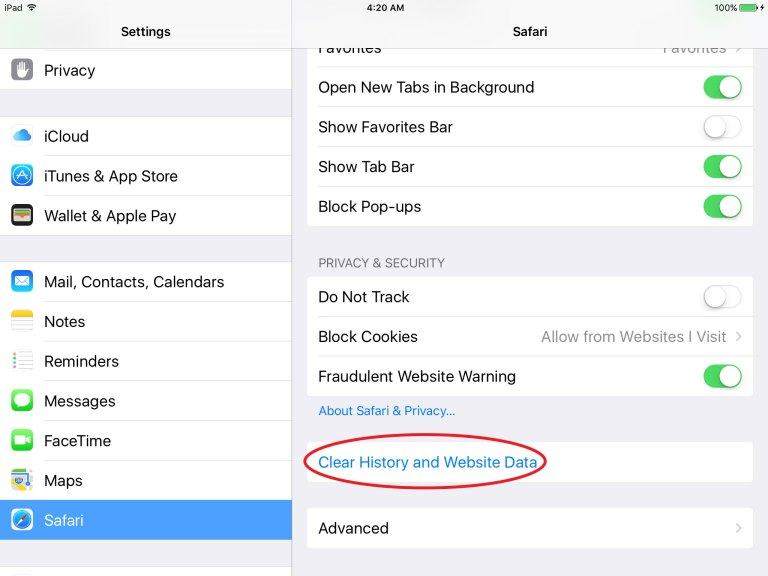 Most of the popup related infections get resolved by just following these simple step above.
Block the Malicious Content
The latest version of iOS comes with built in content blocker. Content blockers are third-party apps and extensions that let Safari block cookies, images, resources, pop-ups, and other content.
To activate content blocker:
Download a content blocking app from the App Store.
Tap Settings > Safari > Content Blockers, then set up the extensions that you want. You can use more than one content blocker.
Don't forget to activate the anti-phishing alert so that you will be warned anytime a malicious content tries to do something to your phone. You can switch on the Fraudulent Website Warning button above the Clear History and Website Data option.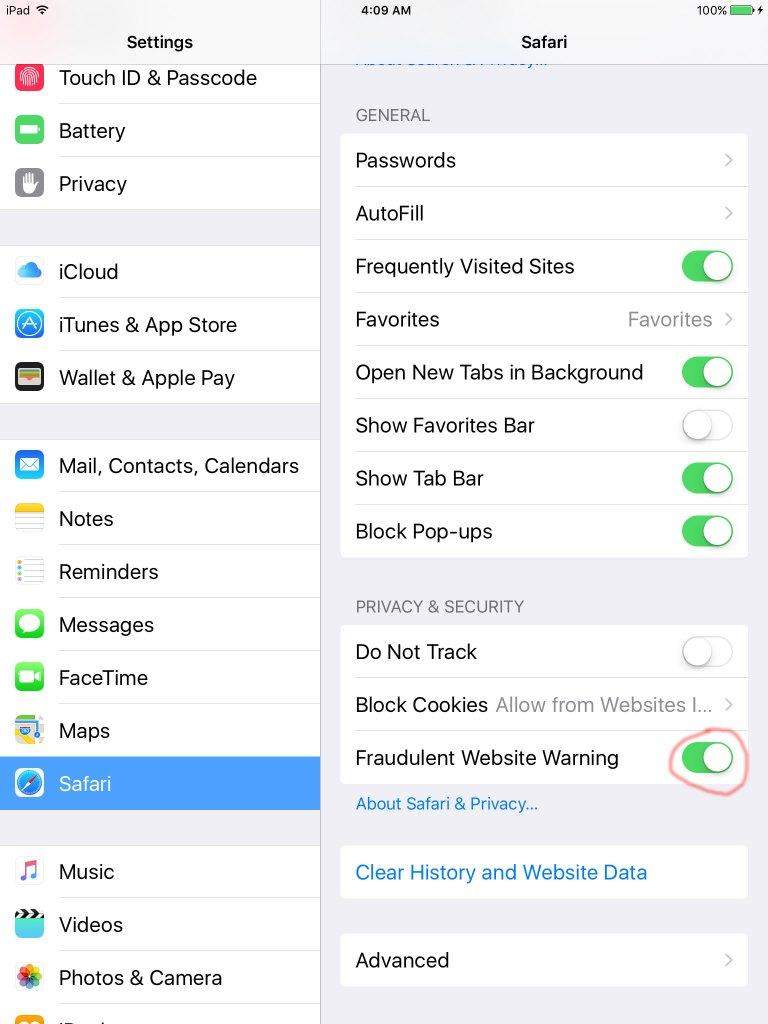 Reset to Factory Settings
If your problem still can't be solved by the steps above, you could try to wipe your phone clean and start over with factory settings. Don't forget to backup your device before doing the reset.
Go to Settings > General > Reset.
Tap "Erase All Content and Settings" to clear all apps and data from the device.
Restart your iOS device and set it up again. Restore your backed up data while you're at it.
When All is Failed
And after you do all of that and the problem still persists, you can try Tenorshare iCareFone Cleaner to help you. The application is the best iOS care tool that can ease all data on your iPhone permanently, and restore your iPhone operating system deeply, thus you can start afresh.