How to Turn Private Browsing on or off on iPhone
Private browsing is a feature on Apple's Safari web browser that as Apple defines it, "… protects your private information and blocks some websites from tracking your search behavior. Safari won't remember the pages you visit, your search history, or your AutoFill information." If you've seen something you searched for on one website annoyingly appear in most websites or even social media sites, you definitely want to consider private browsing for safari iPhone.
(Note: Using private browsing has its disadvantages. One, you'll have to enter your login information every time since it isn't saved. Two, since your search history isn't remembered as are cookies and cache, you can't use autofill information.)
Part 1: How to Turn on Private Browsing on an iPhone?
You can easily turn private browsing on with iPhone's Safari browser in following 2 methods:
Activate Private Browsing on iPhone without 3-D Touch
Step 1: Launch Safari browser.
Step 2: Tap the two-square icon located at the bottom right of the interface.
Step 3: Tap "Private" on the succeeding interface so that it transforms from white text to a white background.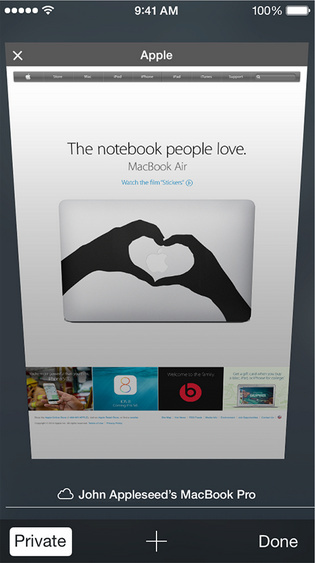 Enable Private Browsing on iPhone using 3-D Touch
Users of iPhone 6S/ 6S Plus and later can use Apple's innovative 3-D touch solution that brings up more options upon applying a little more force on the screen. 3-D ouch has to be enabled on your phone.
Step 1: Force press the "Safari" icon.
Step 2: Select "New Private Tab".
Part 2: How to Disable Private Browsing on iPhone?
Disabling private browsing is important for parents who feel that using Parental Control for the iPhone is limiting but while at the same time enabling private browsing gives their children too much freedom. You can disable private browsing altogether by following the procedure below.
Note: Thinking of how to permanently disable private browsing on iPhone? It is impossible. The private browsing can only be disabled temporarily as explained below.
Step 1: Launch the Settings app on iPhone.
Step 2: Go to "General", scroll down and tap "Restrictions".
Step 3: Enable restrictions by tapping "Enable Restrictions" and create a memorable passcode. This isn't to be confused with your device's passcode and can, therefore, be different.
Step 4: Under "ALLOWED CONTENTS" tap "Websites".
Step 5: Tap "Limit Adult Content"
Step 6: Save the changes by tapping on the "Back" button.
You can apply stricter rules by preventing any download of another browser. Do so by navigating to General > Restrictions > Installing apps.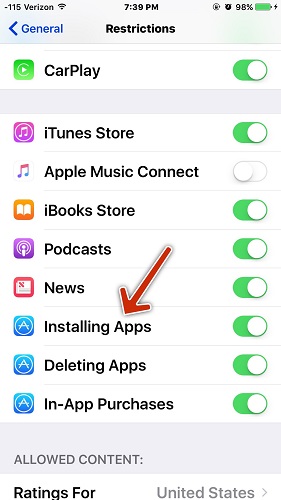 To protect your privacy, it is highly recommend to turn on private browsing on your iPhone. Moreover, you can also use an iPhone cleaner app like Tenorshare iCareFone to delete all useless files and sensitive data including cache data, temp files from apps, browser history, corrupted downloads, downloaded temp files, user storage files, log files, etc. on your iPhone.