Why Are My Messages Green iPhone & How to Fix
by Jenefey Aaron Updated on 2021-09-03 / Update for iPhone Tips
If you use iPhone, you might know that iMessage is an excellent method to communicate with other Apple users without text message expenses. But if your messages start appearing in a green bubble rather than blue, then it might be some problems with your iMessage. In this blog, we will tell you everything you need to know about why are my messages green when they should be blue on iPhone.
Part 1: What Does iPhone Messages Green Mean
Before we jump into details and tell you how to fix iPhone messages green, it is essential to know what exactly green bubble iphone messages mean.
iMessage differs from standard SMS messaging because it delivers messages with internet connection. You don't need to pay any message fee in this way. But it will only function between Apple users. If your text shows in a blue bubble, it was sent through iMessage to another Apple user. On the other hand, if it is green, it indicates that the message was delivered to a non-Apple user or you meet the problems shown below. Keep reading to know everything!
Part 2: Why Are My Messages Green When They Should Be Blue and How To Fix
If you are an iPhone user, then you might ask yourself why are my messages green when they should be blue. Well, there are a couple of reasons behind iMessage turned green. Let's look at some of the reasons and solutions for why it is green when I text another iphone.
1. iMessage is turned off
Messages on iPhone are sent as iMessage or SMS messages. You can turn on/off the iMesages feature by yourself. Therefore, one of the primary reasons imessage green starts to show is that your iMessage might be turned off.
Fix Now:
You can turn it on by going to the Settings. Click on the Messages option and then turn on iMessages. Then send a message to check if it is displayed in blue bubble.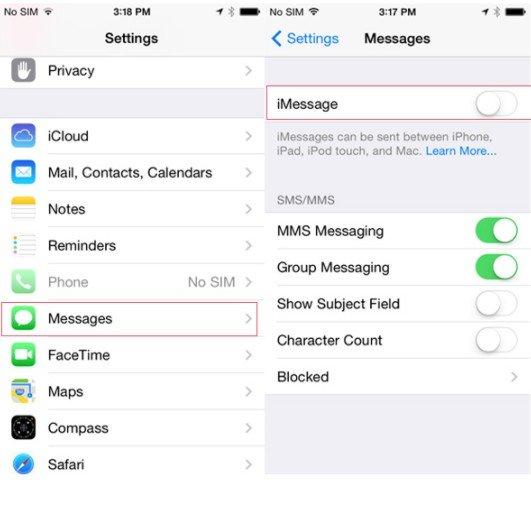 2. Recipient Device is not Available
As mentioned above, your recipient might also be the reason why iphone messages green start to appear. First identify whether you are facing iMessage green problems with any of your contacts. If your recipients don't use an iPhone or don't turn on their iMessages, your messages will switch to SMS and appear as green bubble iphone messages. Another reason might be that they do not have a reliable internet connection.
Fix Now:
All you should do is to check whether the other person is using an iPhone or has its iMessage turned on.
3. Network is Unavailable
Remember that iMessage will only work when your iPhone is connected to the internet. So the reason of iphone messages green might be the internet connection or iphone network problems.
Fix Now:
Swipe up from the bottom of the screen and nake sure your phone is connected to WIFI. If your WIFI connection is weak, turn it off and resend your iMessage using your data.
Still, the problem persists; consider resetting your phone's network settings. Go to Settings > Reset > Reset network settings. It will reset network without losing the current data.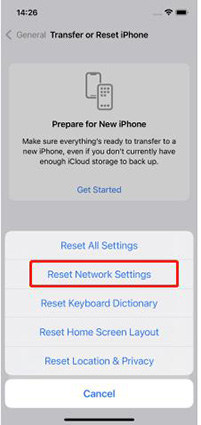 4. iMessage Not Working
Once you discover that the tips mentioned above are no longer effective in returning your iMessage back to work. And if the iMessage turned green with every contact, your iMessage needs a repair or you might consider it as a glitch on your iPhone. Now, Tenorshare ReiBoot is absolutely what you're looking for.
Fix Now: How to fix iMessage Not Working Using ReiBoot
This program can assist in resolving a variety of iOS stuck difficulties as well as fixing the iOS operating system. All you need to do is follow the below simple steps:
After you've successfully downloaded the software, you need to activate it and connect your iphone to your PC/Mac. Click "Start" to begin.

Now you will be directed to an interface shown below. Click on "Standard Repair" on screen.

Now download the firmware package. It may take several minutes, so wait until it finishes.

After that, click on "Start Standard Repair" to proceed the repairing process.

When it completes, your iPhone will restart normally and the iMessage green issue or not working will be resolved.
You can also try the "Enter into Recovery Mode" and "Exit Recovery Mode" in the main interface for free to see if it can solve your problem.
Note: you should double-check and send a message using iMessage to see if it actually works or not.
FAQs:
1. Does iMessage Green Mean Being Blocked?
When you know, someone owns an iPhone, and your messages with that person suddenly turn green. This is an indication that your iMessages might be blocked. However, this is just an indication, not a guarantee, as we have told other reasons why iPhone green text can appear.
2. How Do You Know If Green Text Message Was Delivered?
Unlike blue iMessages shows Delivered sign, green text messages only have notice if you fail to send them. So if you don't see the "Not delievered" notice, then the message might have been sent.
Conclusion
iPhone is undoubtedly an ideal cellphone, but it sometimes gives errors like the green text message on the iPhone. Luckily, most of the time, iMessage only needs a simple repair, as we have explained above in our article. So, we believe now you know the answer of why are my messages green when they should be blue. And whenever you meet the "iMessages not working" and other iOS system problems, give ReiBoot a try.
Fix iPhone Stuck Issues without Data Loss