What Does SOS Mean on iPhone? Top 10 Ways to Fix
by Sophie Green Updated on 2023-07-31 / Update for iPhone Tips
Do you have a problem calling someone using your iPhone and there is a strange SOS Only sign on your notification bar? If yes, you might need to know what does SOS mean on iPhone. It's an indication is that your device is not connected to any cellular network and you can't dial or receive calls rather than emergency numbers. In this article, we'll cover various topics related to SOS including what does it mean, how to turn off SOS on iPhone and more! So, let's not waste time and dive right into it!
Part 1: What Does SOS and SOS Only Mean on iPhone?
On an iPhone, SOS stands for "Save Our Souls" or "Save Our Ship," and it is a feature designed to quickly call for emergency assistance when you are in a dangerous or critical situation. When you activate the SOS feature on your iPhone, it will automatically call emergency services in your country and send a message with your location to your emergency contacts.
If you're seeing the "SOS only" sign on the notification bar of your iPhone, it means that your iPhone is currently in a state where it can only make emergency calls. This usually occurs when your iPhone is not connected to a cellular network, or the network strength is very weak, and it can't establish a regular cellular connection. This sign is either present at the top right corner for iPhone devices with iOS 17/16 or at the top left corner for iOS 15 and below. It usually pops up when you are in a location with minimal to no cellular signals, in tunnels, villages, etc.
Due to the enabling of SOS only, you won't be able to send text messages, dial/ receive calls, etc. However, with SOS only, you can call emergency numbers like 911 and more.
Part 2: How to Enable and Turn Off SOS on iPhone
It is not recommended to turn OFF SOS on iPhone, as it helps to call emergency numbers fasters. However, if you want to disable SOS on your iPhone, here are the steps you should follow:
Hop on to your iPhone's Home Screen and tap on settings.
Scroll down to locate the "Emergency SOS" section.
In that section, you'll see various tabs. Search for Call with Hold (or Call with Side Button.

Tap the slider off if enabled!
That's it, you're done. Similarly, if you want to enable it, just switch back the toggle on.
Part 3: [10 Ways] How to Fix SOS Only on iPhone with Complete Guide
So, now that you know what does SOS mean on iPhone, let's learn how to fix it? We've compiled top 10 ways how to fix SOS only on iPhone in the simplest way!
Way 1: Reboot Your iPhone
So, the easiest way to SOS only on iPhone how to fix, is by rebooting your device. After, rebooting you won't lose your data, which is why it is one of the safest methods to opt for.
Step 1. Try gently pressing and holding the volume button and the side button till you see a power slider appearing on the screen.
Step 2. Wait for at least 30 seconds and try to turn it back on by pressing and holding the side button.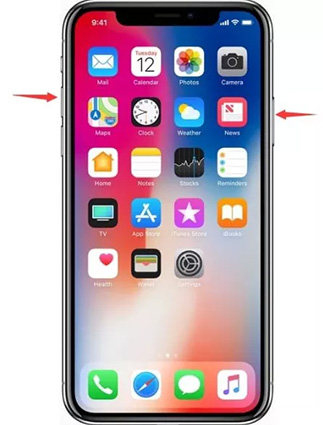 Way 2: Force Restart Your iPhone
The 2nd way is to forcefully restart your device. So, grab your iPhone, and let's get it.
First, press and quickly release the volume up button and do the same with the volume down button.
Press and hold the side button until you see the Apple logo.

Once you see it, gently release the side button.
You've just finished fixing iPhone SOS only sign after understanding what does SOS on iPhone mean. If this method didn't work for you, hop on to the next one.
Way 3: Ensuring Proper Network Connection
Another way to get a quick fix for it is by ensuring a proper network connection. You can see if there are full network connections available for your Cellular data or Wi-Fi.
Way 4: Toggle Airplane Mode
If you're still in SOS-only mode, you might be on Airplane Mode on your iPhone. With airplane mode turned ON, you won't be able to receive or send messages, etc. Here's how to fix it:
On your iPhone, head to the settings app. Go locate the Airplane mode button.

Search for turn OFF and ON toggle near it. Turn it OFF if enabled.>
Way 5: Check SIM Card
Another way to fix and confirm if you're on SOS-only mode is by checking your SIM card. There are various cases where the SIM card is not correctly inserted, which may cause you to think that you're in SOS-only mode.
You should check if they are full signal bars appearing on the side of your network provider name. If they are not appearing, then you might need to check if you've inserted the SIM right.
Way 6: Check for iOS Update
It is also possible that you are facing cellular network issues due to pending updates on your iPhone. There might be a few bugs that get deleted after the software update. Here's how to check it:
Step 1: On your iPhone, go to Settings. Tap on General and locate Software Update.
Step 2: Click to see if you have any.
Step 3: If there's an update available and tap on it to start updating.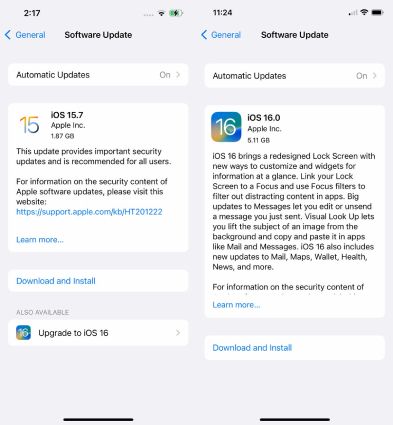 Way 7: Reset Network Settings
If the above methods didn't help you tackle what does SOS mean on iPhone, try this one! It will reset all your Network Settings to default. This way, you'll get rid of the SOS-only problem in your iPhone.
1. On your iPhone settings, go to General.
2. Choose Transfer or Reset iPhone and Select Reset from it.
3. Tap on Reset Network, and you'll be asked to enter the passcode.
4. Retap on Reset Network Settings to confirm.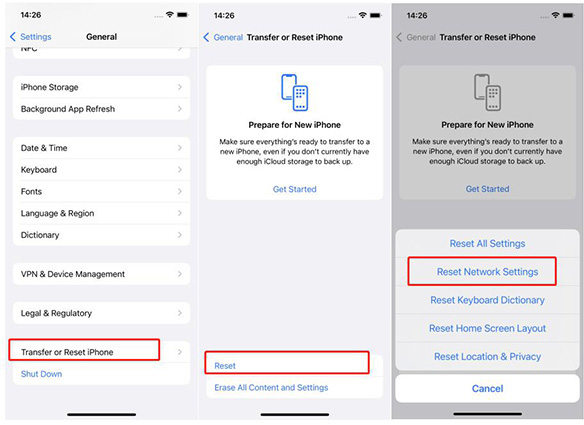 Way 8: Contact Your Carrier
If all these fixes didn't apply to how to turn off SOS on iPhone, you should try contacting your carrier. You can call the customer helpline that they may have allotted you. At first, they'll ask you to follow these same ways and then conclude why you're seeing SOS-only on your iPhone.
Way 9: Check for Physical Damage
It is also possible that your phone might have signs of physical damage. Check if there's a sign of physical damage on the iPhone's back or anywhere else. If there's physical damage, please get it fixed by repair shops near your house.
Another way is to implement the last method that fixes all software problems from your iPhone. So, check it out!
Way 10: How to Fix SOS only on iPhone Due to System-related Issue
The last method to fix any iOS-related issues is done by Tenorshare ReiBoot. It is an efficient software that fixes all iPhone system problems and makes it good as new. You can use the Deep Repair methodology to fix what does SOS mean on iPhone. However, it is crucial to back up your data to prevent any sort of data loss from your iPhone.
Here's how to do the deep repair method:
Start by downloading and installing ReiBoot on your laptop/ computer. Gladly, it works for both macOS and Windows; you won't have any trouble downloading it. Connect your iPhone to the PC, then click Start button to proceed.

Click on Standard Repair and download the firmware package.

Download the firmware package.

Tap Start Standrad Repair and wait for a few minutes to let the process complete.

Its 99% success rate is one of the most efficient methods to fix iPhone's system-related issues including SOS only on iPhone without losing data.
Conclusion
SOS or SOS only on the iPhone status bar means that your device is not connected to your normal cellular network, but you can still make emergency calls if needed. To fix this problem, you can try some troubleshooting steps like checking your SIM card and using ReiBoot to fix system software related issues. We hope this article has helped you understand what does SOS mean on iPhone and how to resolve SOS Only on iPhone. Stay tuned for more of such informative guides.
Fix iPhone Stuck and Update Issues without Data Loss