Can't Use Emergency SOS? Here's What You Must Know
by Anna Sherry Updated on 2022-12-01 / Update for iPhone 14
Emergency SOS via satellite is one of the highlight features of the iPhone 14 series. With this feature, users can send emergency text messages to help centers, even when there's no WiFi or cellular connection available.
However, users have many questions regarding this feature.
If you've found yourself in a similar situation wondering how you can use this feature, this article is a must-read for you. Here's everything you need to know.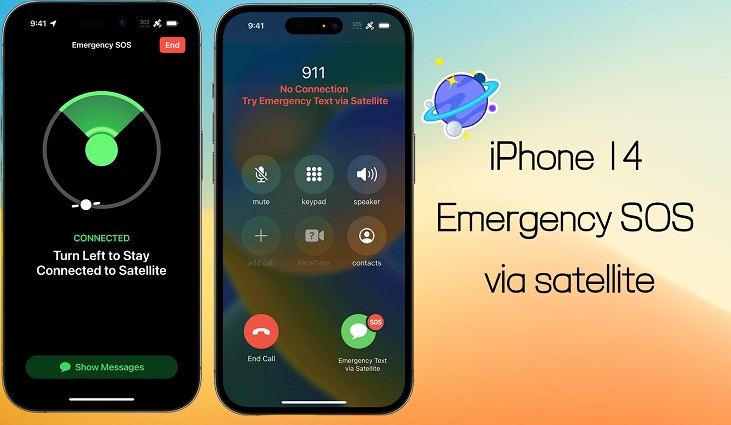 1. Has the Satellite Connectivity feature been released?
Yes, the Satellite Connectivity feature has been released by Apple (November 15, 2022) and is now available for use on the iPhone 14 series.
If you have iPhone 14, 14 Plus, 14 Pro, or 14 Pro Max, you can now activate the Emergency SOS feature on your device.
Unlike many people speculated, this feature was not reserved for iOS 16.2. It was released for every device running on iOS 16.1.
However, be noted that this feature was released through a server-side update. Even if you had been running iOS 16.1 earlier, you wouldn't be able to use the feature before the server-side release. But now, the feature is available to use.
Is the feature available to every iPhone 14 user?
Not really.
Due to the complexity of this feature, it will not be available to everyone around the globe at the same time. For now, the feature has been released in the US and Canada, including Puerto Rico and the Virgin Islands.
If you're located in one of these regions, you will be able to use this feature right now.
If you're not located in these regions, then unfortunately you might have to wait a bit longer to get your hands on it.
In December, the Emergency SOS feature will be released in France, Germany, Ireland, and the UK. But, if you're not located in any of these countries either, there's no official timeline for when it will be released in other parts of the globe.
3. Is the iPhone 14 Satellite Connectivity free?
If you're located in eligible regions and want to know whether this feature is free, this section has got you covered.
Emergency SOS via Satellite feature is free for all users for the first two years. That means you will be able to use it for free till November 2024.
After that? You will have to pay for the service. However, Apple hasn't released a pricing plan yet to explain how much the service will cost after the free trial period ends.
Will I get 2 free years if I buy iPhone 15?
It's pretty much confirmed that the iPhone 15 lineup next year will also support Satellite Connectivity, as Apple doesn't kill off its services that often.
If you haven't upgraded to the iPhone 14 series and wondering whether you will get free 2 years of Emergency SOS if you buy iPhone 15, there's no official answer for you.
However, according to our analysis, the iPhone 15 series will also give you 2 free years of Emergency SOS. It just wouldn't make sense if people with iPhone 14s would have free access to the feature while the people with iPhone 15s don't.
4. How do I use the Emergency SOS feature?
Now that the feature is available, here's how you can use it.
It only works if you're in a far-off location with no cellular service. If you do have cellular service, use the regular calling method to contact 911.
If there's no cellular service, open the Phone app and dial 911 anyway. When the call fails, you will get an option to try Emergency SOS via Satellite. Tap it.
Now, the satellite interface will open on your screen. Hold your phone as you normally would, don't lift it up or put in your pocket.

Follow the on-screen guidance to avoid any foliage and then point your iPhone towards a satellite.

When you're connected, you will be able to send SOS messages.
You can also try a demo of this feature by heading into your phone Settings > Emergency SOS > Try Demo.
5. Emergency SOS is NOT working for me, what to do?
If you're reading this post after the feature has been released, and it's still not working for you, here are some things to try.
There could be several reasons why it may not work for you, like software glitches and bugs, incorrect settings, and more.
Here's what you must try.
Force restart your iPhone by pressing and releasing the volume up button, pressing and releasing the volume down button, then pressing and holding the side button until you see the Apple logo.

Make sure Location Services are turned on in your phone's settings. If you didn't know, your GPS is used to track your location. You must keep your Location Services ON for this feature to work.

Reset your iPhone by opening the Settings app and going to General > Transfer or Reset iPhone > Reset All Settings.
6. Emergency SOS still not working? Here's one final solution!
If the above-mentioned fixes don't work, you need to try one last thing, and it's called Tenorshare ReiBoot.
ReiBoot completely refreshes your iOS system, which removes all the bugs and glitches from your iOS installation. Simply put, ReiBoot can help you fix all kinds of software bugs in your iPhone without losing device data.
Here's how to use it.
Download and install ReiBoot on your PC or Mac. Connect your iPhone to the computer using a lightning cable, then select "Trust This Computer" if prompted on the iPhone's display. Click "Start" on ReiBoot's main screen.

On the following page, select "Standard Repair".

The system will prompt you to download the latest firmware, click "Download" to proceed.

When the download is complete, click "Start Standard Repair".

Wait for the process to complete, and your iOS installation will be as fresh as new! Emergency SOS should now start working as usual!
The bottom line
Even though we hope you never have to use the Emergency SOS feature, it's a life-changing feature to have if you're an explorer or adventurer.
But, if this feature hasn't been working for you even after its release, this article has given you all the pieces of info you need. In most cases, Tenorshare ReiBoot will help you sort the issue out.
But if it doesn't work even after using ReiBoot, you must take your iPhone to an Apple Store or a repair center, as there might be something wrong with your device's hardware components.