[Fixed] Your iPhone Cannot Make And Receive Calls until It Has Been Updated iOS 17/16
by Anna Sherry Updated on 2023-07-30 / Update for iPhone Tips
One of the most frustrating issues you can deal with when using an iPhone is being unable to receive or make calls. Since making or receiving the call is the primary use of a phone, your device will be almost useless. So, if your iPhone cannot make and receive calls or access cellular data until it has been updated, you should not hesitate to look for a way to solve the issue.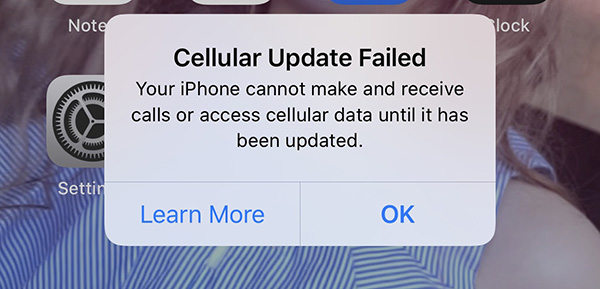 I. Can You Receive Calls While Updating iPhone
No, you cannot receive or make calls with your iPhone while you are updating the device. This is because your iPhone will restart and boot up after the system update has been completed. During this stage, it is impossible to receive or make calls.
However, while you are downloading a system update on your iPhone, you can receive phone calls.
II. The Reasons of iPhone Not Receiving Calls or Making Calls after iOS 17/16
When your iPhone cannot make or receive calls or access mobile data until it has been updated, you must first look for the source of the problem. This will help you to avoid a repeat of the same problem later. Generally, the most common reasons for your iPhone not receiving calls or accessing the internet are:
If you have turned on some particular settings on your iPhone
If the network on your iPhone has a problem
If the software of your iPhone is not up to date
Quick Tip: How to Fix Cellular Update Failed Error When Update to iOS 17/16
1. Reinsert the SIM Card
Sometimes, the SIM card may be responsible for why your iPhone cannot make and receive calls until it has been updated to iOS 17/16. To deal with the problem, you should consider reinserting the SIM card. All you have to do is to open the SIM card holder and remove the card. Check it to see if it is broken or not. Afterward, reinsert the SIM card into your iPhone.
2. Turn Airplane Mode on and off
If your iPhone cannot make or receive calls until it has been updated, one of the ways to fix it is to turn Airplane Mode on and off. The steps for doing this are highlighted below:
Go to the "Settings" app on your iPhone. Open the app and navigate to "Airplane Mode".

Move the slider in front of the "Airplane Mode" to turn it on. The slider will turn green.

When you want to turn off the "Airplane Mode", you should move the slider again. Now, it will turn white.
3. Reset Network Settings on iPhone 14/13 with iOS 17/16
Resetting your network settings may proffer the solutions you need. To reset your device, you should follow these steps:
Go to the "Settings" app on your device and launch it.

The next step is to click "General" and then tap "Reset"

Under the Reset tab, click "Reset Network Settings".

You will be prompted by your device to input your passcode.
To complete the process, you need to restart your iPhone so that the network settings will be reset.
4. Perform Factory Reset on iPhone 14/13
You can also perform a factory reset to proffer solutions to your iPhone if it is not making and receiving calls or accessing cellular data. Before performing a factory reset, please make sure that you have backed up all your data because the process will erase the data.
Do the following to perform a factory reset:
Open the "Settings" on your device.
Navigate to "General" > "Reset" > "Erase All Contents and Settings".
The device may ask you to input your passcode to proceed.

The device will ask you to either "Erase iPhone" or "Cancel". Choose "Erase iPhone". This will factory reset the iPhone.
5. Fixed Your iPhone Cannot Make and Receive Calls in 5 Minutes
Is your iPhone 14/13 not making calls even after trying the 4 methods described above? The ultimate way to fix this problem is using Tenorshare ReiBoot. This iOS repair tool is designed for fixing bugs and other issues that may affect the operating system of your iPhone.
Below, we will shed light on how to use Tenorshare ReiBoot to fix your iPhone if it cannot make and receive calls until it has been updated.
Begin the process by downloading, installing, and opening Tenorshare ReiBoot on your Mac or Windows computer. With a USB cable, connect your mobile device to the computer. Then, click "Start" to proceed.

Afterward, you have to hit "Standard Repair". After reading the information on the screen, select the "Standard Repair" option.

The next thing is to select "Download". The computer will start downloading the latest firmware file. This file is about 5GB; so, it may be slow depending on your internet connection.

Now, you have to tap "Start Standard Repair" and Tenorshare ReiBoot will repair the OS.

When it is 100%, your device will reboot automatically.
Conclusion
With the information above, you now understand everything you need to do if you get a notification that says "your iPhone 14/13 cannot make or receive calls until it has been updated". Use Tenorshare ReiBoot or other methods above to fix the issue and continue enjoying your device.