Does Tenorshare 4uKey Really Work? Comprehensive Reviews Here!
by Sophie Green Updated on 2020-07-20 / Update for iPhone Tips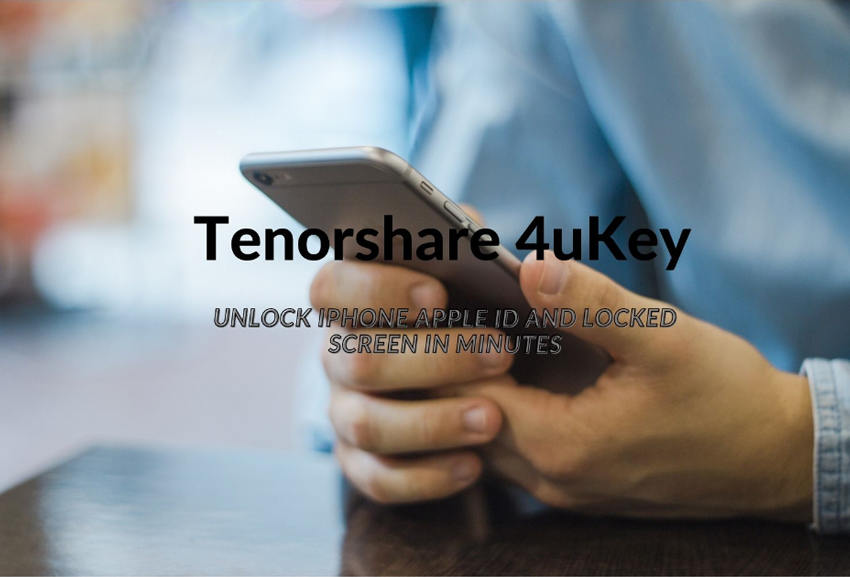 Part 1: Fully Understand 4uKey
Tenorshare 4uKey - iPhone Passcode Unlocker, an extremely reliable and feature-rich tool that's specifically tailored to unlock iPhones and iPads. It doesn't matter if you've locked the iPhone with a passcode, Face ID, or Touch ID, Tenorshare 4uKey will allow you to quickly unlock the device without any hassle. Considering its highly effective performance and a 100% success rate, we thought it is worth reviewing the product so that you can also use it to unlock a locked iDevice.
So, in today's blog, we've scribbled down a comprehensive Tenorshare 4uKey review that unveils all its features and how you can use it to unlock your iPhone or iPad.
Part 2: Is 4uKey Free?
First things first, it's important to address the most common query users have regarding the software, i.e., Is Tenorshare 4uKey free. The answer is No! Tenorshare 4uKey is a paid iPhone unlocker for which you'll have to purchase the license to utilize its features.
However, if you're a new user, you can get the free trial version and decide later if you want to invest in the full software or not.
Tenorshare 4uKey Pro Version
Once you've made up your mind, you can unlock all the features by paying the monthly subscription fee. Tenorshare 4uKey monthly subscriptions start from $35.99, which is comparatively affordable, considering many tools even cost $50-$100.
Moreover, paying a monthly subscription is far more convenient than replacing your iPhone, especially if you're stuck in a situation where you've forgotten the Apple ID or password and can't unlock the device.
Since Tenorshare 4uKey works with almost every iOS version, you'll be able to unlock your iPhone screen without facing any issues whatsoever, even on the latest iPhone SE2 and iOS 13.5. When it comes to removing Apple ID, however, 4uKey only works if you're using iOS 11 or below. So, make sure to perform a Tenorshare 4uKey compatibility check before making the final payment.
Part 3: Does Tenorshare 4uKey Really Work - How It Works?
Despite being an affordable tool, many people would be skeptical at first while paying the subscription fee. Since the market is stacked with dozens of fake tools, many people would want to know if Tenorshare 4uKey actually works or not.
To answer this question, we've compiled a step-by-step guide that'll help you understand how does Tenorshare actually work?
Download and install Tenorshare 4uKey on your PC/Mac. Once the software is successfully installed, click the "Unlock Lock Screen Passcode" option.

Now, connect your iPhone to the PC and let 4uKey automatically detect your device. Once the device is successfully detected, tap the "Start" button.

In the next window, you'll be asked to download the device firmware package. Click the "Download" button to initiate the downloading process.

After the downloading process completes, click "Start Unlock" to start removing your device's passcode.

The tool will start removing the passcode from your device. Be patient as this process can also take a while to complete.

Last, you can reset your device passcode when you see the passcode has been removed successfully.
That's how Tenorshare 4uKey works to remove the passcode from a locked iDevice. You can also watch the video below:
Part 4: Don't Confuse 4uKey with 4uKey Series
It is also worth noting that 4uKey - iPhone Passcode Unlocker is different from other products in the 4uKey series. Tenorshare 4uKey has released a dedicated 4uKey series which includes different products designed to perform dedicated actions. These tools include:
1. 4uKey Android Screen Unlocker - Remove screen password from a locked Android smartphone with one click using 4uKey for Android. You can also use Android Screen Unlocker to remove Google FRP verification when you don't remember the Google account credentials.
2. 4uKey iPhone Backup Unlocker - iPhone Backup Unlocker will help you retrieve forgotten iTunes backup passwords and also remove iTunes backup encryption settings to set a new backup password.
3. 4uKey iOS Password Manager - 4uKey Password Manager is an all-in-one tool to manage all your passwords on an iDevice. You can use the tool to find saved Wi-Fi passwords, recover saved logins, recover screen time passcodes, check all your email accounts and passwords, etc. In a nutshell, iOS Password Manager is a complete solution you'll need to ease out the entire password management process.
Part 5: Trustworthy - Users Reviews for 4uKey
Here are a few customer reviews from different platforms that prove that Tenorshare - 4uKey iPhone Passcode Unlocker is a reliable and the safest option to unlock a locked iDevice.
 "User from Trustpilot Says"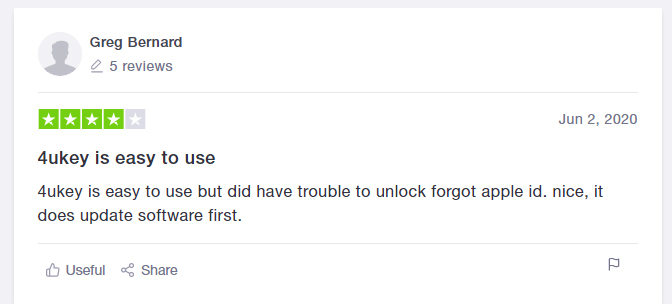 "User from FaceBook Says"

 "User from Tenorshare Says"

Conclusion
That wraps our complete Tenorshare 4uKey review. In our experience, we found 4uKey one of the easiest ways to unlock a locked iPhone, all thanks to a user-friendly interface. So, if you're also stuck with a locked iDevice and don't remember its passcode, let us remind you that 4uKey is safe and you can install it on your PC to instantly unlock it.