4 Useful Tips to Stop iPhone Calendar Spam Invitation (Video Guide)
by Jenefey Aaron Updated on 2020-09-03 / Update for iPhone Tips
I accidentally subscribed to calendar spam and now I can't remove it. I can't delete the event or unsubscribe. I cannot move it to another calendar. How do i stop spam on my iphone calendar"

-- From Apple Community
Over a couple of past weeks, iPhone users have filed the issue to Apple support about the annoying iPhone spam calendar invites. Spam emails scheduled generated in your lock screen and notification are hardly impossible to unnoticed. The junk mailers for their ad benefits send this kind of adverts to annoy users. You may go accidentally to the spam calendar and can't remove it, neither you can unsubscribe the ads nor delete the events. They keep generating itself moreover the course of time. Fortunately, there are easy and undemanding ways to stop these junk emailers intruding on your iPhone, iPad, and Mac.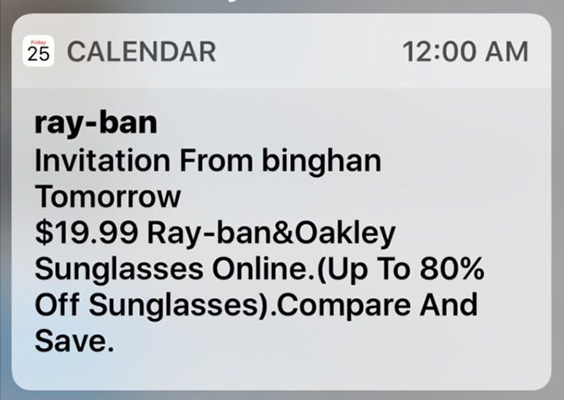 The calendar invitation spam comes in many ways; a kind is you get an invitation with unusual Accept, Decline buttons. After you click on Decline, you are automatically redirected to the notification send target. These payloads are intentionally added to these application emails. Here we have a brief primer for what to do when you encounter iPhone calendar spam.
Tip 1. Report a Calendar Spam as Junk
Reporting spam as junk will notify the Apple services and files the reports against the events caused; you may end up not receiving the adverts again. Follow these steps:
Browse iCloud.com (the website) in your Mac and then to the Calendar application.
Select the event you are facing problem with, and then hit "Report as Junk."

Hit "OK" to continue.

pic: report junk
The event is automatically deleted from a Calendar application, including the devices you have logged in with the same Apple ID.
Tip 2. Directly Delete Spam Calendar Invites iPhone via Settings
You can directly delete spam calendar invites on iPhone settings, find out how the steps work:
Go to setting application on iPhone

Go to Passwords and Accounts settings.

pic: passwords and accounts

Go to Website and App passwords

pic: websites and app passwords

Select Calendar application and hit "Delete Account" then confirm the deletion.
Tip 3. Create A Spam Calendar Events iPhone and Delete It
We can easily create a "Spam Calendar" and delete all the spam we transfer to the temporary calendar emails at once. You can redirect all the incoming adverts to the provisional calendar named anything like "Junk Calendar," which might be the best way to get rid of unnecessary emails. Read the followings for the succeeding steps:
Launch Calendar on your iPhone. Tap Calendar lying on the bottom mid of the screen.

Tap on "Edit" lying on the upper left corner, then tap on the "Add calendar" option under iCloud.

pic: add calendar

Name the calendar, whatever you like, 'Spam Calendar' or something else. Hit "Done" after naming.
Get back from the current screen to view the spam emails you received.
Get back from the current screen to view the spam emails you received.
In the calendar view, tap on Colanders at the bottom mid of the screen and tap Edit lying in the upper left corner.

Tap 'Spam Calendar' you previously created under iCloud. Scroll bottom to find the "Delete Calendar" option and click on it.

pic: delete calendar

Tap on the confirmation pop up that appears on the screen.
Tip 4. Send Calendar Spam Invites to Your Email Instead
You can get rid of unnecessary spam from Calendar invites with the advance event notification setting which we are discussing in the following steps:
Log in to your iCloud.com on your computer.

pic: login to icloud

Go to the iCloud calendar application then click on the Settings gear at the bottom left corner, which opens the tabs and click on "Preferences."

pic: icloud calendar

Then go to the "Advance setting" tab on the left.

On the invitations setting, check the radio button to "Receive email notification as:" to "Email to [your email]." Then you no longer will receive notification from Calendar application on your screen.

pic: advance invitations
Extra Tip: How to Fix iPhone Calendar Spam Error on iPhone
If all of the methods mentioned above are failure to fix calendar invitation error on iPhone, there is a possible reason that your iPhone system has some bugs that cause this issue. You can try to use iOS repair tool to fix it. Here we recommend Tenorshare ReiBoot, which is a professional tool to fix various issue. Firstly, you need to download this tool on your computer.

.
Video Guide on How to Fix Spam Canlendar Invites iPhone with Reiboot

After installation, run the application and connect your iPhone, click on the "Repair Operating system (fix all iOS problem)."

pic: select repair operating system

Next, click "Fix Now" to start the repair process for potential issues.

pic: fix now screen

Now, Tenorshare Reiboot will automatically download the latest iOS 13.3 firmware for you.

pic: downloading firmware

Click "Repair now".

pic: repairing with tenorshare reiboot
The process will take around 10 minutes and pop with the completion screen. Now all the issues regarding iPhone calendar spam is picked if solved.
Conclusion
Spam emails are no longer bounded to inboxes; spammers always have new tricks to target you with their adverts. Spam is a serious issue to be taken; they are contention of the internet. You might be the target of junk mails intentionally or accidentally by yourself. It is always a smart move to ignore hoax emails. Above mentioned tips are the primitive ways to get rid of these problems. In case they do not work you can upgrade the firmware and check if it's an issue with the software, we recommend using Tenorshare ReiBoot for the software related problem-solving in iPhone.
Fix iPhone Stuck Issues without Data Loss