How to Fix The Green Screen/Line on iPhone 11 Screen
by Sophie Green Updated on 2020-06-09 / Update for iPhone 11
when I take photos on my new iphone 11 I get these green lines appear covering the screen, has anyone else experienced this and do you know how to fix it? I haven't dropped it at all and I only bought it less than a week ago.

-- From Apple Communities
Recently, some iPhone 11 users have reported that there is a green line on iPhone Screen or the screen is full of green lines, which seriously influence the normal use of the mobile phone. So, what should you do if green line down iPhone screen occurs? In this post, we will share you the causes of iPhone green line as well as the corresponding solutions.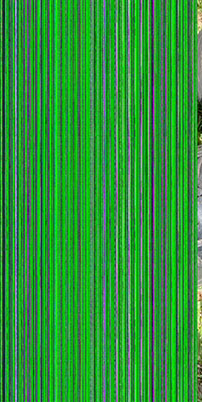 Part 1. What Cause Verticle Lines on iPhone 11/11 Pro(Max)
In fact, green lines problem is not rare, especially for those mobile phone with OLED screen. iPhone 11 use the LCD screen while iPhone 11 Pro use OLED screen.
About this issue of green line on iPhone, Apple didn't give a clear explanation. But according to the analysis of insiders, the green line of iPhone 11 Pro screen should be related to OLED screen, because the previous iPhone X and a small number of Samsung Galaxy S7 users have encountered similar problems. Both software and hardware may cause verticle lines on iPhone 11/11 Pro/11 Pro Max. The following are some possible reasons:
Damaged display screen and the quality problem will cause iPhone screen green lines
Caused by hardware problems like damaged OLED screen or driver circuit
iOS system bug
Physical damage
Tips: There's a simple way to judge whether hardware problem cause iPhone green line. Using your iPhone 11 to take a screenshot, if the screenshot doesn't show the green lines then it is not caused by hardware. Instead, it stands for the system or app problem.
Part 2. How Do I Get Rid of The Green Line on iPhone 11 Screen Quickly
There are a number of ways to get rid of these lines but to start, we'd go with the best one. After all, you don't want to spend your precious time reading this whole article while you could get your phone fixed for free.
One of the easiest ways to remove all the issues in your iPhone is using Tenorshare ReiBoot. It is an excellent iOS repair tool, which is capable of fixing various iPhone screen problem, like stuck on Apple logo, black screen, etc. Let us explain how you can use ReiBoot to solve most of your iOS issues. First of all, you need to download and install the software on your computer or Mac.
Launch the program and connect your iPhone 11/11 Pro to it. After detected, click the third option "repair operating system".

Pic: select repair operating system

Next, click "Fix Now" to continue.

Pic: click fix now

Before the process to repair, you need to download the latest iOS 13.3 firmware package. Just click the "Download" button, it will automatically download and install on your device.

Pic: download the firmware

After downloading, click "Repair Now" to start the repair. Within a few minutes the repair process will be completed. Your iPhone 11 will reboot normally. You can check if the green line problem be fixed.

Pic: repair successfully
Note: If it still cannot fix the green line problem, then you can try to use its "Deep Repair" mode, and follow the in-screen instruction.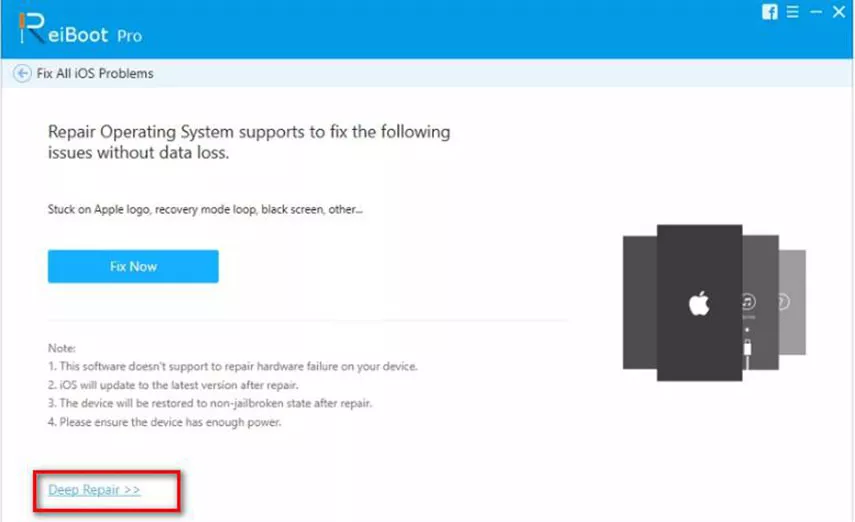 Video Guide: How to Use Reiboot to Fix iPhone Green line Problem
Part 3. Other Solutions that May Solve 'Green Line Down iPhone Screen' Issue
However, there are other ways as well which you can use to solve these issues. We'll mention each one of them one by one so you can check out which one worked for you.
First Solution: Force Restart iPhone 11/11 Pro (Max)
One way to get rid of these lines is to force restart your iPhone. No need to complicate things.
Press the volume up and down buttons once respectively.

Press and hold the "Slide Button" button. Even after seeing the shutdown slider coming out, continue to press and hold until you see the white apple logo on the screen.

Pic: force restart iphone 11
Second Solution: Update to the latest iOS 13.3 to Fix iPhone 11 Green Lines
With the latest version, you will get a number of bug fixes which possibly include the green lines bug too. You can download the iOS update over the air, yep, it's the simple and well-known method. Just navigate to Settings > General > Software Update on your iPhone 11 ( Make sure that you have a stable Wifi connection).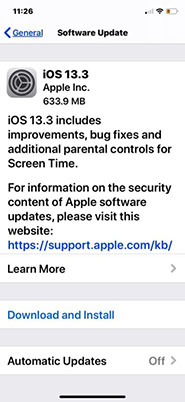 Third Solution: Reset All Settings on Your iPhone 11
Now, if the issue is still there even after the update, then it's time to reset your device. Don't worry, it just reset your personal settings and network settings and won't delete your files. To reset your device, follow these steps.
Return to the main screen of your iPhone 11, open the Settings application
Tap on General > Reset > Reset All Settings, you will receive a notification asking you to confirm.

After confirmation, you need to enter your passcode to proceed. Wait for a moment and all your settings will be reset.

Pic: reset all settings on iphone
The Final Solution: Go to Local Apple Store for Help
If you still see the green lines on your iPhone, then It can basically be determined that the problem is the screen itself or other hardware problem. The effective way is to change the screen. If the iPhone 11 you bought has a green line during the one-year warranty period, you can go to Apple to change screens for free after sales. If it is newly bought, you can directly change a new one. (Note: Be sure to create a backup before you go to local Apple store)
Sum It up
To sum it up, the issue of "iPhone green line" is event with low probabilities. The methods suggested above have been tested and proven to work. And the Tenorshare ReiBoot we recommend in this post is also a great tool to repair various iPhone problem. If anything does come up, we're always here to guide you through it.