What to Do If You Cannot Create Apple ID on iPhone/iPad
by Sophie Green Updated on 2021-01-28 / Update for Apple ID
Here comes a basic question 'Can you use iPhone/iPad/iPod touch or other Apple Service without Apple ID?'. Of course not, many said. So, that's why all users need to create their Apple IDs to use Apple products or service.
However, for a newbie using iPhone, they may frequently face the problem 'can t create Apple ID' after trying again and again.
So, this article is for all users who are facing this problem. And in the end, you can recreate your perssional Apple ID.
Part 1. Why Apple ID Your Account Cannot Be Created at This Time
There are some reasons as to why you cannot create an Apple ID at this time. We'll list some of these here and then provide you with the solutions that will resolve each one of these.
Server Error: You cannot create Apple ID possibly caused by the Apple server error. Many times, the Apple servers may down causing service errors from time to time. That's why you cannot create new apple id this time.
IP Address Problem: Another one of the reasons is the IP address. Your router may be using a static IP address that's causing this issue. A static IP address issue is a simple one and can be resolved without much effort.
Error with the Internet: Maybe there's some sort of restriction or any other errors in the internet connection. For that, you need to contact your internet provider and ask them to resolve the issue.
Part 2. Top 6 Ways to Fix If You Cannot Create A New Apple ID on iPad/iPhone
Now that you know the common reasons behind the "cannot create apple id on this device" error, let us know how to overcome this.
Way 1: When You Cannot Create an Apple ID at This Time Try Again Later
Yes, when you cannot set up an Apple ID for the first time, you should let it go if you are not so hurry. Sooner or later, you can check whether you can set up Apple ID properly.
Way 2: Create a New Apple ID Under a Stable Network
Generally speaking, many reasons may result in you can't create Apple ID and network is the one. We need to know an inevaded question 'Is there any difference of making a new Apple ID between cellur data and Wi-Fi?'.
Actually, make no different. It's your choice and we will breakdown how to troubleshoot two network states.
Troubleshoot Wi-Fi Settings First
Restart Your Router or Modem
It may your internet connection issue, you can check your router first via restarting. This will help you with the issue but do keep in mind that restarting the modem isn't the same as resetting it.
To restart your Modem, reach to the back of your modem and press the power button. Press it again within a minute or two and the modem will restart.
Change iPhone Wi-Fi Default DNS
One way to resolve this issue is to change your mobile's Wi-Fi default DNS setting. To do that, follow these steps.
First, go to the setting of your iPhone or iPad.
Once on the setting page, go to wifi.
Click on the blue

'i'

icon
Find 'DNS' option and add a new one.
Add DNS: 208.67.222.222, 208.67.220.220.
Change iPhone Wi-Fi Default DNS
If the issue isn't resolved with all the steps above, you can forget the wifi network and reconnect with it again.
Go to setting, and then wifi.
Now click the wifi network's name you want to forget.
You will find an option to forget the wifi network below.

Click on it and now reconnect with your wifi network. The issue will be resolved by now.
Troubleshoot Cellular Data
If you are using cellular data to create a new Apple ID, please make sure there is enough cellular data and battery. So, when these are ready, you can try to use cellular data to create a new Apple ID.
Open Settings on iPhone/iPad > Tap 'Cellular' on iPhone/iPad > Power on 'Cellular Data'.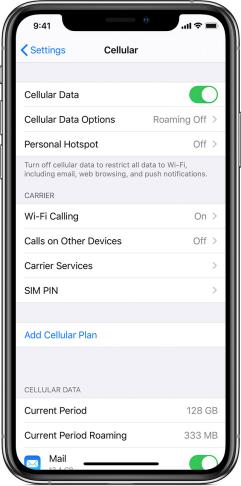 Way 3: Restart Your iPhone/iPad
You can always restart your device to see if it works.
Press the power button and hold it.
Click on the restart option and let it restart. Now try creating a new apple id
Way 4: Erase/Reset All Settings
If that doesn't solve it, reset your device completely.
Go to setting and scroll down to Reset
Now press reset all settings.
Your password will be required to rest the device.

Once done, create a new id and enjoy your apple experience.
Way 5: Update iOS If You Still Cannot Set up New Apple ID on iPhone/iPad
Hopefully the issue has been resolved. However, if the issue isn't resolved, skip the log in process and update your iOS.
Go to the setting and scroll down to software updates.
Tap download and then install the update once downloaded.

Your device will restart and once it does, you can add your new apple id.
Way 6: Use ReiBoot If Nothing Works
If the above solutions didn't work, don't worry. You can always use Tenorshare ReiBoot to repair your iOS issues without any hassle. You can learn more about this method here.
After installation, launch the program and connect your iPhone/iPad to the computer with the usb cable. Click 'Start' when the device is detected.

Next, choose 'Standard Repair' to fix unable to create Apple ID wihtout data loss.

Prior to repair, you need to download the firmware. Just click the "Download" button, it will automatically downolad the latest iOS firmware on your iPhone/iPad.

After downloading the firmware, it's time to repair. Simply click "Start Standard Repai" to kick off.

It may take around 10 minutes to complete the whole process. Please wait patiently.
Video Guide: Using ReiBoot to Fix Cannot Create Apple ID on iPhone/iPad