What Is Pokemon 235 in Pokemon Go?
by Anna Sherry Updated on 2020-08-26 / Update for iPhone Tips
Without a doubt, Pokemon is a popular game that is played by several individuals. It comes in different generations; hence, there is always something for everyone that wants to enjoy this addicting game. In addition, there are various types of Pokemon, and Pokemon 235 is just one of them. Perhaps you don't know much about what Pokemon 235 means; this article will give you details of what you need to know.
Part 1. What Is Number 235 in Pokemon Go
In Pokemon Go, Pokemon 235 refers to Smeargle, which is generally known as a normal type of Pokemon.
Let us talk a little bit about the appearance of this type of Pokemon. Smeargle looks like a beagle. When it is found in Pokemon Go, Pokemon 235 has a max CP of 431, 146 stamina, 83 defense, and 40 attacks. Tackle and Struggle (2.33 DPS) have been discovered to be the most excellent moves of this fascinating Pokemon.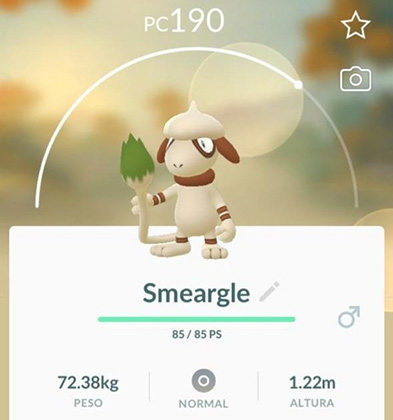 In general, when faced with fighting type moves, this Pokemon type can be easily defeated. However, Partly Cloudy Weather goes a long way in boosting Smeargle. This Pokemon is capable of demarcating its territory with a body fluid that comes out of the end of its tail. And this is why this Pokemon is always depicted by holding its tail. Notably, this tail resembles a paintbrush.
What's more, Smeargle can also use the drips from its tap to battle other types of Pokemon. Its tail is also utilized for promoting easy communication with the trainers of this Pokemon.
Part 2. Where to Find Pokemon 235 & How Do You Catch Smeargle?
Smeargle originally came from the Johto Region (Gen 2). Today, you can find it in Pokemon Go.
If you would like to catch Pokemon Smeargle, here are the basic things you need to do:
After opening your app, you should choose any preferred Pokemon
Afterward, take a look at the top right-hand corner and click the camera icon
You need to snap a few pictures of your preferred Pokemon, then, you have to exit the camera app
As you are navigating through your pictures under the menu that has the yellow background, a picture might have been photobombed by Smeargle. So, look for the picture before continuing.
However, if any of the pictures have not been photobombed by Smeargle, you have to repeat steps 1 – 4.
Once you find Smeargle in one of the photos, you should exit the photo menu to be able to see Smeargle as a wild Pokemon
Then you have to click it and go through the regular process for catching a wild Pokemon
Now you have caught Smeargle successfully!
Tips: How to Cheat Pokemon without Walking
According to the gameplay of Pokemon, you need to move around from one place to another to be able to catch different types of Pokemon. However, this is not always possible in several instances. This may be because you are stuck at home, want to prevent some people from seeing you, cannot move around before the dangers involved, or have some other reasons. Whatever the reason may be, you can cheat Pokemon without having to walk around.
For this purpose, we recommend that you choose Tenorshare iAnyGo. This program is particularly developed for changing location and simulating GPS movement; hence, it makes it look as if you are moving from one place to another without leaving a single place.
Are you ready to cheat Pokemon without walking? The first thing you need to do is to download Tenorshare iAnyGo and then follow the steps highlighted below.
After installing the app, you have to launch it. From the main interface, you should switch from the default "Change Location" mode to the "Single-Spot movement" mode. When you are done, tap "Enter" to continue the process.

You have to select the destination by simply tapping the map. As an alternative, you can go to the search bar to input the coordinates or addresses.

Determine the preferred number of moves. Also, drag the speed bar to set the movement speed. Once you have set these elements, just tap "Start to Move" and you will continue moving around within the selected two points.
Conclusion
We hope that this article has been able to show you that Pokemon 235 represents Smeargle. Also, you can now identity this Pokemon type and use Tenorshare iAnyGo for the simulation of GPS movement without having to walk from one area to another. Now, you can continue enjoying Pokemon Go without much hassle.