Useful Tips on How to Change Current Location on iPhone
by Anna Sherry Updated on 2021-07-02 / Update for iPhone Tips
Did you ever feel like spoofing current location and letting applications installed in your app use fake location services? The location service in the phone is useful for guiding Maps, restaurants, and nearby grocery shops; however, some third-party applications may use the location service as false deeds. Here, we are going to cover the most useful tips on how to change your current location on iphone as there are many to consider.
Part 1. Why Do You Want to Fake Current Location?
There are several reasons you would want to fake your current location on the iPhone. The reasons can be for fun purposes and others for anonymity with specific third-party applications. GPS spoofing is highly accessible with VPN services available freely on the App store. However, all of them are not that secure to use. Here we have listed a couple of reasons for the benefits of faking current location.
If you are planning to visit some parts of the world unknown and want to know details about the street and restaurant, it's perfect to use fake location generator applications and view them.
Similarly, you would want to keep company with people on the place you are visiting next month; you can use VPN service to bounce to the IP address and start searching for a company in dating applications.
You can make fun of the family social chat group by faking the location.
Changing location can provide a huge opportunity to try out new applications and software unavailable at your original territory.
With the substantial security flaws in the world, any third-party application installed in your phone can capture the location and sell to other personal site seeking vendors.
Part 2. The Easiest Way to Change Current Location on iPhone without Any Tool
Lit up your iPhone and go to "Settings."
On the settings, scroll down to find "iTunes and App Store."
Once you are through iTunes and App store, you can find a top bar to "Apple ID," tap on it.

On the generated view-card, tap on "View Apple ID."

After that, on the "Accounts" setting, find for "Country/ Region" and tap on it.
There, you have an option to "Select New Country."
After you set the new location, confirm the changes with pop-available Terms and Conditions.
Part 3. Change Current Location on iPhone with Some Spoof Location Softwares
Faking location with Jailbreak required lots of fuss with installation and setup; however, you can use other free tools. These applications will fake the location like you are on vacation somewhere in the world, although you are at home working. If you want to simulate the app on your iPhone with a random location, here is how you can use the SoofLocation application to do so.
Tenorshare iAnyGo
Tenorshare iAnyGo is an absolute tool cable to spoof location to anywhere within a single click. It is a virtual GPS locator available for iOS devices. With iAnyGo, you can easily route between two and multi-spot mode to keep you anonymous. It's flexible to use the tool as well; it's cost-effective. If you would like to play games restricted in your area, you can connect to the specific location with iAnyGo and play them in favorable ping.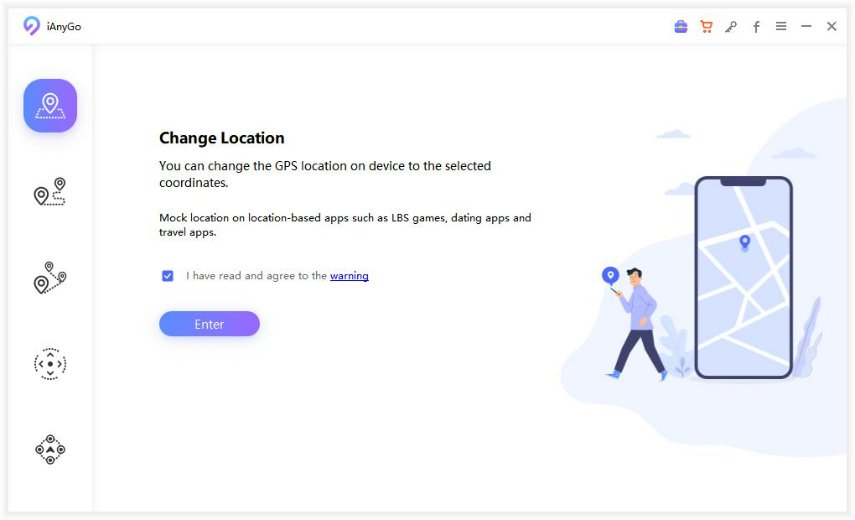 Pros:
The location can be spoofed easily and quickly without having to wait longer to switch.
The UI design is friendly for anyone using it.
It's capable of planning a route location for iPhone to switch between timely.
The price is cheap enough
Cons:
Currently, the program is not compatible with Mac. (It is now in development)
Steps to Use:
After you download and install the application in your PC, open it up. Connect your iPhone to PC and allow "trust the device."

The application will start loading map location, point your location to any specific area, and click on "Start to Modify"

With this, on your iPhone, you can see the location change successfully.
Video Guide: How to Use iAnyGo to Spoof Location iPhone
Conclusion
Keeping yourself hidden from your permanent location has many advantages. There is a massive chance that you get to learn and try different kinds of stuff restricted at your site. The applications discussed in the above section allows automatic and manual location change feature. If there is something problem with iPhone, you can try Tenorshare ReiBoot to fix.
People Also Ask Questions about Fake Current Location
1. Is there a fake GPS App for iPhone?
Yes, there are many applications available ready to fake GPS for iPhone. The apps like Hola, Fake GPS Run, and others can be used easily to hide your current location.
2. Can you fake your current location on the iPhone?
Faking location on iPhone requires more effort and tweaks to be performed; however, PC applications can do the job done.
Freely Change GPS Location without Jailbreak!
Plan a route by selecting two or multiple spots on the map
Easy to simulate GPS movement based on customized route
GPS joystick to take better control