What's the Difference Between Fly GPS APK and iAnyGo? Check out Now!
by Sophie Green Updated on 2020-08-26 / Update for iPhone Tips
Not everyone might be concerned about changing their GPS location, but using the Fly GPS apk hack can really get handy at times. This is especially applicable for the Pokemon GO player or people who are more concerned about their privacy. Fly GPS support all the major Android and iOS devices. But at the same time, if you are looking for a better alternative for your iPhone, make sure to give a try to Tenorshare iAnyGo. In this article, we are going to describe both the application and as a user, what can you expect from the same.
Part 1: The Best Android Fake Location Tool - Fly GPS APK
The famous application Fly GPS primarily revolves around the idea of faking your GPS location. Here you can virtually switch from one location to another while faking your Android's GPS into thinking you are at different places. The main reason behind the popularity of the application came from Pokemon GO, where the player can sit comfortably at their home.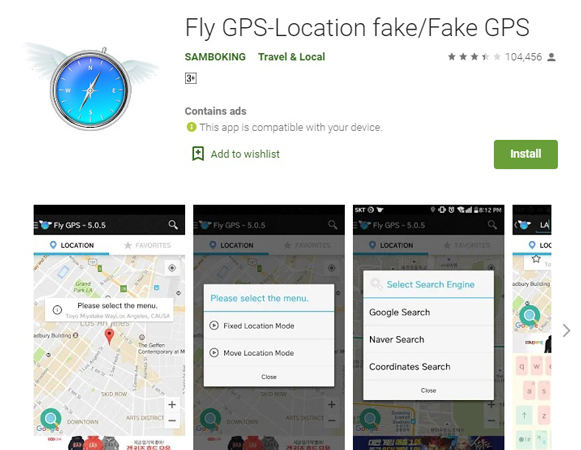 Fly GPS APK Download
Before you start downloading Fly GPS APK, here are some of the considerations for you:
Although your Android version is not going to create a hindrance for Fly GPS apk download, till, the older version of Android support is for Lollipop 5.0.
If your device is still having compatibility issues, it is better to download the older version of th apk.
It runs on Android devices that have at least 1GB of RAM. However, 2GB is mainly required for seamless usage.
Android devices based on Intel's Atom processor are not supported.
Lastly, your smartphone must come with a GPS feature (Duh!).
Advantages of Using Fly GPS APK
It provides you with the right solution to be anywhere in the world just by changing the GPS data of your smartphone
With the help of Google Search, you can navigate to any location.
Fly GPS apk pokemon go lso provides with the flexibility of a coordinated search.
You can entertain features like "Fixed Location" as well as "Move Location" modes.
Easy repositioning of your oystick just by dragging it.
Lastly, you can add different locations under your favorite location list.
Disadvantages of Using Fly GPS APK
With all the advantages, Fly GPS apk have issues with slower loading time.
Packs limitations to the number of location jump you can make at one time.
The ads can get frustrating at times.
Part 2: The Best Fly GPS APK Alternative to Change Location on iPhone
The best alternative to Fly GPS apk if you use iPhone is Tenorshare iAnyGo. Let us know how it can help without any further ado.
Advantages of Using iAnyGo than Fly GPS for iPhones:
You have the flexibility to change the speed of the GPS. The GPS movement ranges between 1m/s to 3.6km/h.
The ability to zoom in and out of the app helps you to create better routes for your location change.
Collect all the commonly known places and save the same on your data.
You can add a specified location, and the GPS will take you to the same area. Use the drop-down menu to get better search results.
Easy to use and no such limitations in terms to places to select or anything.
Automatically save addresses and record the specified time.
How to Use Tenorshare iAnyGo?
At first, you need to launch the Tenorshare iAnyGo on your computer. By default, the mode will be set to "Change Location".

Now make sure to connect your iPhone to the computer via USB cable. After unlocking your device, hit "Enter" in order to get started.

Now, enter the GPS coordinate of your desired location. Click "Start to Modify" and you are good to go.
Conclusion
As stated throughout the article, both Fly GPS and iAnyGo are some of the best fake GPS applications for both Android and iOS devices, respectively. That being said, if you are an iPhone user, our recommendation goes to iAnyGo. It offers a ton of flexibility on the table than Fly GPS apk. So, stop figuring out, and download iAnyGo today to take control of your iPhone again. Bear in mind; it is completely safe to use, without using Jailbreak for your iPhone.
You May Also Wanna Know about Fly GPS APK
Q1: Does Fly GPS work for Pokemon go?
Yes, you can certainly use Fly GPS to spoof the location in Pokemon Go. One of the best things is that you can use the fly GPS joystick apk and go to virtually any location in the comfort of your home.
Q2: What is the best fake location app?
As far as android devices are concerned, the Fly GPS apk hack works like a charm. On the iPhone side, the best alternative to Fly GPS is Tenorshare iAnyGo. Although iPhones are normally more privacy-centric devices, there is no harm in taking that extra step.