How to Download Pokemon Go Bypass Jailbreak
by Jenefey Aaron Updated on 2020-10-28 / Update for iPhone Tips
Pokemon Go has revolutionized the gaming domain and offer immersive experience. It is one of its kind because being based on GPS you need to walk through several places in real world to progress in the game. In other words, while you to walk through different places and explore them in real world, your avatar in the virtual world of the game moves along with you. Only then you'll be able to capture more and more Pokemons and progress further in the game. Interesting , isn't it?
But unfortunately this game can only be played on no jailbroken iPhones. Just in case you have jailbroken your iPhone, you won't be able to play it because the game periodially runs jailbreak detection test and if found positive, the game crashes itself right then. Fret not! We have brought you the easiest solution to play Pokemon Go with bypass jailbreak detection functionality. Read the article further to explore the Pokemon Go jaibreak fix using tweaks available from Cydia.
Part 1: How to Download Pokemon Go Bypass Jailbreak
Withou talking much let's get to the point and explore the easiest way to install Pokemon Go and bypass jailbreak detection in just few simple steps. Make sure to carefully perform them or else the Pokemon Go jailbreak fix will not work.
Install the Pokemon Go game app on your iPhone but make sure not to launch it now.

Now, launch the Cydia app on your iPhone and hit on the Edit button. Then tap the Add button, paste this link - http://cokepokes.github.io/ - in the field provided and hit the "Add Source" button.

Now, open the recently added source and search for "MasterBall" tweak and install it. Wait for the installation to complete.
Lastly, respring your iPhone board and reboot your iPhone. That's it you can now enjoy playing Pokemon Go after bypassing jailbreak detection.
Part 2: Game Leads iPhone Stuck What Should You Do
Reportedly, users are facing a hard time playing the Pokemon Go after bypassing jailbreak detection on their iPhones. This is because their iPhones gets stuck during the gameboot or gameplay and doesn't get back to normal. We can understand how frustrating such a situation can be. In such a case you may have to perform steps to enter DFU mode or Recovery mode. Then reset your iPhone via iTunes to turn it back to the normal working condition. For your convenience, here we bring the detailed procedure to manually enter DFU mode and restore your iPhone.
Make sure to run only the latest iTunes version or else you may end up with some connectivity errors. Launch iTunes and get your iPhone connected to it using the lightning cable supplied with it.
Now, you are required to put your iPhone into the DFU mode. To do this you need to carefully follow the intructions given below depending upon your iPhone variant.
If you own iPhone 6/6s/6+:
Hold down both the "Power/Sleep/Wake" button along with the "Home" button for nearly 8 seconds. Now, let go only the "Power/Sleep/Wake" button and keep the "Home" button down until you see "iTunes has detected iPhone in Recovery Mode" message.
If you own iPhone 7/7+:
For iPhone 7/7+, you need to perform the above mentioned step using "Volume Down" button instead of "Home" button.
If you own iPhone 8/8+/X:
Hit the "Volume Up" button and then hit the "Volume Down" button. Subsequently hit and hold down the "Power" button till your iPhone screen goes black. Soons as the screen goes black, hold the "Volume Down" button too.

Let go the "Power" button after 5 seconds and keep the Volume button down until you see "iTunes has detected iPhone in Recovery Mode" message.

Though your iPhone screen will remain black but your iPhone has entered the DFU mode and will then be detected in the iTunes. Next, you need to hit the "Restore iPhone" button from the iTunes interface and then confirm your actions to initiate the process.
Note: Restoring in DFU mode will wipe off all your data stored on your iPhone and hence leads to data loss. In case, you do not wish to loose your data and at the same time want your iPhone to get fixed, then jump on to the next solution below.
Part 3: Recommended Way: Tenorsahre ReiBoot
Well, just in casse you are stuck playing your favorite Pokemon Go after bypassing jailbreaking detection, the odds are you may loose all your data to turn your iPhone back to the normal mode. But fret not! We have brought to you the most reliable solution that can hold your back even in the most annoying iOS related issues. Tenorshare ReiBoot is a one of its kind software which not only helps you to resolve iOS stuck issues but also helps you to enter or exit the Recovery/DFU mode in just a matter of a single click. You can make use of this tool to rescue your iPhone from various iOS issues like stuck on Apple Logo/White screen/ black screen/frozen screen/disabled screen/boot loop/headphone mode etc etc. Moreover, this mighty tool is full compatible with almost all iOS devices.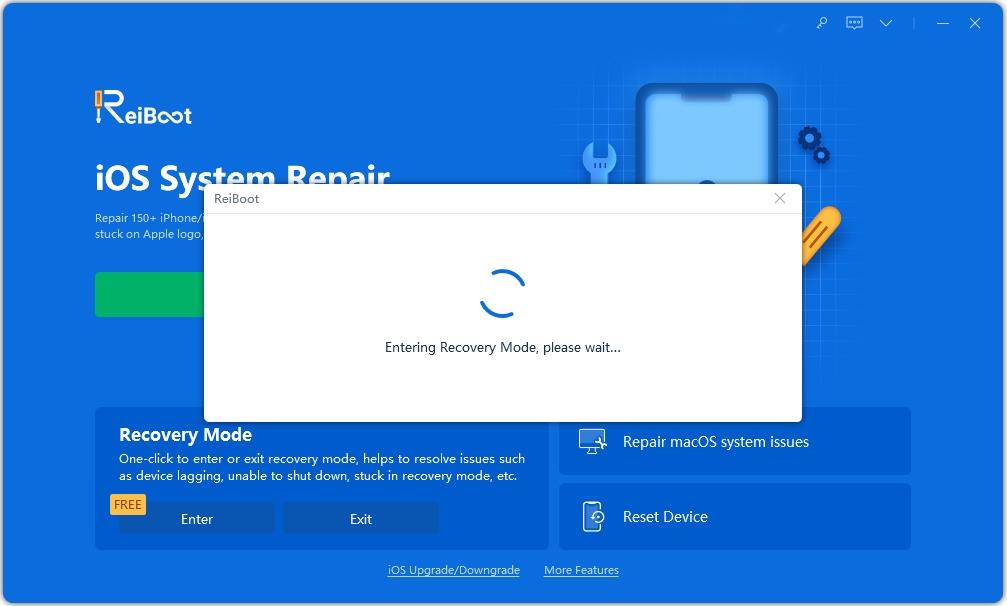 Final Comments
So that was all about downloading pokemon go and bypass jailbreak detection. We now hope that you have found the ideal method with which you can easily and effectively download and install Pokemon Go with bypassing jailbreak detection. So what are you waiting for, roam around as much as you can and acquire all your favourite Pokemons! Happy Gaming!
Freely Change GPS Location without Jailbreak!
Plan a route by selecting two or multiple spots on the map
Easy to simulate GPS movement based on customized route
GPS joystick to take better control
Import GPX file to start a designed route
Change up to 15 iOS devices' location on 1 PC/Mac