How to Download Cydia without Jailbreak
by Jenefey Aaron Updated on 2022-11-16 / Update for iPhone Tips
Cydia app is a package manager app that allows the iOS users to download these apps which are not from App store. Now, the question crops up that how Cydia can help you install such apps. Well, Cydia app makes use of Advanced Packing Tool (APT) repositories to help you install such apps on their device.
To sum it up in simpler words, Cydia is an unofficial app store with the help of which you can install third party apps on your iOS devices. Though, it is not possible to download Cydia on the native App store and hence people tend to think that to install it you're required to jailbreak these iOS devices. But that's not the case, you can easily install Cydia app without jailbreak and that's what we are going to explore in today's post. Please ensure to follow the instructions carefully on how to get Cydia without jailbreak and install it, to avoid any inconveniences.
Part 1: Cydia Supported iOS Devices
Cydia fully supports almost all iOS versions including the latest iOS 11.2 version as well. You can use Cydia on your iPhone, iPad and iPod touches.
In general, you have to jailbreak your iPhone in order to download and install Cydia as Cydia app is not avaliable in the App store. But is there any methods to download Cydia without Jailbreak? The answer is yes. You can download it via website link directly. Also, you can go to "openappmkt" to download it directly.
Part 2: How to Download and Install Cydia without Jailbreak
Enough of the talking now! It's now time to uncover the step by step tutorial on how to get Cydia app without jailbreak . Follow below steps.
Open your iPhone Safari browser and visit the link - www.cydiaios7.com

Now, click "Download Cydia" after open the link to download Cydia without jailbreak.

Hit on "Add to Home Screen" option on the pop up screen to save the Cydia app icon on your home screen and hit on "Add".
Part 3: 5 Tips for Using Cydia
So you have now downloaded and installed the Cydia app without jailbreaking your iPhone. Here, we will show some tips to use Cydia.
1. How to Refresh Cydia packages list Manually
Though, the Cydia app automatically refreshes the list of packages and updates once it starts up, however, if you wish to refresh it manually, here's how to do it.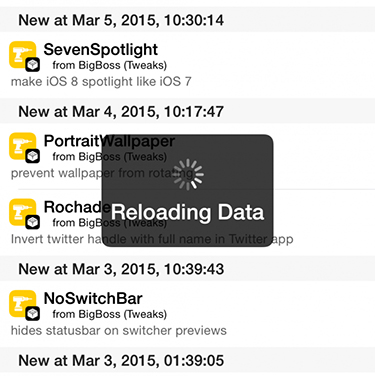 2. How to Find your Cydia ID
At times, when developers offer tweak give-aways to the users, they need your Cydia ID to gift it. If you do not wish to miss out such opportunities, you have get your Cydia ID. Here are the steps to check your Cydia ID.
Launch the Cydia app, find Manage Account. Now, you'll we asked to sign in, login with your Google or Facebook account.

You'll be able to see your Cydia ID ("Cydia Account") just below the section labeled as "Installable Purchases".
3. How to Use Hide/Unhide Functions
Cydia offers you a very helpful functionality to hide or unhide those sections that you don't want to see or that you want to see in the recently released list. Here is how to perform it in Cydia.
Head to the Sources section and then click All Sources. Now, hit the "Edit" and an entire list of sections will be showed with their toggle switches besides them.

You can hide these setions not without any hassle now.
4. How to Add or Delete Sources
In order to a new resource to Cydia app, you need to follow the below mentioned steps carefully or else you may not be able to receive desirable results.

Get into the Sources part and then click on Edit. Now tap on "Add", punch in the URL of the package source you wish to add and then hit the "Add Source" button. The Cydia app will now start to fetch all package information from the source.

If you want to delete any source, simply swipe on the target source and click "Delete".
5. How to Ignore Update Notification
If you do not wish to get notified or receive updates for the already installed packages, then this tip may help you with the best.
Click to open Cydia app and Go to reach the preferred installed package. Find "Change Package Settings" and then close the "Ignore Upgrades" button.
A Recommended Way: Tenorshare iCareFone
Introducing a highly renowned and trustworthy way, Tenorshare iCareFone, to install Cydia app without the jailbreak. Unlike the traditional way of installing one app at a time, with this you have the privilege of installing multiple apps simultaneously.
Moreover, you can easily perform backup or restore operations effectively and efficiently as you can both selectively & completely backup or restore your data. You need not to worry about the compatibility of your device with this mighty tool as it offers full support to almost all iOS devices.
Final Verdict
Many people find it difficult to jailbreak their iPhone just for installing Cydia app. However, we are now positive that with the aforementioned tutorials and tips you have learnt to download and install Cydia app without jailbreaking your iPhone and that too in a hassle-free way.