Top 3 Easy Ways to Lock Photos on iPhone without Jailbreak
by Jenefey Aaron Updated on 2022-11-17 / Update for iOS App
Nowadays, most people love to take photos during a travel, friend or family gathering and share the pictures in their social media. However, there are also some private photos in the album that people want to hide or lock them in their iPhone. There are many apps available in the market designed to password protect photos on iPhone, but most of them need jailbreaking the device.
To help people lock photos on iPhone without jailbreak, we will list some top-rated apps to hide photos on iPhone. With theses professional iPhone photo lock apps, you will be able to encrypt photos and albums on iPhone as well as iPad and iPod touch with high security. Moreover, we offer you other workarounds to hide and photos on iPhone without third-party apps.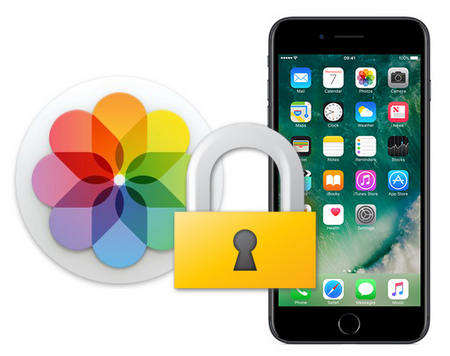 Part 1: Can I Lock My Photos on iPhone?
Can you lock photos on iPhone? The answer to this question is definitely yes. Although Apple doesn't offer an official way to lock photos on iPhone with a passcode, there are still ways to help. Thanks to the third-party photo lock apps, you are able to protect your private photos behind a password or a pattern. In Part 2, we've listed some of the best iPhone photo vault apps to help you lock photos on iPhone without jailbreak, and you can select the one you prefer to password protect photos on iPhone.
If you are concerned about the security of these third-party apps, then jump directly to Part 3 where we introduce the built-in features on iPhone as workarounds to hide your photos securely.
Part 2: Best Apps to Lock Photos on iPhone without Jailbreak
How to lock photos on iPhone without jailbreaking? Well, making your private photos locked on your iOS device's photos app without jailbreak is not a tricky task as long as you download one of the photo vault apps below.

for iOS work in letting you hide your photos and videos?
1. Private Photo Vault - Pic Safe
Private Photo Vault, trusted by millions of users, is an iOS private photo app that allows you to keep all of your private pictures and videos hidden behind a password or pattern lock. With Private Photo Vault, you can either choose to encrypt photos or videos on iPhone with a PIN or Pattern lock after importing them from your phone's gallery into the app, or to directly encrypt the photos taken by the camera from Private Photo Vault.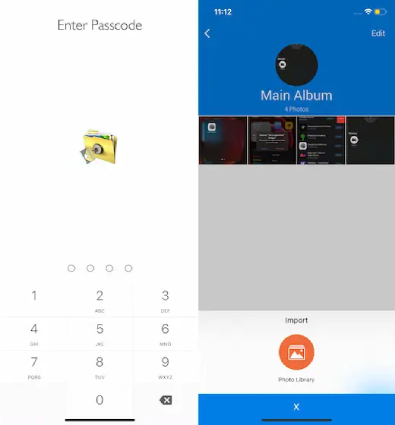 Of the rich features, the decoy password feature makes Private Photo Vault stand out, which works in the following way: it allows users to enter two passwords – one for the private photo album and a main password for the normal one. When someone asks you to show pictures, you can then enter the main password and show him your "open" gallery!
If you're looking for the best and most private app to lock photos on iPhone without jailbreak, then Private Photo Vault is a hard-to-kill choice.
Download Private Photo Vault
2. Secret Photo Vault - Keepsafe
Secret Photo Vault – Keepsafe is another feature-rich photo vault for iPhone and iPad. It provides you with three options to lock down and secure your private photos and video, namely PIN-code password protection, fingerprint touch ID, and military-grade encryption. With the break-in alerts feature, it lets you keep a tab on whomever attempts to access your private album with an incorrect PIN. After three failed PIN attempts, the app will automatically locks the screen to prevent cracking, ensuring that your encrypted photos always have the shield to ward off unsolicited access.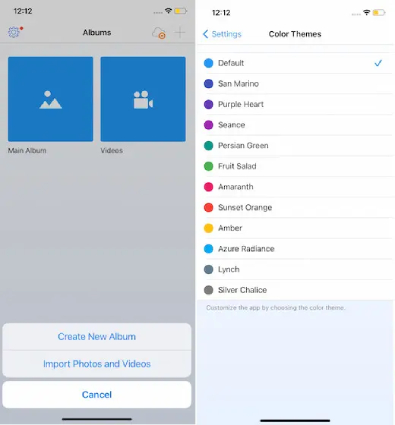 Secret Photo Vault is not only a photo locker for iPhone, but also a photo storage apps that securely store private photos and videos on your phone's gallery behind password-protected PIN codes. If you want to password protect photos on iPhone and need a place to store unlimited photos and videos, then you must not miss Secret Photo Vault - Keepsafe.
3. Secret Photo Album - SA
As its name suggests, Secret Photo Album - SA is a photo vault app that lets you hide your private photos and videos in the encrypted storage area protected by a PIN code or your fingerprint. It can encrypt pictures taken by the built-in camera in the secret photo app or photos moved from your Camera Roll into the secret photo locker.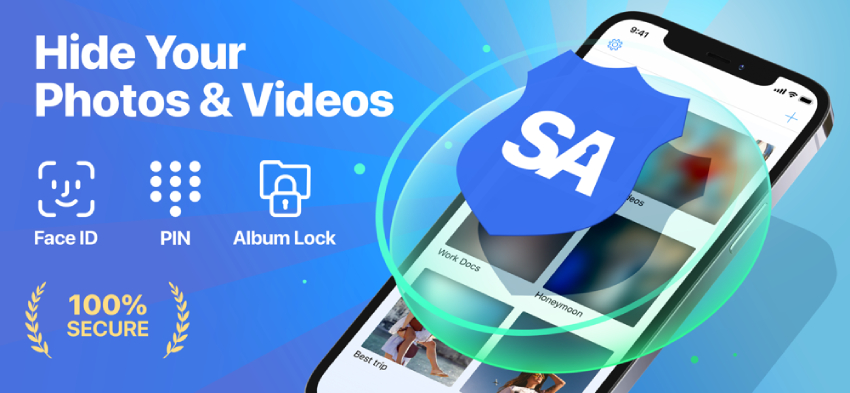 Better still, Secret Photo Album also offers you the option to backup your private data on encrypted cloud and manage your hidden storage effectively. So, if you need a photo lock app to hide iPhone photos witout jailbreak and a place that can also keep all of your sensitive photos safeguarded, you should give Secret Photo Album serious consideration.
Part 3: Other Workarounds to Encrypt Photos on iPhone
There are some built-in features in iOS system that allows users to protect their personal photos from spying or leaking. This section will show you the different options to hide or encrypt photos on iPhone.
Method 1: Hide Photos on iPhone Directly in Photos App
Open the Photos app on your iPhone and select the photo that you want to hide. You should make sure you are running iOS 8 or later before using this feature.

Now click the "Share" icon in the bottom line, and tap on "Hide" and then "Hide Photo" in the pop-up to confirm.

Now the hidden photo won't be seen in "Photos", but it will show under the album called "Hidden". If you want to hide the Hidden Album from your Photos app, simply head to Settings > Photos > Hidden Album to turn it off.

Note:The option to hide the Hidden Album is only available on devices running on iOS 14 or later.
Method 2: Lock iPhone Photos with Passcode or Touch ID
Open the Notes app on your iPhone and tap on the edit icon to create a new folder.
Click on the camera icon to add a photo from your photo library or take a new one. If you want to import picture from album, just select the photo and tap "Add".
After loading the photo to Notes successfully, tap on the three dot icon in the upper right corner and then select "Lock".

You'll be asked to enter the password, enter the password and verify to passcode lock photos on iPhone. The next time when you want to view this photo, you need to enter the password first.
Bonus Tip: How to Backup Photos from iPhone to PC
Backing up photos on iPhone is a must these days, which comes to the rescue when you accidentally deleted photos that you want to keep on your iPhone. With photos backed up, you can easily get the lost photos back on your phone. If you are not sure how to backup photos from iPhone to PC, this section has got you covered.
To efficiently backup iphone pictures to computer, we sincerely suggest you should try using Tenorshare iCareFone. As a trust-worthy iOS backup tool, iCareFone helps you manage your iPhone data in a simple way. It allows you to export/transfer photos from iPhone to PC, backup and restore iPhone and iPad, and move iTunes library to new computer.
Here's how to backup photos from iPhone to PC with Tenorshare iCareFone.
Download and install iCareFone on your Windows PC or Mac.

Launch the tool and connect your iPhone to the PC. Once connected, select "Backup & Restore" tab from the top menu.

Select the files types you need to backup. In our case, select "Photos" and then click on the "Backup" button.

Wait for the backup process will to complete. Once completed, you can select to view backup data.

That's how to backup photos from iPhone to PC with one click.
Conclusion
Now you got a clear picture about how to lock photos on iPhone without jailbreaking. If you want to password protect photos on iPhone, then you can download any of the photo lock apps mentioned above. In case you don't want to download a third-party app, you can either hide your iPhone photos from your Photos app or encrypt photos on iPhone by using the Note app.
Remember, if you are in search of ways to effectively and quickly backup iPhone photos to computer, give Tenorshare iCareFone a try; it won't let you down.