Top 9 Software to Transfer Photos from iPhone to PC in 2023
by Jenefey Aaron Updated on 2023-06-26 / Update for iOS File Transfer
Don't you guys ever feel like there are so many photos stored in your iPhone that you don't need in your daily life but are important as they recall your memories.
Yes, this is where you need software for transferring Photos from iPhone to Computer. You can store and even backup those photos in your computer which will help you to free the large amount of space. Many apps and software has made our job of transferring photos so easy and convenient. Here, I will show you best app and software to transfer photos from iPhone to PC (iPhone 14 is now supported!).
Part 1: Paid Software to Transfer Photos from iPhone to PC
Software 1: iCareFone - Export All Photos to PC with One-Click
The best, quickest, and easiest software to transfer photos from iPhone to PC is - iCareFone, which is a full-featured iOS data management tool that enables you to export photos from iPhone and PC in one click.
It does not compress the photo quality and supports changing the photo format during export. Eg, iCareFone can help you export all your photos to your computer while converting them from HEIC to other formats. The supported formats include JPG and PDF. Of course, you can also keep the original format.
See how to use this software to transfer photos from iPhone to PC:
Download and install iCareFone on your PC. Then Launch it and connect your iPhone to the computer. On the main interface, click "Export Photos" button.

Now wait for the export process to complete. Please keep connecting during the process.

Within minutes, the process will complete and you can now open the Folder and check them on your computer.

If you'd like to change the exported photos format, click on the icon with three horizontal lines in the upper right corner, and then select "Export Settings". Here you can set the format in which you want to convert your photos.
Pros:
1-click transfer method
No need for an Apple ID login
99.9% transfer success rate
Preview before transfer
Easy to use
Cons:
Although iCareFone is a paid software, it is definitely worth the price. It offers numerous features beyond just photo transfer.
About the Price:
Fresh users can transfer 10 photos for free, and then:
$29.95 - 1 Month
$49.95 - 1 Year
$59.95 - Lifetime
Software 2: iCareFone iOS App - Transfer Photos to PC Wirelessly
If you don't want to use a data cable to connect your phone to the computer, iCareFone also has a mobile version. You can download the iCareFone iOS mobile app from the iOS App Store. It can help you transfer photos from your iPhone to the computer via WiFi!
See how to use this app to transfer photos from iPhone to PC:
Go to the iOS App Store on your iPhone. Search "iCareFone" and download the app (you can also click here). Then launch it on your computer.

Select the computer icon option with the WiFi symbol in the bottom menu bar. Then you will see an address. Copy it.

Please make sure that both the computer and the device are connected to the same Wi-Fi. Then on your computer, launch a web browser and input the address in the address bar.

You can now select photos and download them to your computers after making your selections.

They also have the option of importing photos from their PC to their iPhone. (The iCareFone app also provides the ability to wirelessly delete images from an iPhone on a PC.)
Pros:
No need for a cable. Transfer via WiFi.
Easy to use.
Cons:
The iPhone and the computer should connect to the same WiFi.
It's a paid app, but fresh users have a 3-day free trial period!
Software 3-5: Three Popular Photos Transfer App You Must Know
#3. Simple Transfer
Simple Transfer is a photo transfer app that works perfectly fine. It is simple and easy to use without any complex interface or function. It transfers photos from iPhone to PC wirelessly, just connect directly to your local WiFi network.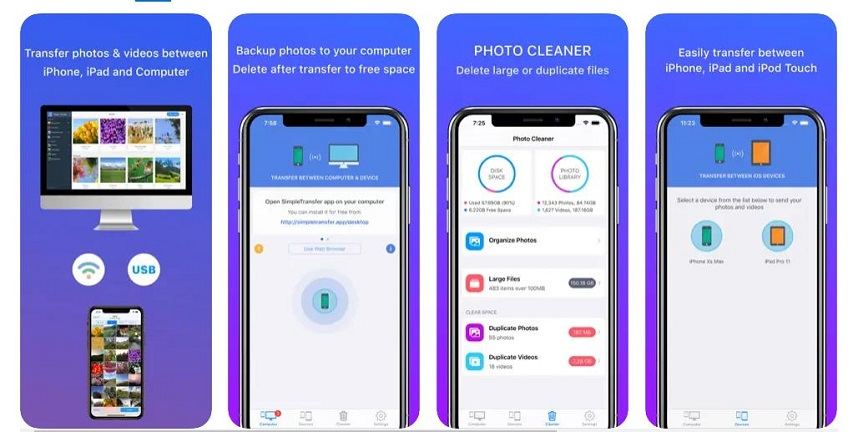 Pro:
No file size. Large videos are also supported
The transferred photos will be automatically deleted
Convert HEIC to JPG format
Cons:
It's a paid app.
Legacy - Pro Version - $19.99
Yearly Premium - $11.99
Lifetime Premium - $39.99
#4. PhotoSync
PhotoSync is a mobile application available on the App Store called "PhotoSync - transfer photos." This app offers a convenient and efficient way to transfer photos and videos between various devices. With Photo Sync, you can transfer photos from iPhone to PC wirelessly.
Note that this app is paid. Its subscription plan charges from $0.99 to $24.99.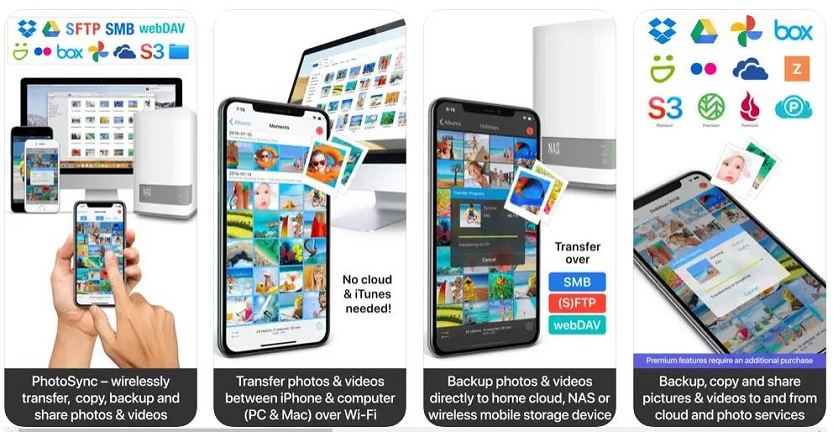 #5. Photo Transfer App
Photo Transfer App is another popular app that allows you to transfer photos from iPhone to computer. It transfers photos wirelessly. Simply drag & drop photos from your iPhone app to any folder on your PC.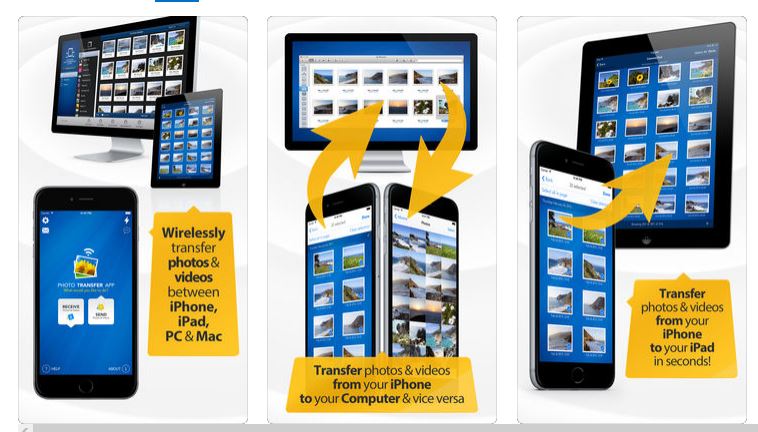 Pros:
No cables are needed, just connect to your local Wi-Fi network.
Transfer photos in full resolution without quality loss also transfer photo file in RAW formats from iPhone to computer.
Preserves photo metadata in all transfer directions (EXIF information, location etc).
Cons:
It's a paid app. The subscription plan charges from $0.99 to $22.99.
Part 2: Free App to Transfer Photos from iPhone to PC
App 1: iCloud - Sync iPhone Photos to PC
iCloud is a service provided by Apple which helps you to sync photos from iPhone to computer. And this method does not require a data cable. It's a free app to transfer photos from iPhone to PC.
Note that Apple only offers 5GB iCloud free storage.
By following these steps, you can easily sync your iPhone photos to your PC using iCloud:
On your iPhone, go to "Settings" and tap on your name at the top to access your Apple ID settings.
Tap on "iCloud" and then on "Photos."

Enable the "iCloud Photos" option by toggling it on. This ensures that your photos are synced with iCloud.

On your PC, open a web browser and visit the iCloud website (www.icloud.com).
Sign in to iCloud using your Apple ID and password.

Once logged in, click on the "Photos" icon.

You'll see your iCloud Photo Library with all your synced photos. Select the photos you want to sync to your PC. You can either select individual photos or click on the "Select All" option.

After selecting the photos, click on the download icon (a cloud with an arrow pointing downwards) to download the selected photos to your PC.
Depending on the number and size of the photos, the download process may take some time. Once the download is complete, the photos will be saved on your PC.
You can also download the iCloud app on your computer to sync photos:
Download and install iCloud on your computer > launch iCloud and sign in to your account > Choose "Options" beside the "Photos" > choose "Download new photos and videos to my PC" > Click "Done" > Then click Apply!
All your iCloud photos will be downloaded to your computer.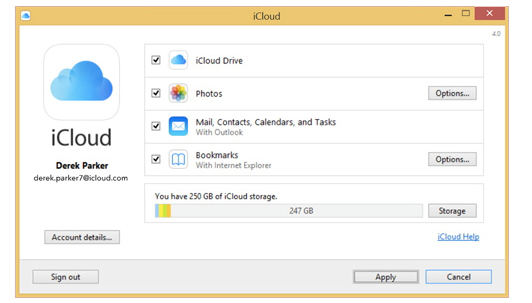 Pros:
No need for a USB cable.
Free to use.
A service developed by the Apple official.
Cons:
Limited free storage - 5GB
The maximum number of images you can download each time is 1000.
Then Apple ID login is required.
App 2: Windows Photos App - Import iPhone Photos to PC
Do you know that the Windows Photos app can also be a good app to transfer photos from iPhone to PC? And the best part is that it's totally free to use.
Note: If you have iCloud Photos turned on, you need to download the original, full resolution versions of your photos to your iPhone or iPad before you import to your PC.
See how to transfer photos from iPhone to PC via Photos app:
First, connect your iPhone to a PC with a USB cable that can transfer files. Turn your phone on and unlock it. Your PC can't find the device if the device is locked.
On your PC, select the Start button and then select Photos to open the Photos app.
Select Import > From a USB device, then follow the instructions. You can pick the items you want to import and select where to save them. Allow a few moments for detection and transfer.
Pros:
Free to Use
No need to install any app on your computer or on your iPhone
Cons:
If iCloud is enabled on your iOS device, you won't be able to download your photos or videos. Your images exist on iCloud but not on your device.
Photos on your device may not be compatible with your computer's operating system.
Question: How do I sync photos from iPhone to Windows using iTunes?
The answer is No! You can't sync photos from iPhone to Windows using iTunes. You can only use iTunes to sync photos from your computer to your iPhone.
The screenshots circulating online, showing how to transfer iPhone photos to a computer using iTunes, are completely inaccurate. They are misleading, so don't waste your time trying them.
To sync photos from your iPhone to your Windows pc, you can use "iCloud" or Windows "Photos" app as we discussed above.
The Bottom Line
So, these are 7 best software to transfer photos from iPhone to PC where free app as well as paid software is listed. All the software are good but among them the most popular and the best software in the market is Tenorshare iCareFone. I recommend using this software as it offers everything that the users wants from the software and also it is value for money. Let me know if you have any query.