If you are keen to upgrade to Apple's new iOS 11 (iOS 11 beta also), there are something important you should consider before performing the upgrade, that is, backup and restore. As we know, we save large amount of personal data on our iPhone and iPad, like Contacts, Photos, Messages, account password, etc. Backing up these precious data is important to avoid data loss and leak. In this guide we share several ways to backup your iPhone data before upgrading to iOS 11 (iOS 11 beta), and also guide on how to restore iPhone from iOS 11 to 10 if you need a downgrade.
Part 1. Backup iPhone before iOS 11 Update
There are different methods for backing up an iPhone, iPad or iPod touch. I am going to elaborate top 3 methods.
Way 1. Backup iPhone/iPad with iTunes
iTunes is the most common tool to backup iOS device. Simply connect your iPhone or iPad to computer and launch iTunes. Go to Summary > Backups, you can click "Back Up Now" to back up all data in your device.

Way 2. Backup iPhone/iPad with iCloud before iOS 11 update
To backup your iPhone to iCloud, go to Settings > Apple ID > iCloud > iCloud Backup, turn on iCloud Backup and it will back up your iPhone automatically when your device is connected to an Wi-Fi network.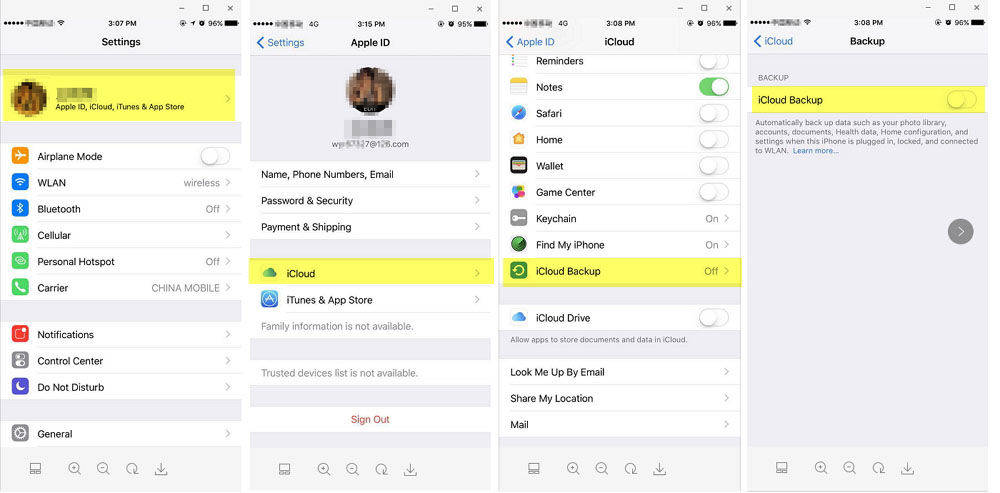 The traditional methods of backing up iPhone/iPad in iTunes & iCloud are convenient and simple, and you can restore data after upgrading to iOS 11. Whereas, there are some downsides. That is, both backup methods would overwrite all data in your device, and iCloud has limited 5 GB free storage. To me, it is far from enough to store thousands of photos. So I will recommend another method to backup iPhone with a third party tool – Tenorshare iCareFone.
Way 3. Tenorshare iCareFone: backup iPhone/iPad selectively and flexibly
Tenorshare iCareFone is a desktop software that is designed for both Windows and Mac. With it, I can decide to create a full backup or selectively pick up certain data to back up.
Free Download
For Win 10/8.1/8/7/XP
Secure Download
Free Download
For macOS 10.13 and below
Secure Download
Connect iOS device to computer, and launch Tenorshare iCareFone. Choose Backup & Restore feature in Tenorshare iCareFone, and you can select which type of data you'd like to backup before updating to iOS 11.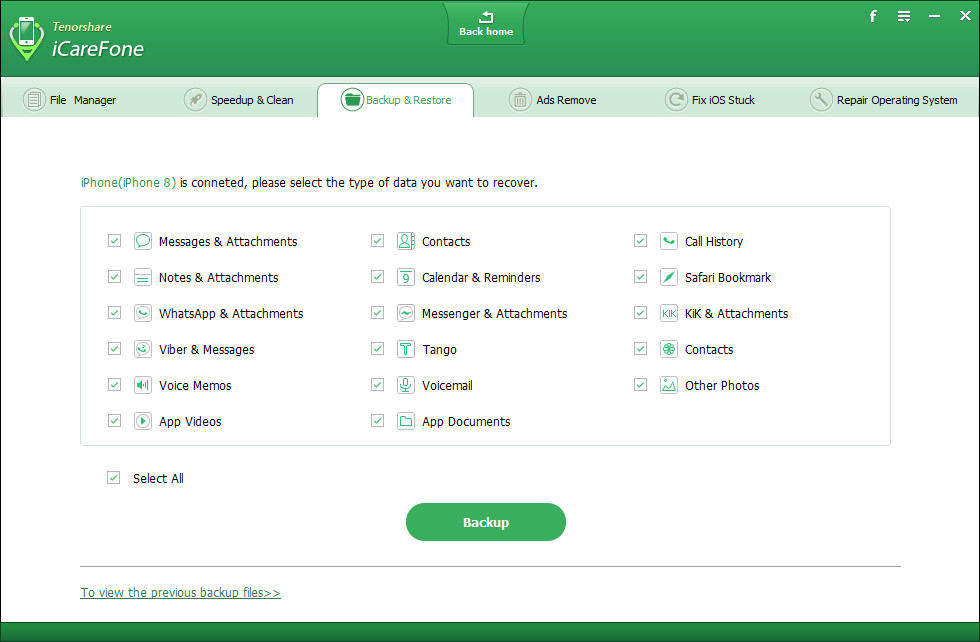 Now, you can go ahead and upgrade to iOS 11 with no worries. Though iOS 11 brings many great new features, it comes with some new problems, especially for people who are installing iOS 11 beta 2 or beta 1. If you do not like the new iOS 11, you can restore iPhone from iOS 11 to 10.3 backup.
Part 2: How to Restore (Downgrade) iOS 11 to iOS 10
There are two methods for you to restore iOS 11 beta to iOS 10.3.
Method 1. Restore iPhone from iOS 10 backup
As we've created a backup prior iOS 11 upgrade, now you can connect the iPhone with iOS 11 to iTunes, go to Summary > Backups > Restore Backup…, pick up the latest backup file and click Restore to restore it. Once the process completes, your iPhone will go back to iOS 10 from 11, and all data keep fine.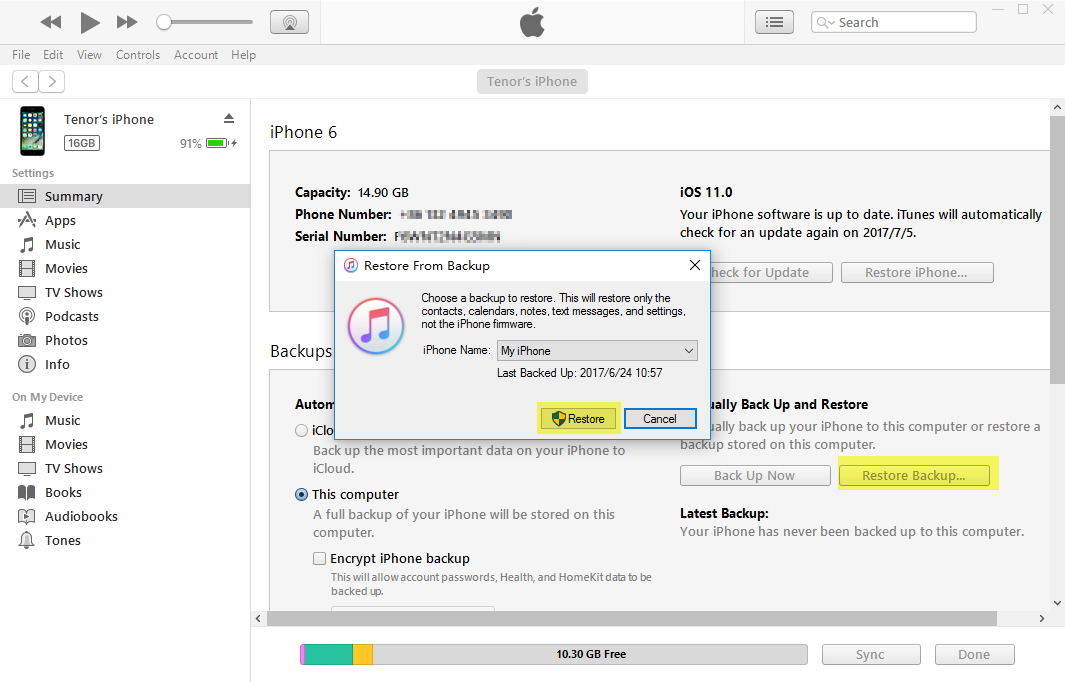 Also, you can restore your iPhone from 10.3 backup in Tenorshare iCareFone, which is faster and easier as I've tested.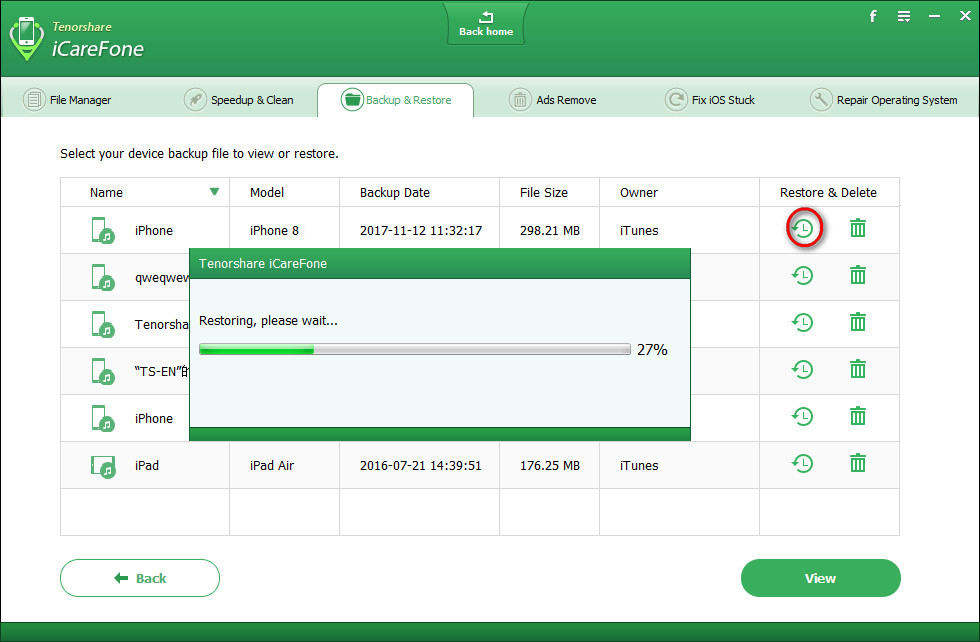 Method 2. Downgrade 11 to iOS 10.3, and then restore from iOS 10.3 backup
This method takes two steps to downgrade iOS 11 to 10 backup. Firstly, you can downgrade iPhone/iPad from iOS 11 to 10. This process will uninstall iOS 11 from your device, and your data might get lost.
Related Read: How to successfully downgrade to iOS 10 from 11 without stuck or error
Then, after iOS 11 downgrade, you can now restore your iPhone from previous iOS 10.3 backup in iTunes, iCloud, or third-party software like Tenorshare iCareFone.
Note: If you create an iOS 11 backup in iTunes or iCloud, you can't restore iOS 11 beta backup to iOS 10 device.
The Bottom Line
We introduce different ways to backup and restore an iPhone/iPad before iOS 11 upgrade. Either you are going to install iOS 11 beta, or wait until the official version in this autumn, we suggest you make full preparations before performing a major upgrade.
Free Download
For Win 10/8.1/8/7/XP
Secure Download
Free Download
For macOS 10.13 and below
Secure Download
Related Articles
comments powered by