Absolutely Fix iPhone Swipe up Not Working [13 Methods]
by Sophie Green Updated on 2023-03-06 / Update for Fix iPhone
With no home button, most navigation and simple execution now work with swipe-up or sideways gestures. So, what to do when this doesn't work? It might be due to a new iOS update or an unclean screen that iPhone swipe up not working. So, if that's the case, read and follow the 13 simplest methods in this article to resolve your "swipe up not working on iPhone" issues.
Method 1: Restart or Force Restart iPhone
Restarting your phone is always the first troubleshooting method for most iOS issues.
1. For iPhones X till 14 or later – Hold and press any volume buttons and the side lock button until you see the power slider.
2. Swipe the slider and wait 30 seconds for the phone to shut down so it can restart.
3. Hold the side or lock button for iPhone before X until you see the power slider.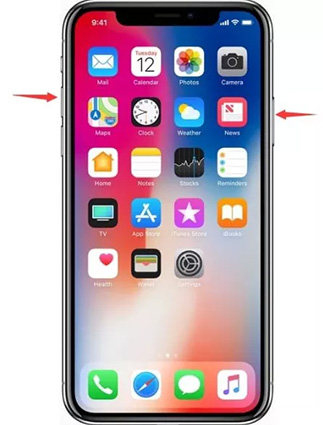 If you don't see the power slider or the unresponsive phone,you can force the phone to shut down.
To force a restart, press and release the upper volume button first and then the lower. Press and hold the side/lock button until you see the silver Apple logo, and the phone will restart.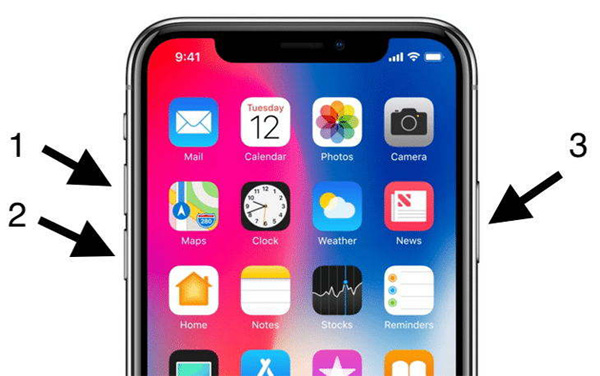 Method 2: Enable Control Center on Lockscreen
Sometimes the "iPhone swipe up not working" issue is due to the user not having access to Control Center on their phone's Lockscreen. Here is how you can enable it.
Look for the gear-shaped grey icon in the settings app, and open it.

Scroll and find "Touch ID & Passcode," where you need to access "Control Center."

Enable the toggle "Access on Lockscreen" you see there.
Method 3: One-Click Fix iPhone Swipe up Not Working
The 3rd required method if you are having issues with swipe up not working on iPhone is to use this fantastic 3rd party app called Tenorshare ReiBoot.
Download and install the 3rd party app from their website. Launch it and click "Start" button.

From the two options you see here, choose "Standard Repair."You can choose "Deep Repair" only you backed up your data in advance.

Download the firmware and start the standard repair once it is downloaded.

Now you can access all the features of your phone when it's done. Click Start Standard Repair to proceed.

After the repair is done, your iOS device will automatically reboot and all your data will not be deleted.
Method 4: Reset Control Center
There may be a change in settings that is causing iPhone wont swipe up to unlock, and you now need to reset it to default. Here is how you can do it.
Go to the "Control Center" in the "Setting" app.

Change the access to Control Center within the app.

If that doesn't fix it, Reset All Settings in the Reset Section of the General Settings Menu.
Method 5: Disable the VoiceOver Feature
The access to Voiceover feature changes how you access your control center. Though a helpful feature, it might cause the iPhone swipe-up not to work. To turn it off, follow these steps.
From the General menu in the settings app, go to accessibility and find the Voiceover to turn it off, as seen in the image below.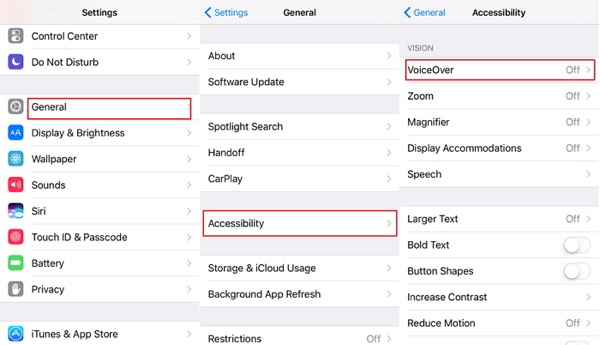 Method 6: Enable Access with Apps on Control Center
This method requires you to enable Control Center access within apps. All you need to do is just toggle the Access Within Apps option from the Control Center menu of the Settings apps.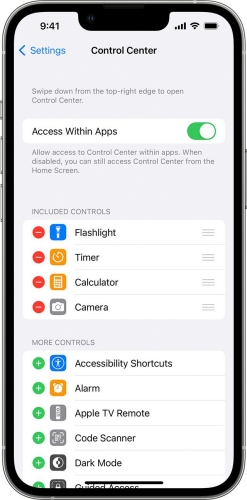 Method 7: Check Your Phone for Water Damage
iPhone devices have Liquid Contact Indicators to show if your phone has been water damaged.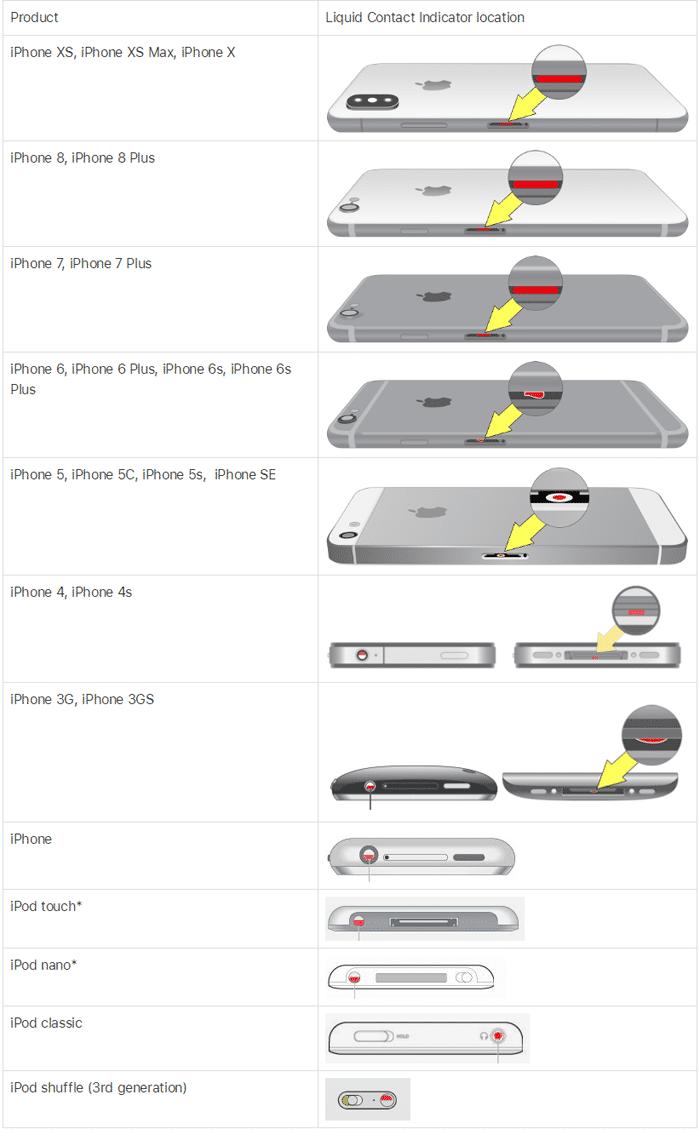 Step 1: Eject your sim tray and look for the indicator turning red, as shown in the image for most iPhones.
Step 2: If it isn't red, either use a blower to blow off some droplets or keep it under sunlight for an hour or so turned off.
Step 3: Some droplets might not have damaged your phone but might cause swipe up not working on iPhone.
Method 8: Adjust 3D Sensitivity
While most new iPhones don't have the 3D sensitive touch, the settings for 3D touch on older phones and haptic feedback are the same. Here is how you can change them.
1. Go to the Accessibility menu in your settings app on your iPhone.
2. Go to touch under Physical and Motor.
3. Change the sensitivity of 3D touch or haptic feedback to see if it solves the problem.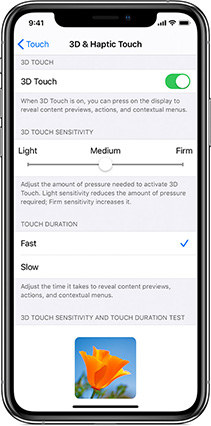 Method 9: Remove the Case and Screen Protector
Most users don't like scratches on their screens and body, so they install screen protectors and cases for protection. If you install a low-quality screen protector, it may be the primary cause of the iPhone wont swipe up to unlock. Remove the case or the protector to see if it resolves the issue.
Method 10: Clean Your iPhone Screen and Fingers
This is the simplest troubleshooting method.You should just wash your hands with soap to remove any oils or grime and clean your screen with a microfiber cloth and a spray solution for screen cleaning.
Method 11: Update iOS System
There might be an issue or bug with your current version of iOS, so update by doing the following.
In the Settings app, head to Software Update in the General menu.
See if there is an update. If not, wait for it.
Press the "Download and Install Update" option if you see one.

Most issues, such as iPhone swipe up not working, are resolved with a software update.
Method 12: Reset All Settings
Reset your iPhone all settings could fix most of iPhone problems and glitches. Here is how to do it:
Step 1: Tap to the Settings on iPhone and click "General".
Step 2: Chooce "Transfer or Reset iPhone".
Step 3: Select Reset All Settings.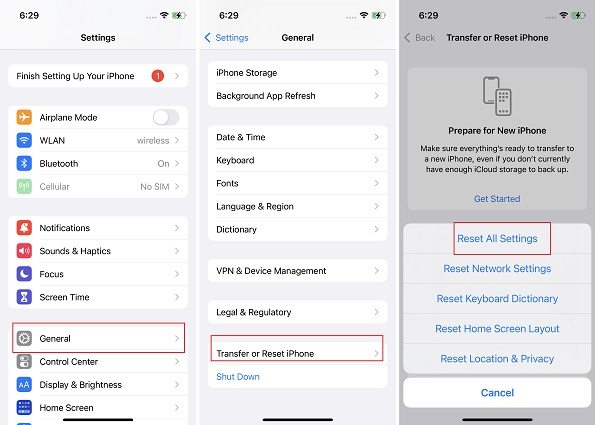 Method 13: Ask for Apple Support Service
If all the above methods fail, and you still have the "iPhone swipe up not working" issue unresolved, it's time to aks for Apple official support service.
1. Download and install the Apple Support App on the app store.
2. Sign in and select the option you think is wrong.
3. Follow the instructions to either mail in your phone or visit their center for more.
Conclusion
This comprehensive guide has detailed all possible troubleshooting methods to resolve your "iPhone swipe up not working" issues. If nothing works, it is time to visit the repair center of the Apple Store for better guidance and try out Tenorshare ReiBoot.
Fix iPhone Stuck Issues without Data Loss
"