[2023] iPhone 12 Won't Turn On? Best 6 Ways You Can Try!
by Sophie Green Updated on 2023-07-10 / Update for Fix iPhone
Your iPhone 12 won't turn on? Is it an emergency or catastrophe? Well, the good news is that we can fix it. Whether your iPhone 12 won''t turn onoryour iPhone 12 screen won't turn on, there are multiple reasons and corresponding solutions. Most of the time, this issue might happen if there is a software crash or your iPhone is out of battery. In the following guide, we will discuss why and how to fix iPhone 12 won't turn on. So, let's move on.
Part 1: Why My iPhone 12 Won't Turn on after Dying
The reason why your iPhone 12 won't turn on black screen or iPhone 12 won't turn on after dying could be due to a few factors:
Battery drained problem. The first and the most frequent cause when the iPhone 12 won't turn onis the battery issue. If the battery is completely drained, then the phone won't work. So, you need to check if the battery is charging well and if there is no damage.
Software crash. Another frequent reason is software bugs, firmware crashes, and software issues. You might need a professional tool to fix this type of issue. Sometimes a complete reset of your iPhone also resolves software crashes.
Hardware damage. My iPhone 12 won't turn on if it drops or gets damaged by water. Hardware damages mostly require assistance from the Apple store or authorized hardware professionals.
Part 2: [Ultimate] 6 Ways to Fix iPhone 12 Won't Turn On
I am sure you are more interested in the ways to fix the iPhone 12 won't turn onproblem. So, let's dive into the details of solutions. Various solutions depend on the cause of the issue and the extent of the damage. We are discussing six different methods you can try if iPhone 12 Pro Max/Mini/Pro won't turn on and if iPhone 12 won't charge or turn on.
Way 1: Charge Your iPhone 12
The most obvious solution when my iPhone 12 won't turn onis to check the battery and charge it. Keep pressing the side button till you see the charging icon appear. If the icon shows, it means that the battery was drained, and that's why it was not turning on. If your iPhone 12 still won't turn oneven after a long charging session, then it is evident that there are other issues too. So, move on to the next solution.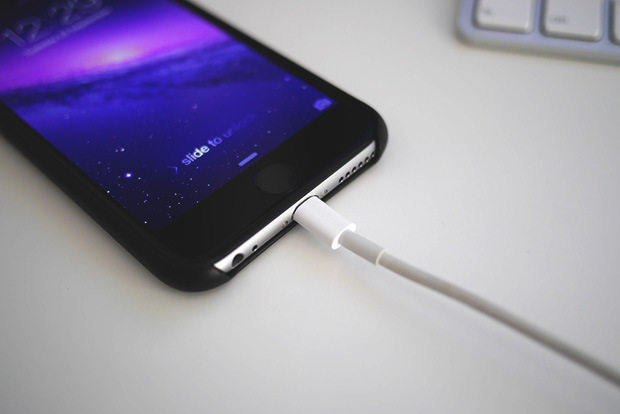 Way 2: Perform a Force Restart on iPhone 12
If there is some minor software glitch, then force restarting your phone can fix the iPhone won't turn on. This is a quick solution and also keeps your data intact. Here is how to go through this process.
Press and then quickly release the volume up button.
Press and then release the volume down button.
Press the iPhone's side button till you see the Apple logo on the screen.
When the Apple shows on the screen, release the side button.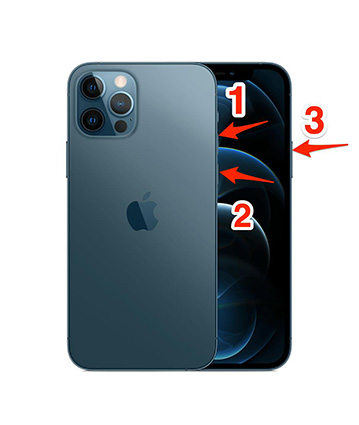 Way 3: Restore to Factory Settings via iTunes (Data Loss)
If the iPhone 12 won't turn on, the issue was caused by a recent update or an application installation, then restoring the phone to factory settings is an excellent start to fix the problem. However, the downside of this method is that it erases all your data and settings from the phone.
Step 1. Connect your iPhone to your computer using a USB or USB-C cable. You can also connect the iPhone.
Step 2. Launch iTunes on your computer.
Step 3. In the iTunes application, click the Device button on the top left of the window and choose your iPhone. Find Summary, then click Restore iPhone.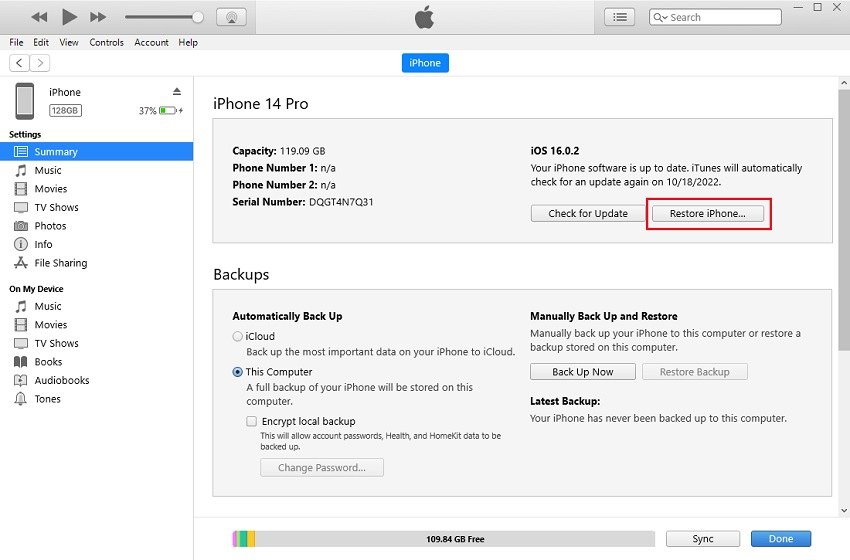 Again, try to turn on your iPhone and see if the issue has been resolved. If all the above methods do not work, then the ultimate solution is to use a third-party professional application that is robust and reliable. In the next section, we discuss the Tenorshare ReiBoot application.
Way 4: One-Click Fix iPhone 12 Won't Turnon via Recovery Mode
"What if my iPhone 12 won't turn on even with hard reset?" Then you should try to make it enter recovery mode. Tenorshare ReiBoot is your best free bet. It is beneficial when the phone's home button is not working or you are having other troubles entering recovery mode. Just one click, you can easily enter or exit recovery mode to fix your iPhone 12 screen won't turn on or other any iOS system issues.
Following is a quick tutorial about how to use ReiBoot to fix iPhone 12 won't turn on.
Download and install Tenorshare ReiBoot on your computer. Launch the software and connect your iPhone 12 to the computer. Once the application recognizes your iPhone, click Enter and put your phone into recovery mode.

Wait 30 seconds to enter your iPhone into recovery mode.

You will see the Enter recovery mode successfully on the screen.

Then you will see the 'Connect to iTunes or Computer' logo on the iPhone screen, and you are in recovery mode.
Now we are in recovery mode. You can just exit recovery mode via ReiBoot to check if your iPhone 12 won'turn on issues fixed.
Way 5: Quick Fix iPhone 12 Won't Turn on Due to a System Error
If your iPhone has still not recovered from the issue or is stuck in recovery mode, there might be some system errors. In this case, you must fix your iOS issue, which is not easy.
However, the Tenorshare ReiBootapplication can help you in this regard also. ReiBoot has a repair feature and is an all-in-one solution for over 200 iOS, iPadOS, and macOS issues. Let us go through the features of this application quickly and see how it can help you if your iPhone 12 screen won't turn onor if iPhone 12 won't charge or turn on.
Way 6: Contact Apple Support
Last but not least, if nothing works and you suspect that hardware problems or physical damage cause your iPhone 12 won't turn on,then your last resort is to contact Apple support. The repair will be free if your iPhone 12 is still under warranty.
Locate your local Apple Support Center here.
Part 3: How to Prevent Power Issueson iPhone
Apple has improved the iPhone's battery life with every new launch. But still, some people might find that their phone's battery doesn't last long. How you use the phone and configure its settings also affects the battery life. So, let us review how you can extend the iPhone's battery life and prevent power issues.
To start, check your battery's health in the Settings. Go to Settings>Battery>Battery Health section. Check your iPhone's battery performance; if it is lower than the peak performance, consider battery replacement.

Check which applications are drawing the most battery power. You can find it in Settings>Battery, and in the list of apps, see the applications that are guzzling the most power. Disabling them will increase your battery life.
Also, applications that need to be updated may drain your battery fast. Launch the App Store app and tap your account icon at the top right. If any apps need updating, click on the Update All link in the Pending Updates section.
High brightness is another power guzzler. Pull down the Control Panel from the top right of the screen and adjust the Brightness slider. Also, turn off the automatically adjusting screen brightness feature. Go to Settings>Display & Brightness and turn it off..
Disable Location services.

Conclusion

It can be a nightmare if your iPhone 12 won't turn onor if the iPhone 12 screen won't turn on black screen. We have discussed why this may happen and various solutions to solve the problem. The issue can be as simple as a drained battery or as complex as iOS system issues. So, choosing the listed solution is the way to go, and Tenorshare ReiBoot will be your best solution.

Fix iPhone Stuck and Update Issues without Data Loss