How to Fix iPhone Grey Screen in 6 Easy Methods
by Anna Sherry Updated on 2022-02-23 / Update for Fix iPhone
Sometimes, you will notice that iPhone grey screen when you want to pick a call, open apps, or do some other things on your device. Unfortunately, you cannot delete or refresh this screen to make it disappear. In a few cases, this problem will also prevent you from shutting down your iPhone. Hence, you will be stuck with an iPhone screen grey and unresponsive.
But the good news is that you don't have to lose your sleep over this challenge as numerous methods can be explored to find a solution.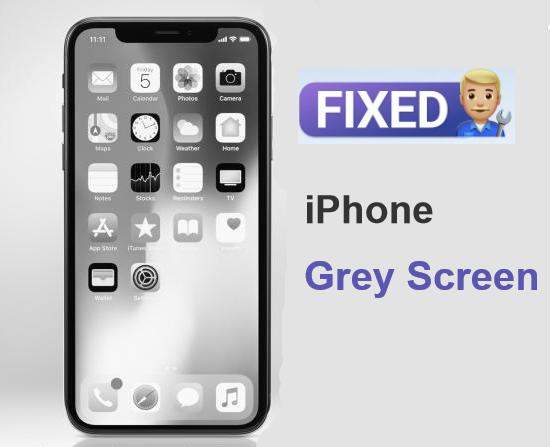 I. What Cause iPhone Grey Screen of Death
As you would have expected, something must have caused the iPhone grey screen of death. So, let's quickly analyze the possible reasons behind iPhone gray screen.
The "Grayscale Mode" might have been turned on. Notably, this mode is found in "Display Accommodations" under Settings. When turned on, you will see an iPhone grey screen.
After updating your iOS system, a bug may be responsible for the iPhone grey screen with lines.
Also, if you click the Home button three consecutive times, you may notice that your iPhone screen turns grey. Unfortunately, you may not notice this issue until it prevents you from using your device.
II. iPhone Screen Turns Grey, How to Return to Normal
1. Turn the Grayscale Feature Off
If you are seeing an iPhone grey screen before you have mistakenly turned on the Grayscale Mode, then you can simply turn off the feature.
Go to the "Settings" app on your device.

Click "General" and then find and tap "Accessibility".

The next step is to tap "Display Accommodations". Under this, you need to click "Color Filters". If the grayscale mode is turned on, you have to turn it off.
2. Factory Reset iPhone
By factory resetting your iPhone, you can correct any wrong setting that is causing iPhone gray screen. But how do you factory reset your iPhone? Follow the steps below:
Navigate to the "Settings" app on your smartphone. Afterward, go to "General" > "Reset".
Under Reset, click "Erase all Contents and Settings". You will be prompted to input the passcode of your iPhone.

Then, you need to tap "Erase iPhone". This will return your device to the default settings.
3. Update to the Latest iOS Version
In a few situations, you may be able to fix the iPhone grey screen of death by just updating your device to the latest iOS version.
Launch the "Settings" app on your iPhone.

Go to General>Software Update. Finally, update your device by just tapping "Download and Install".
III. How to Fix iPhone Screen Grey and Unresponsive
Is your iPhone screen grey and unresponsive? You will not be able to use any of the 3 methods above. In this case, there are 3 powerful solutions you can try. Let's compare these three methods.
| Method | Level of difficulty | Success rate | Data loss | Time required |
| --- | --- | --- | --- | --- |
| Tenorshare ReiBoot | Easy | 100% | No | Short |
| Force Restart | Easy | 60% | No | Short |
| iTunes Restore | Complex | 80% | Yes | Long |
1. Force Restart iPhone
Different methods can be used for restarting various models of the iPhone. Here we take iPhone iPhone 8 and later versions as example.
Press and quickly release the "Volume Up".
Also, press and release the "Volume Down" button.
Now, press and hold the "Power" button until the Apple logo shows on your screen.
2. Fix iPhone Gray Screen with ReiBoot (Easy and Fast)
The most reliable and effective way to fix the iPhone grey screen of death involves the use of Tenorshare ReiBoot. With the Standard Repair of ReiBoot, you don't have to lose the data on your iPhone while solving this problem.
This powerful tool has been tested and trusted by numerous individuals around the globe. Hence, you can never go wrong with fixing the iPhone grey screen with ReiBoot. Below, we will explain how to use ReiBoot to fix the iPhone grey screen with lines.
Download Tenorshare ReiBoot on your computer. Launch the software and use a USB cable to connect your iPhone with a grey screen to the computer. After the computer has recognized your phone, tap "Start' to start using ReiBoot.

On the next interface, you need to tap "Standard Repair". Please, read and understand the information on the screen before proceeding. When you are set, hit "Standard Repair".

To download the latest firmware file on your computer, just tap "Download".

After downloading the firmware file, tap "Start Standard Repair". With this, system recovery will start on your computer immediately.

Once your iPhone has been repaired, it will reboot automatically. Notably, your data will remain intact.
3. Restore iPhone via iTunes
When your iPhone screen turns grey, the last method you can use to solve the problem is using iTunes. You should realize that this method will delete the data on your iPhone. So, make sure you have backed up your data before restoring your iPhone via iTunes.
Launch iTunes on a computer. Then, use a USB to connect your mobile device to the computer.
Once the iPhone is detected by iTunes, tap the phone's icon at the top left of the window of iTunes. Afterward, select "Summary".
If you want to back up your data, click "Back Up Now" before continuing the process.

Lastly, tap "Restore iPhone".
This will restore your iPhone via iTunes. If you are lucky, this method may fix the problem. You can click "Restore Backups" to retrieve the data you backed up earlier.
Conclusion
By using the methods described above, you should have no issue with fixing the iPhone grey screen of death. If most of these methods fail, you can always count on Tenorshare ReiBoot as it can fix the problem 100%.