How to Detect/Lock/Erase/Find Stolen iPhone Without iCloud
"I have lost my iPhone, is there any way I can track its location?"
"I have lost my iPhone on the bus and it is in Airplane mode, how can I track it?"
Frankly, iCloud is essential for the users of Apple devices. Many important functions of the devices revolve around iCloud such as storing back up files, tracking your device etc. But if you want to know how to track a lost iPhone without iCloud, the chances of that happening is slim to none. Unless the person who lost the phone installed some third-party applications before it was stolen. Anyhow, here are some ways that can really help.
Find My iPhone
Unfortunately, if you haven't installed any third-party apps, Find My iPhone is your best option. Although the app basically uses iCloud, the new devices are coming with this app already installed. You will need another Apple device to use it like another iPhone or iPad or Mac. Just sign-in to that device and it will track the phone via the internet. Just enabling Lost mode can make things easier. The devices are GPS enabled, so you can track their movements in real time. If the phone is turned on there will be a green dot on the map and it will be constantly changing depending on the movement, but if it is turned off, there will be a grey dot on the last known location. You can not only track with this app but also lock or erase the whole device so that no one can get hold of your personal data on your phone. So, in case, you want to know how to lock stolen iphone without iCloud, open Find My iPhone and just "Lock" your device by following the on-screen instructions.
Dropbox
Wondering "how can I find my iphone if I don't have iCloud?" Use Dropbox. Dropbox is a third-party app that backs up or saves your data. It is more or less like iCloud or Google Drive. Unfortunately these days almost everybody knows about the Find My iPhone app. So, whenever someone steals your device, the thief cleverly disables the app, making it tougher to find the device. But if you have installed the Dropbox beforehand it may help you in some way. The app is unable to provide the GPS location of the device, but it may help you identify the thief in a different way.
Though thieves are making sure to disable the Find My iPhone app after stealing your phone, they are unaware of apps like Dropbox. So, if the thief takes any photo with the stolen device, the new images will be uploaded to your Dropbox account. Although not always but often you can extract partial or full images of the person holding your phone or the location of the picture etc., and then you can take it to the proper authorities.
Google Maps History
You may think that it is improper but your phone is always tracking your location. But when your phone is lost and you have no idea where you can find it, you will need all the help you can get. So, if you have a Google account logged in with any other device just search for the Google Maps Location History. If you want to be more specific then narrow down the timeline, you will find the last location of your phone on the map. A ping occurs when your phone communicates with a cell tower. Unfortunately, if the phone is turned off or in the Airplane mode this won't work.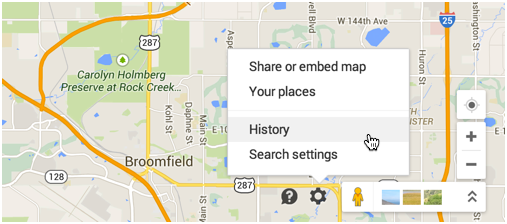 So, here are the best ways by which you can recover and find stolen iPhone without iCloud. Each of them comes with its own advantages and disadvantages. Though recovering your device if it is stolen completely depends on your luck, you may find the location and do the needful to safeguard your privacy.
In case, you are on the lookout for a versatile all-in-one utility app for iDevice, it is recommended that you go for iCareFone. It is a 6-in1 tool which caters to fixing all type of issues for iDevices. It can repair operating systems and stuck issues. It also works as a clean-up program which speeds up your device. It also has a feature of backup and restores all types of data and you also transfer files as well. This powerful tool supports both Windows and Mac and works like an iOS manager. It basically makes your iPhone and iPad stronger and potent!
If you like this article, don't forget to share. Do comment below!