5 Coolest Kik Username Ideas for Girls & Boys
by Anna Sherry Updated on 2020-04-21 / Update for iPhone Tips
How can I get the unique Kik username? Kik has a huge number of users from all around the world. and at times usernames which you like are taken. That should not make you upset because there is no less number of usernames available on the planet. Probably the best Kik names are yet to be created. You can create an entire list of some amazing and interesting names with some of the hard work. All you need is some creativeness on your side and free time to list out your choices. Regardless of whether you do not want to be imaginative, there are several other approaches to come up with some cool Kik usernames. You can use different generators to come up with Kik username. In this article, we will give you the top 5 websites to explore good Kik username ideas. Most probably you can find the one you precisely need for yourself.
How to Generate Kik Username Ideas
Each username on Kik is one of a kind and is always assigned to only one user. In this way, the username that you have on Kik is just yours and there is no other same username accessible for others to pick. If you have been using your Kik account with one username for quite a while, you should change your username so that it is not any more boring done. Changing your username additionally helps in the case that you might want to do chat with your friends or family members by using another username on Kik. Let us tell you about the best 5 websites if you want to generate good Kik username ideas.
Top 1:  SpinXO (Cute and Simple)
SpinXO gives its clients some cute Kik usernames ideas that depend on a couple of questions. Answer any two of them and the spinner will make a blend for you to utilize. These are quite simple and cool Kik usernames ideas which you can not forget. It makes the procedure very easy for its users and generate some unique and cool usernames for their Kik account.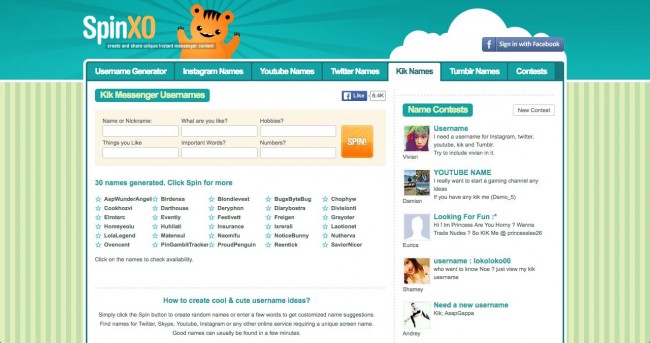 Top 2: Jimpix (Random Combinations)
Jimpix is a standout username for kik ideas amongst other random and cute Kik usernames generators that creates the usernames by joining words from a scope of various categories. You just have to put some words and it will do the remaining work for you. The username, for example, can have numerous varieties that end with Emoji, Tastes, Glyph icons, and Shakespeare, etc.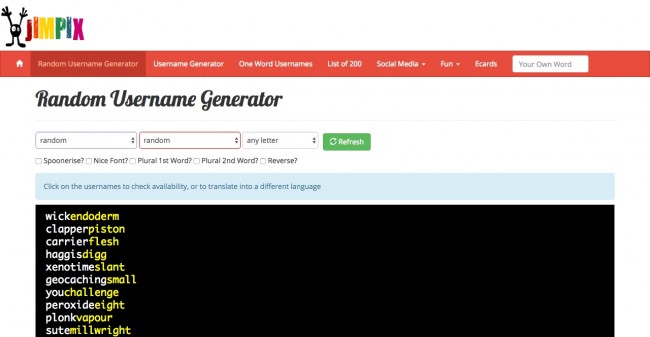 Top 3: TurboFuture (Creative Tutorial)
TurboFuture won't just give some cool Kik names yet additionally give you an idea about how you can change your Kik username to another one. It tells users the best way to accompany new names and changes their present ones also. It gives amazing Kik messenger username ideas to the users which will be different from all other websites.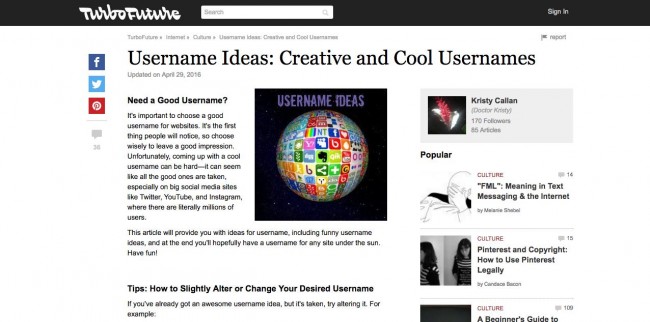 Top 4:  Kik Names (Keywords Centred On)
Kik Names have a lot of interesting words that can function quite well with Kik. You can join them to make one cool Kik username or use each word separately. You have to enter a couple of keywords and a lot of usernames with the same categories and words will be created. You can get the changed arbitrary names with the same words from this site.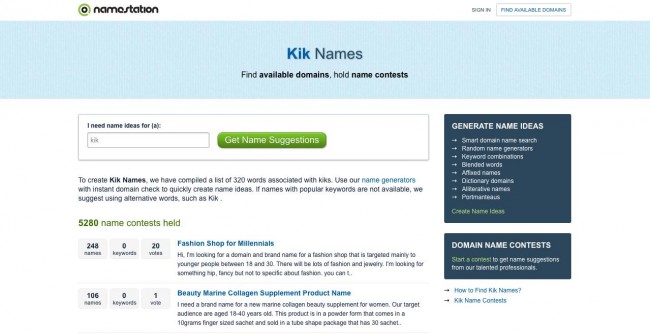 Top 5: Buzzle (Super Cool)
With 40 cool and amazing names, Buzzle will unquestionably give you fascinating considerations. You can continue looking at their new names and find out better usernames every month. This website has a set number of usernames which could be very interesting for the users.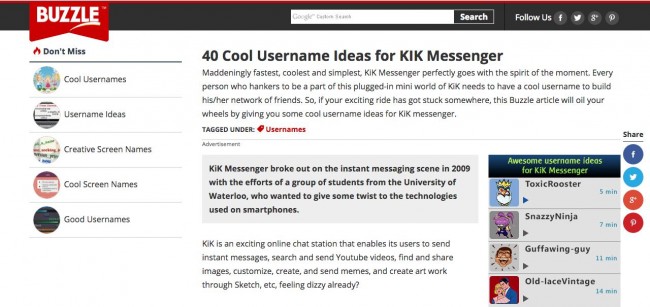 Extended Tip: How to Recover Deleted/Lost Kik Messages & Attachments Rapidly
Tenorshare UltData securely recovers the data. Tenorshare UltData-iPhone Data Recovery is an amazing tool to recover missing Kik messages and also other data including pics, videos, documents and notes etc without backup. Tenorshare gives you the most reliable iOS recovery, quite easy to use, safe and secure. You can get anything done at home. More, it recovers your files from Kik and including different other apps like WhatsApp, Line, Viber in very less time and has a high recovery rate. Want to know how to recover lost or deleted Kik messages? Follow the below-mentioned steps in the same order.
Download Tenorshare UltData on your PC or laptop and connect your iPhone to your PC via a USB cable. Now select the "Recover from iOS Device".

fig 1.recover from ios device

After this, you have to select the "Kik and Attachments" option and then click on the "Start Scan".

fig 2.choose kik to recoevr

All the Kik messages and attachments will appear on the screen. Select all the messages and attachments you want to recover.

fig 3.preview kik data

Click on the "Recover" option which is present at the bottom of the screen.

fig 4.choose to recover to device
Final Words
In short, go for any above-mentioned website if you want to get some unique and amazing ideas for Kik username. These websites are easy and simple and everyone can generate their desired usernames. Of course, if you're unlucky to lose data from Kik, the easiest way to recover your lost or deleted Kik messages and attachments is using Tenorshare UltData-iPhone Data Recovery. Just install it on your PC or laptop for free and get back your lost Kik messages. It takes very little time and does not cause any other issue.