iPhone Video Formats: Learn What Video Formats Does iPhone Support
by Anna Sherry Updated on 2020-03-18 / Update for iPhone Tips
iPhone is a popular choice for many mobile users. However, besides its enchanting features, there are specific issues every user faces. One of them is, not all of video formats supported by iPhone.
However, it's not an issue anymore. Because in this article, we will give you detail info regarding formats iPhone supported. And how you can see other format videos on your iPhone.
Part 1: What Video Formats Does iPhone Supports?
I am sure all iPhone users knew that iOS supported only certain types of video formats. Thus, iPhone supported video formats includes:
H.264 video up to 1080 having 60 frames/ second. Moreover, it comes with a high profile level 4.2 along with AAC-LC audio to 160Kbps, 48kHZ, and stereo audio in mv4, mov, and mp4 file format.
Motion JPEG, which is up to 35Mbps and 1280 by 720 pixels. Whereas it has 30frames/ second, ulaw audio, and PCM stereo audio in avi file format.
Lastly, MPEG-4 video which is up to 2.5 Mbps and 640 by 680 pixels. Besides, it supports 30 frames/ second, simple profile with AAC-LC audio of 160Kbps having 48kHz and stereo audio in mp4, mv4, and mov file format.
Part 2: What Kinds of Videos Cannot Be Played on iPhone?
As we said, there are not many iPhone compatible video formats. Therefore apart from those video formats mentioned above, all other formats cannot be played on iPhone. Thus video format cannot be played on the iPhone includes:
iPhone cannot support window media files. These include WTV, WMV, ASF, AVI, MKV, MPG, etc.
Any FLV video which is downloaded from YouTube cannot get support from the iPhone.
When the iPhone is in sync with Mp4, MOV, or M4V using iTunes to iPhone, it cannot play the iPhone supported video format.
iPhone never plays camcorder recorded video, including MPEG-2, MTS, MPEG-1, DV, etc.
Part 3: How to Play All Kinds of Videos on iPhone
Are you looking for methods to play a video on the iPhone? As mentioned above, there are specific iPhone supported video formats. Therefore your video must be in one of MOV, MP4, or M4V format as these are the only iPhone compatible video formats.
However, this section is trying to explain ways through which once can play videos in their iPhones. These are:
Step 1: Convert Video Formats
If your video is not in the video format for iPhone, then don't worry. Use an iPhone 11/8/X/7/6 video format converter to convert videos into your iPhone 6s video format. Here is a list of 6 best iPhone video converter:
1. Handbrake
Handbrake is the first name on our list. The main reason we have included it is because it is a powerful video converter for Windows/macOS/Linux. It comes with in-built presets for iPhone, iPad, Apple TV, and Android phones.
To convert video into iPhone video formats, select either your file or enter the URL of the video. And then press the submit button and you are done to have an iPhone 6 video formats.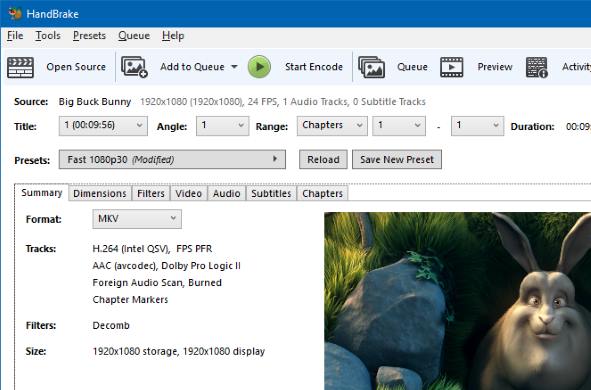 Pros:
Uses for the conversion of all formats of videos
Quick conversion
Utilitarian design
Support multi-platforms
Doesn't contain much space and easy to install
Cons:
Only use for the conversion to MP4 and MKV formats
Not easy to use
Confusing interface due to the availability of several configuration options
2. Video Converter for iPhone
Using Video Converter for iPhone, one can easily convert video format to open them on the iPhone. It is considered as the fastest video converter app for iPhones. Besides, it can convert videos of all formats.
Moreover, it allows its users to reduce the size of the video up to 70 percent. It can convert files within 15 seconds.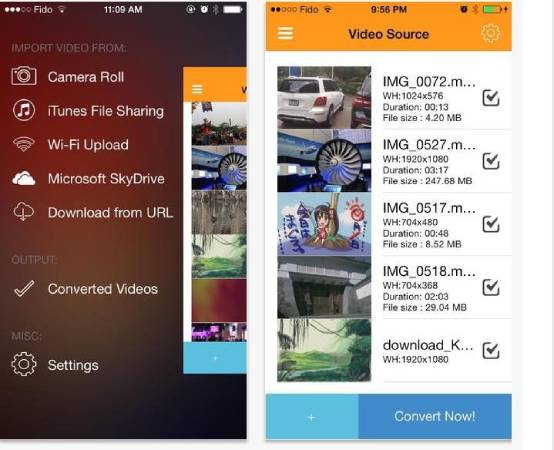 Pros:
A simple interface and easy to use
Ability to open files from emails
Support import of files from SkyDrive
Fast and speedy conversion
Cons:
Not compatible for iOS available before iOS 7
Rated 2.8 out of 5 by customer
3. iConv
Due to its easy, simple, and clean interface, iConv is one of the best iPhone video format converters. It supports conversion to WMV, Rmvb, avi, and MPEG/mpg. Apart from video files, it can also convert audio files for iPhone supported format.
Among its several amazing features, one is its batch mode, which helps to support more than one video format.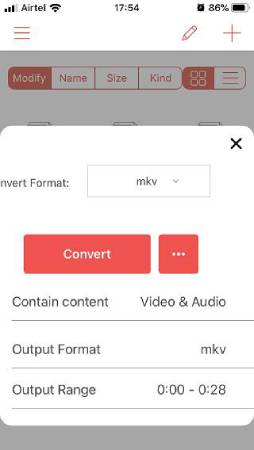 Pros:
It can convert files without using a network
Support conversion of audio, video, images and pdf files
Customization option for video conversion
Cons:
Faces hanging issues as reported by several users
You need to make an in-app purchase for using advance features
4. PlayerXtreme Media Player
Although it is not a video converter app for the iPhone. However, it can support all popular and not so popular videos format. It is created by 'Xtreme media works,' and its size is 132.8 MB.
Users can add passwords to the files for security. Besides, its other popular features include language subtitles, audio control, gesture support, and much more. Users rated it 4.5 out of 5.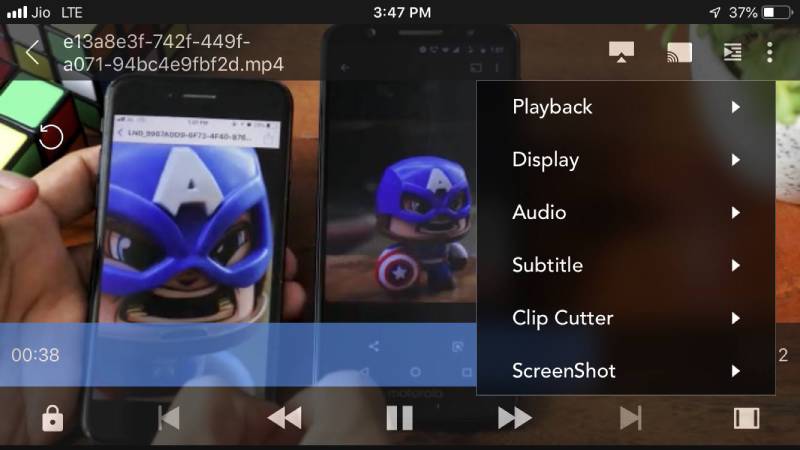 Pros:
Comes with fast forward and backward playback option
Support high definition playback in all file formats
Increase volume up to 3 times
Cons:
Only compatible with iOS 9 and later versions
Premium version is not free
5. MConverter Medias Converter
MConverter Medias Converter is an amazing video converter created by 'Bill Santiago.' It can convert files of all formats into video formats for the iPhone. It is considered as the best video converter for iPhone 6.
Recently it is updated and can offer additional features including size reduction, video trimming, set file parameters, and play video in a different mode. The size of this application is 30.6 MB. For the use of this app, iOS 5 is the minimum requirement.
Pros:
Convert video of any size
Also supported videos of camera roll
Comes with an option of resume
Cons:
Only support the English language
No customer feedback to see its issues
6. File Converter Free
Developed by 'Ice Cold Apps,' File Converter Free can convert any kind of files in iPhone supported format. It can convert video, audio, images, and many others into iPhone video formats.
For the conversion of a file, it is first transferred into cloud storage and is then converted.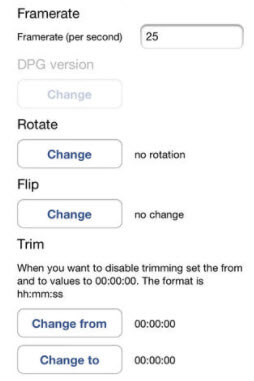 Pros:
You can save files in iTunes after conversion
Through emails, files can be shared
Trim or crop files during the conversion
Cons:
Only supported the English language
After the first conversion, you need to buy it
Size of application is 2.1 MB only
Step 2: Add Converted Video to iPhone Use Tenorshare iCareFone
Tenorshare iCareFone helps iOS users to manage eight different types of files, including videos, audios, photos, contact, and apps. It helps to improve iOS devices' performance.
The first step involves downloading of Tenorshare iCareFone app on your iPhone and connect with the device.

Then enter a password for safe detection and select the 'Manage' button once it is connected from the menu.

Pic1.- Click Manage

From a connected device, click on Photos and import option, then select the file you want.

Pic2.- Select files

You can choose to install the iCareFone app or not, if you don't want to install it, just click on Fast Import.

Pic3.- Choose Fast Import

Wait for some time, the process will be finished soon.
Note: if you don't intall the iCarFone app, the files you added can not be deleted by your device, you need to use iCareFone to delete them.
Conclusion
I am sure now you get a detailed idea of how to convert videos into iPhone compatible format. You can either use converting apps and software or Tenorshare iCareFone.
The World's Best iOS 17 File Manager
Free backup everything you need on iPhone/iPad/iPod
Transfer music, photos, videos, contacts, SMS without limitation
Selectively restore files without erasing current data