Back Tap iPhone: A Handy Feature to Control Your iPhone
by Anna Sherry Updated on 2022-03-09 / Update for iPhone Tips
I have been going through all the new things I can do on my iPhone 12mini and would like to ask about Back Tap. I would like to know more about it. It is very sensitive on my phone as I have double layered case and it still works!!!
Back Tap, hidden in the Accessibility section, is a secret button iPhone has on its back. With the iPhone Back Tap option enabled, you can tap back of iPhone to perform commands to control your iPhone. We made this article to inform you thoroughly about this handy feature.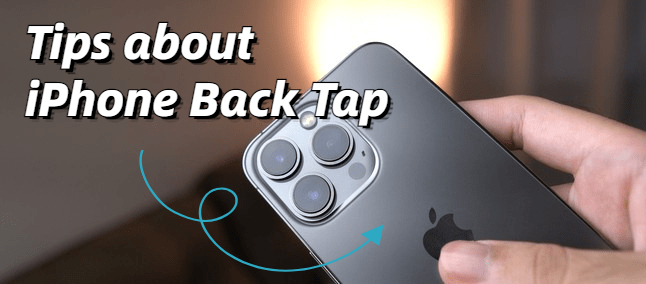 Part 1: What Is Back Tap on iPhone?
Before we walk you through how to use Back Tap iPhone, let us brief you on what is back tap on an iPhone.
Back Tap is a cool feature introduced with iOS 14. With an additional hardware button added to the back of the device, the iPhone Back Tap allows you to trigger certain actions, such as taking shortcuts or activating Siri, by double or triple tapping the back of iPhone. The iPhone Back Tap feature only works on wireless charging-enabled iPhone, that is, iPhone 8 and onwards.
Now you have a general idea of this feature and you might be wondering how does iPhone back tap work. Well, Back tap utilizes the Accelerometer and Gyroscope sensors to detect the movement of the iPhone when you tap and converts it into an action you chose, for example, you can use double tap to screenshot.
Part 2: How to Set up iPhone Back Tap?
Apple has hidden this feature which is why it isn't mainstream. To turn on Back Tap on iPhone, you have to go through your settings to activate it.
Here are the detailed steps on how to Set up iPhone Back Tap.
Go to your Settings application and open the Accessibility option.
On the Accessibility page, scroll down to tap the "Touch" option.

Scroll to the very bottom and tap the "Back Tap" option.

You can then choose either the "Double Tap" or "Triple Tap" options to configure an action to associate with your selected gesture.  For instance, you can set double tap to screenshot on iPhone.

Once you select a function, you can return to the Home screen by swiping up from the bottom of the screen, and then double tap back of iPhone or triple tap back of iphone to see if it works for you.

That's all about how to activate Back Tap on iPhone.
Part 3: How to Turn off Double Tap Screenshot on iPhone?
If you follow the above steps to set up double tap screenshot iPhone successfully, you must want to further learn how to turn off double tap screenshot on iPhone? Well, the steps to turn off the screenshot option from your double tap are quite simple. Here is how:
Go to your Settings app and then tap on the Accessibility option to enter.
Tap Touch under the PHYSICAL AND MOTOR section and scroll to the bottom to use the Back Tap feature.
From the list, choose the Double Tap option; it will show you that the Screenshot option is ticked.

Lastly, change the Screenshot option to None at the top of the page and the Screenshot option for double back tap will go away.
Part 4: How to Fix iPhone Back Tap not working?
If you've set up iPhone Back Tap and ensure there are be no difference in your commands, but you still run into the issue of iPhone Back Tap not working, you can have a lighting quick look at what you can do:
Common Ways to Fix iPhone Back Tap Not Working
Remove your phone case
Check Back Tap Settings
Force restart your iPhone
Update your iOS version
One Click to Fix iPhone Back Tap Not Working
If the above common methods don't work for you, you may consider fixing the iOS system. Sometimes it is not the hardware's fault, but your software might be the reason your back tap isn't working. In that case, you need a tool to fix your iOS device thoroughly so that glitch wouldn't tease you again. 
The best decision would be to choose Tenorshare ReiBoot. Your device can get some iOS bugs and problems when you update it sometimes. Some errors can be corrected through reboots, but some might be so stubborn you'd need a repair that ReiBoot provides. Tenorshare ReiBoot is entirely professional and provides two modes. You can opt for Standard repair, which will repair iOS system and update your phone while keeping the data intact.
Here's how to fix iPhone back tap not working with one click.
Install the ReiBoot software on your PC. Connect your iPhone to the PC and let that tool recognize your iPhone's model. Click on the "Start" button for Reiboot to move further to the iOS System recovery tool.

The following interface will show you two options: the Standard repair and the deep one. Select Standard Repair, read the notes written below for more information, and click on the "Standard Repair" option.

ReiBoot by Tenorshare will then ask you to download the latest firmware package. The process is easy but downloading the latest iOS will take some time, so be patient.

After the iOS loading, it's finally time to start your Standard repair. Click on the "Start Standard Repair" option. It will take some time, and your iPhone will reboot once your repair is done.

Now head to Back Tap on your iPhone and set it up again to see if the iPhone back tap not working issue gets resolved.
Conclusion
The iPhone back tap option is an excellent and thoughtful addition to these iOS devices. It saves time, is handy, and can be very useful at times. However, there might be a situation where the iPhone back tap is not working. In this case, you can use the traditional methods to fix it, or you can use a single-click through Tenorshare ReiBoot that can fix your double and triple back tap within no time.