Join Now to Know What Is Wordle and How to Play Wordle (+ Wordle Examples)
by Anna Sherry Updated on 2022-03-09 / Update for iPhone Tips
If you haven't been living under a rock, you have probably heard about Wordle somewhere. It's a growing trend on Twitter, with everyone sharing their Wordle results daily.
But if you haven't seen Wordle for yourself, you might be wondering what is Wordle, and how do you play it. Well, that's exactly what we're going to answer in this article. Keep reading and you will learn everything there is to know about this trending game.
Part 1: What Is Wordle and Why Wordle Went Viral
As the name suggests, Wordle is a word game where you have to guess a random word.
You can only play the game once per day.
Each player has to guess the same word per day.
If you get the word right, you win. If you get it wrong, you have to wait 24 hours to play again and guess the next word.
Wordle was created by a software engineer named Josh Wardle for his partner. That's right, the game's name is based on the developer's last name.
The game quickly got popular in Wardle's family group chat, and he got the feeling that he has created something really addictive. Josh ended up releasing it to the public, which turned out to be a really life-changing decision for him.
Worlde got viral due to its social factor. As everyone has to guess the same random word as everybody else, it sparks a sense of social competition. If you get it right but your best friend doesn't, you hold the bragging rights!

Another reason why World got viral is its free-to-play, simple gameplay. Free Wordle is an online game that everyone can play by visiting its website. To access Wordle online, click here.
Wordle was recently acquired by the New York Times. It's been said that the company acquired the game for a price point in the "low seven figures".
Part 2: An Easy Guide on How to Play Wordle Online
Now that the intro is out of the way, you must be wondering how to play Wordle. Well, this section has got you covered!
The first thing you need to do is access the game through the Wordle website by Google Wordle and access it from the search results. After the acquisition by the NYC Times, it has now been transported to its own website.
To win a Wordle game, you have to guess a random 5-letter word. You have 6 tries to get it right, and the game gives you feedback on how you did after each try.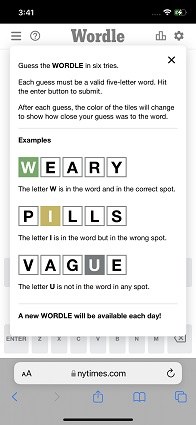 If you guess a letter right and put it in the correct position, it turns green.
If you guess a letter right but it's not in the correct position, it turns yellow.
Lastly, if your guessed letter isn't in the word at all, it turns grey.
After each guess, you can use the keyboard given at the bottom to know which letters to use and which ones not to use. Here's a step-by-step guide on how to guess the correct word on Wordle.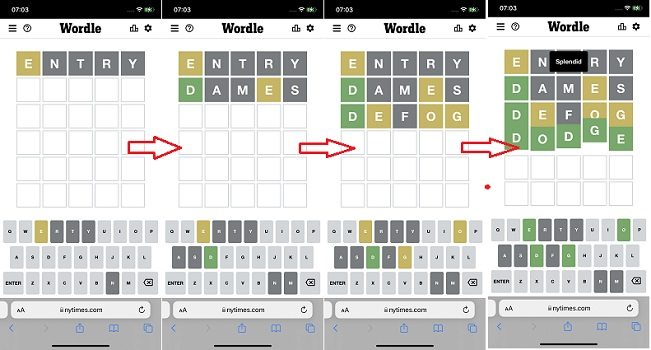 Start by entering a random 5-letter word that has diverse letters.
Based on which letters you got right, enter a different word that includes the correct letters and doesn't use the incorrect ones.
Narrow down your letter usage by not using the greyed-out letters after each guess.
Keep entering words based on the feedback given by the game.

After you have guessed the word, you will get the option to share your results with the world, simply select the social app you'd like to share your score to. If you're playing on a computer, pressing the share button will copy your game results to your device's clipboard. You can paste it into any website you want.

If you have accidentally closed the share menu, don't panic! You can access your game results by clicking the Graph icon at the top-right corner.
Don't worry about spoilers. The results you share on social media are spoiler-free and don't give away any hints on what the word could be.
Part 3: How to Play Wordle with Smart Tricks
To play Wordle smartly and maximize your chances of winning, you need to know some smart tricks about it. Here are our top tricks you must know while playing Wordle.
Choose your first word wisely. It should be a word with all different letters, so you have the highest chances of finding some correct letters.
After each guess, pay close attention to the color of different keys on the keyboard given at the bottom. You need to avoid pressing the grey buttons at all costs.
Your first word should be something with a lot of vowels, it will maximize your chances of finding some green letters from the beginning.
If you are someone who does not have a wide English vocabulary, it's a good idea to open up a dictionary to assist you. Some people may call it cheating, but others say it's valid for people who don't have English as their native language.
Part 4: How to Play Wordle More Than Once A Day
If you're wondering if there's a way to play Wordle online free for more than once a day, yes there is.
You can adjust your device's date to yesterday to play it more than once. But doing so defeats the entire purpose of the game; there's no challenge factor left in the game if you keep playing it again and again.
Simply put, less is more!
Part 5: Here Are 50 Wordle Examples, Try Now!
Here are 50 Wordle examples you can use each day to maximize your chances of winning.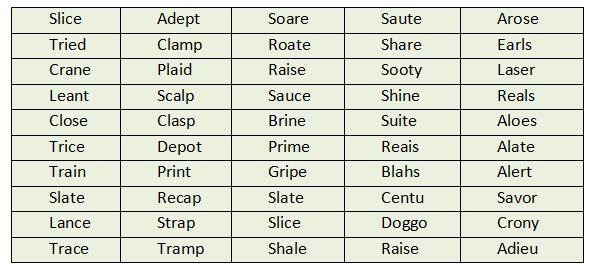 Bonus Tip: Mirror Your Wordle Screen to PC by Phone Mirror
If you're playing Wordle on your phone but would like to share the screen on your PC or laptop display, Tenorshare Phone Mirror got you covered!
With Phone Mirror, you can effortlessly mirror Android devices' screens to your computer's bigger display. Additionally, now you can also control your Android device directly from your PC using the keyboard and mouse. You can take screenshots or record your Android screen on your PC.
To mirror your phone's screen to a PC, follow the steps mentioned below.
Download and install Phone Mirror. Open Phone Mirror and connect your phone to the PC using a USB cable.

Make sure USB Debugging is turned on on your device by following the on-screen instructions.

Click the highlighted mirror button on this app and your phone's screen will be mirrored to your PC screen instantly.
Conclusion
Wordle online is one of the hottest trends on social media right now — and for good reasons. This small, easy-to-access game invokes a sense of competition among people online.
In this article, you have learned everything you need to know about playing Wordle the right way.