Top 3 Apps That Improve iPhone Signal Reception
Why you have bad reception?
Almost all of us have the experience that has little or no cell reception. The weak reception can drive us crazy in certain crucial situations like download or upload important document. There are two main causes for bad iPhone signal.
You are too far from the signal source, we say, cell tower.
There are things between you and the tower that are blocking the signal.
You can find your iPhone signal strength using filed test mode. It works for iPhone 5 and higher models running iOS 9 or later. Firstly, please navigate to Settings > Cellular > Cellular Data Options > toggle Enable LTE status to Off. You can turn on this option again after viewing the dBm reading. Now follow these steps to put your iPhone, iPad in Field Test Mode.
Dial *3001#12345#*
Press CALL
Hold the power button until you see the "slide to power off" screen.
Do not power off the phone, instead, hold the home button for about 5-7 seconds.
You will see the dBm reading at the top of your screen.
Tips: Cell phone signals are radio waves (the AM/FM kind) and operate at a frequency of -50 to -110 dB. -50 dB is great signal, full bars. -110 dB is poor signal, a near dead zone.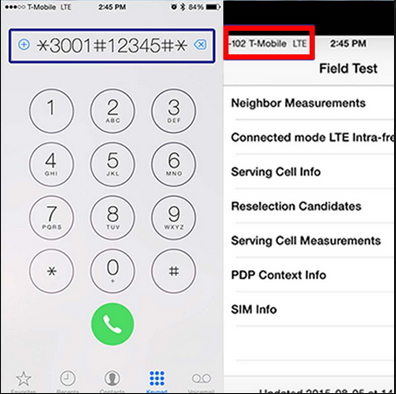 If your iPhone has a bad signal reception, choosing one of the iPhone signal boosters below can help you improve the iPhone reception strength.
Best 3 Free iPhone Signal Booster Apps
#1 OpenSignal –Speed Test & 3G/4G/Wifi Coverage maps
OpenSignal runs a true speed test and tells your iPhone's current signal. Then the app searches for other signals in the area and provides you with the strongest signal. With OpenSignal you can map cellular coverage, find Wi-Fi hotspots, test and improve your reception & get faster data.
- Signal compass points you in the direction your signal is coming from.
- Speed test for download, upload and latency.
- Map of cell towers and Wifi hotspots.
- Coverage maps allow you see the best/worst places for 2G, 3G and 4G.
- Free and ad-free.
#2 Coverage? By Two Steps Beyond
Another practical iPhone signal booster app. This app contains regional level maps based off of each major carrier's data map. Quickly overlay the carriers you use, to create your own personalized coverage map on your device.
It requires iOS 9.0 or later. Compatible with iPhone, iPad, and iPod touch.
#3 Cell Phone Coverage Map
This iPhone signal strength app empowers you to test network performance in areas where you live, work, and play. This handy map app checks your signal strength, download and upload speeds. More importantly, it offers a comparison of how your service compares with the competition based on other user reports.
Download Cell Phone Coverage Map
These iOS signal booster apps can help boost iPhone signal reception and have good network connection. Just one downside, using these apps will drain battery life on your iPhone. Here are useful tips and tricks to improve battery life on iPhone 7/7 Plus/6s/6/5s.